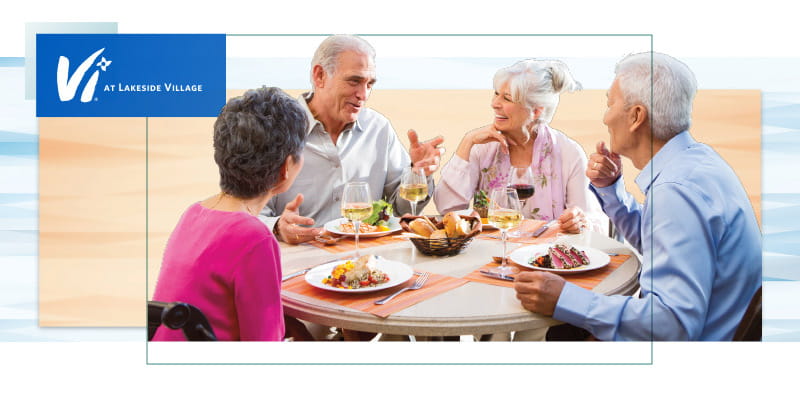 An Expert's Take on Retirement
Thursday, April 21
11:30 AM - 1:00 PM
Join us for some warmth, wisdom and a delicious lunch at the Vi at Lakeside Village An Expert's Take on Retirement event. Joe Chambers, Vi's head of sales, will share insights—informed by his 26-year career in the industry—about what makes this community so remarkable. That includes our Living Well philosophy—infused in everything from our culinary program to our fitness offerings—and our care plan, which empowers residents to make the most of each day, knowing they have a care plan for tomorrow. He'll also talk about where our community fits within the broader senior living landscape, including relative costs.
Following Joe's presentation, we invite you to sample our exceptional culinary program firsthand as you join residents and staff in our newly renovated restaurant for a delicious lunch prepared by Executive Chef Josh Crane and his culinary team. We're hosting a limited number of guests, so RSVP today.
Our team works hard to make it as easy as possible for you to connect with us. Whether you prefer email or phone, want to visit the property, read over a glossy brochure or just stay in the loop - we are here to provide you with the necessary information.
THANK YOU FROM Vi
Thank you for submitting your note to us. A member of our team will contact you within two business days to follow-up on your inquiry. If you would like to speak to someone on our team immediately, please contact our office at the number below.