Golfers' delight: redesigned golf course just the beginning at Vi at Bentley Village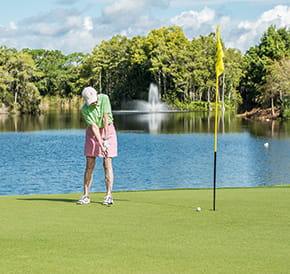 As part of its $80+ million redevelopment project, Vi at Bentley Village is improving one of its most iconic features: the golf course.
The golf course redevelopment effort centered on a total redesign of more than a quarter of the course. The redesign began in late 2015, and involved a rework of five of the course's 18 holes.
What to Expect
According to Aaron Denton of Windham Studio, the landscape-architecture firm managing the updates, the new course promises to be more challenging for golfers.
"There were a couple of holes on the back nine that some felt were just too easy — so we've made the new holes more difficult by adding more water in play," Denton said. "This is one of the more challenging projects I've been part of, but despite those challenges, it's working out beautifully. I'm so excited for residents to experience this redesigned course."
Embracing just how central golf is to the community, golfers also have several other new amenities. A brand new pro-shop is located in the community's new East Clubhouse, and a new practice area with driving cages, a putting green, and practice bunker are also included in the redesigned course.
A Commitment To Golf Culture
For true golf enthusiasts, Vi at Bentley Village offers the best of both worlds. According to Jordan Scardigno, Associate Executive Director at the community, Vi at Bentley Village is the only continuing-care retirement community in Collier County with its own golf course on site.
"If you enjoy golf, and you want to play golf well into your senior years, this is where you move," Scardigno said.
In addition to 18 challenging par-3 holes, Vi at Bentley Village also boasts its own dedicated golf pro, PGA Professional Stan Geer. This is a huge selling point for residents eager to improve their game. Geer's role includes merchandising the pro shop, giving lessons, organizing tournaments and generally acting as the face of the golf program at the community.
It's a role Geer takes seriously — without taking himself too seriously. "He's highly involved — and very hands-on," Scardigno said.
Players Weigh In
Geer says the community's avid golfers are looking forward to the challenge of the new holes.
"Our golfers have played for a long time, and they know what they're doing," Geer said. "The great thing about this course is it helps to extend their playing careers."
Dr. Jerry Weis, who has lived at Bentley Village since 2013, has been golfing for more than 70 years and is president of the community's men's golf association. He says Bentley Village's golf course was a huge selling point as he decided where to spend his retirement years.
"If you were to poll the 300-some people who play golf at Bentley Village, you'll find it was one of the deciding factors for them — for many, it was the deciding factor," Weis said. "I don't play other courses anymore, and I don't miss them."
At 81 years old, Weis plays the course at Bentley Village three to four times a week, and he praises the grounds keeping staff as well as Geer for raising the bar at the community.
"You can't have a five-star resort community with a one-star golf course," Weis said. "It's already delightful, but this redevelopment is going to help make this the most beautiful par-3 golf course in the entire state."