Executive Chef Jose Luna invited to join Order of the Golden Toque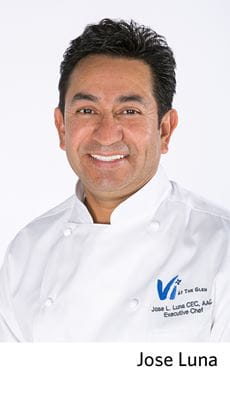 Jose Luna, Executive Chef at Vi at The Glen, grew up in a family of restaurateurs: His grandmother owned a restaurant, and his mother worked in foodservice, too. Like many children, he dreamed of becoming a fireman or a doctor – until he got his first taste of working in a restaurant.
"Working in the back of the house was so natural for me," Luna said. "I saw chefs who did phenomenal stuff. My father always said to me, 'If you're going to do something, do it right,' and from then on I decided I would become the best chef I could be."
Since discovering his passion 35 years ago, Luna has worked as a professional chef. Thanks in part to his dedication to advancing his craft, Luna was recently inducted into the Honorable Order of the Golden Toque. This prestigious honor was established to recognize longtime chefs who have passionately dedicated their lives to the culinary profession. There are just 100 members in the Order of the Golden Toque, each selected for a lifetime appointment, and all have more than 20 years' experience in the foodservice industry.
Luna began his career in 1982 as executive chef of the Inn of Chicago hotel. In addition to more than 20 years of hotel experience working as an executive chef, he has 15 years' experience in private clubs. Luna came to Vi at the Glen in 2014 after five years as Executive Chef for First Hospitality Group.

Randy Richardson, President of Vi, applauded Luna's accomplishment and likens his work to running a high-end restaurant.
"Being invited to join the Golden Toque is a very exclusive honor, and we hear our residents singing his praises from their experiences every day," Richardson said. "Jose prepares more meals in a day than a lot of restaurants do — keeping the menu interesting and the food quality high is a challenge he always rises to."
Nominated by his peers
Luna says he was shocked to be recognized and nominated by chefs he has admired for so long.
"It's hard work to be in the food business — it's 24/7, and there are no holidays. You really have to love what you do," Luna said. "The Golden Toque recognizes those who are doing good work, and helps them spread their knowledge and passion to the next generation of chefs."
One of the chefs who nominated Luna for induction to the organization is Michael Garbin, Executive Chef at the Union League Club of Chicago. The two have known each other almost 25 years, having met as members of the Chicago chapter of the American Culinary Federation, where they became friends.
"He shows a lot of passion for what he does," Garbin said. "When you find people like that, you want to know them better because they help make you a better person."
Garbin, who has been a member of the Golden Toque since 2008, says Luna is always looking for ways to serve the culinary community, whether through mentoring young chefs or volunteering his talents for an event.
"He gives back; he always wants to help young people get their start in our industry," he said. "Jose is just a special person."
Giving back through education
Luna's outreach extends far beyond those interested in culinary careers — he's dedicated to sharing his knowledge and experience with everyone around him. He says he's successful when others succeed. "I want to be sure the bartender, the busboy, the server, the dishwasher can succeed and get recognized," he said. "I don't care how good I am as a chef — without them, I'm nobody."
Throughout his career, Luna has been active in professional organizations including the American Culinary Federation, Les Amis d'Escoffier Society, and the American Academy of Chefs. He has also taught in the culinary programs at Harper Community College/h3> Shannon Ruedlinger, Vi at The Glen's Executive Director, says he's never met a chef like Luna in his more than 25-year career in senior living.
"He's creative and energetic," Ruedlinger said. "He's bringing the restaurant world into a retirement community."
With more than 400 residents at Vi at The Glen, it's a challenge to make everyone happy every day, Luna says, but it's a challenge he loves to tackle.
"Residents at Vi at The Glen have wined and dined all over the world — but food is always changing!" Luna said. "Every day, I try to introduce our residents to new flavors and elevate the experience for them."