Pastry chef Michael Beltran keeps residents craving more at Vi at The Glen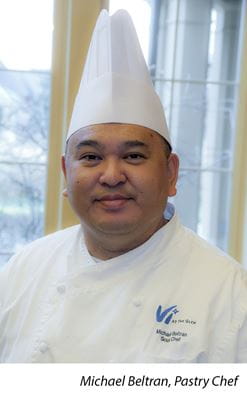 Michael Beltran, Vi at The Glen's pastry chef, has always enjoyed travel and entertaining, so it was only natural for him to pursue degrees in hospitality and cooking from Kendall College in Evanston, Ill. Upon graduation, he worked as sous chef at Dean Witter in Riverwoods, Ill. for a year. It was there his love of pastries took root.
"Customers wanted more desserts, particularly made from scratch," said Beltran. "I started creating them, and I got the bug."
Beltran turned his ambition into reality and earned a pasty degree from the prestigious Le Cordon Bleu School in London. He then worked at a number of hotels and restaurants in Illinois, where he learned the art of pastry in and out, before moving to Las Vegas to further hone his skills.
Beltran worked as lead baker at The Four Seasons Hotel and then The Bellagio, where he learned from some of the world's finest chefs.
"I picked up so much being around that level of talent," said Beltran. "I was working on teams, serving thousands of people in 4- and 5-star restaurants."
Beltran and his wife decided to come back to Chicago in the early 2000s, and he saw the opening for pastry chef at Vi at The Glen, which was just opening its doors. "It was pretty exciting to be there from the beginning, to set up the menu and kitchen," said Beltran. "I have been able to see the community grow into what it is now."
Shep Drinkwater, the original Executive Chef at Vi at The Glen who currently resides as the Executive Chef for Vi at Bentley Village in Naples, Fla., hired Beltran because of his combination of talent and passion.
"I asked him for a sample of his best desserts, and he brought me two boxes of amazing pastries," said Drinkwater. "The presentation, flavors and choices were off the charts."
A typical day for Beltran begins around 6:00 a.m. at the community, where he makes a breakfast bake consisting of Danishes, muffins and donuts for the community's care center and bistro. Then he moves on to lunch and dinner pastries, creating upwards of 200–300 desserts from scratch each day. Residents have a choice at meals of two regular dessert options and two specials, including a low-sugar option. Desserts are offered on a six-week rotation, so diners experience new treats frequently.
Resident feedback is important to Beltran. He joins Vi at The Glen's executive chef in a Chef's Table every other month for approximately 15 residents, providing three-course meals and desserts as a way to try new menu items and integrate resident favorites.
"I enjoy the freedom of changing the menu all the time," he said. "Every day we use the freshest ingredients, just like a 4-star restaurant."
His favorite thing to make? He loves to experiment with chocolate and specializes in brownies, handmade gelato, and his Chocolate Decadence Cake. Residents also praise his coconut macaroons, and pies with a Midwest flair are a favorite for many residents, including Zelda Seiden. "All of the fruit pies are excellent," she said. "I especially enjoy the lemon meringue and the apple pie."
Drinkwater agrees that Beltran's approach is top-notch. "Michael knows his residents' sweet spots," said Chef Drinkwater. "He prides himself on creating a dessert for every resident at Vi at The Glen to enjoy, regardless of dietary restrictions or personal taste. He's amazing."