Retire in style: Lynd Corley shares her story about life in a villa home
Vi at The Glen resident Lynd Corley's distinguished career in music education has placed her in the Who's Who in America. Her passion for teaching continues to this day as she mentors young students from her villa home.


Sharing her Gift of Music
Mrs. Corley has always been a gifted musician. She began playing the piano at the age of 6, and by age 12 she was playing the saxophone in a pit band. In junior high she played the organ in church and by high school she added the oboe. Mrs. Corley played the oboe as a student with the Champaign-Urbana Symphony Orchestra. Afterwards, she received her Bachelor's and Master's Degrees in Music from the University of Illinois. She was also a member of the Chicago Symphony Chorus when Margaret Hillis was director.
She now shares her musical expertise with high school students, right from her villa home at Vi at The Glen. For Mrs. Corley, the privacy of her villa proves invaluable as she guides students in learning the piano. "The design of my villa works very well because I can have a 6-foot grand piano in the living room, and the students love the sound because of the high ceilings," said Mrs. Corley.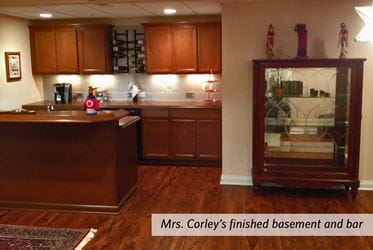 A Room for Every Interest
It's not just the living room that Mrs. Corley has designed to meet her unique needs. She renovated the basement of her villa to accommodate both business and pleasure. Her office is where she works on business affairs, while the library holds her genealogy files as well as the many plaques and awards from her husband, Dr. W. Gene Corley's, distinguished career.

Beyond the office sits a fully furnished living room and a bar/kitchenette complete with a wine fridge stocked with wines from the Corley Family vineyard of Napa Valley. "My college-aged grandchildren just love it! When they stay here they feel like they have their own apartment."

Hosting at the Holidays
Mrs. Corley has always loved hosting holiday dinners; a tradition she continues from her villa home. "We've had up to 30 guests at a time upstairs. I fit three tables in the dining area upstairs and the kitchen table makes a nice buffet."

Ordering delicious homemade food from the Vi at the Glen saves her time and effort so that she can focus on place setting and decorating. "When the chefs deliver the food in their white coats and chef hats, that really impresses my guests."

When she is not hosting family, Mrs. Corley welcomes her volunteer organization members over for holiday dinners in Vi at The Glen's Lake Superior Room, located in the main building. "The chef is already planning the menu for my December parties. It means a lot to know that the staff takes so much interest in what you're doing here."