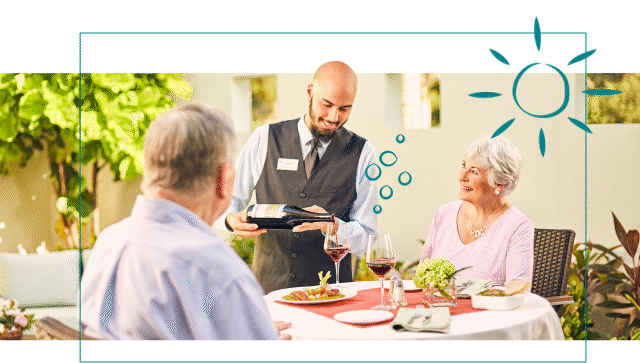 Retirement Worth Celebrating at Vi at La Jolla Village
SOLD OUT
Tuesday, July 13
10:00 AM - 11:30 AM
Thursday, July 15
10:00 AM - 11:30 AM
Wednesday, July 21
10:00 AM - 11:30 AM
We're excited to welcome guests back to Vi at La Jolla Village, especially for an event filled with information we're so excited to share:
An introduction to Vi. We'll highlight our celebration-worthy services and amenities and also, how living in our Life Plan Community enables you to make the most of today and have a care plan in place in case your needs change.
Hear from our residents. Learn about our lifestyle from the people living it, including which of our many programs are their personal favorites.
See for yourself. Join a small group tour of some of the common spaces where many of our myriad activities take place and our community so enjoys the camaraderie and fellowship.
Finally, we'll send you off with a celebratory and most delicious thank-you for joining us: a selection of pastries prepared just for you, courtesy of our culinary team.
In order to keep the event both safe and personalized, registration is limited. Please request attendance below and a member of our team will be in touch to confirm with you.
Our team works hard to make it as easy as possible for you to connect with us. Whether you prefer email or phone, want to visit the property, read over a glossy brochure or just stay in the loop - we are here to provide you with the necessary information.
THANK YOU FROM Vi
Thank you for submitting your note to us. A member of our team will contact you within two business days to follow-up on your inquiry. If you would like to speak to someone on our team immediately, please contact our office at the number below.