Good to know issue #2
TOP 5 QUESTIONS WE'RE BEING ASKED ABOUT LIVING AT Vi RIGHT NOW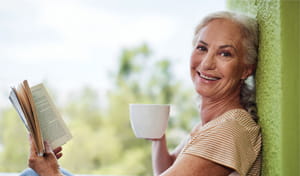 If you're considering a move to Vi or wondering what it's currently like to live here, you surely have questions. Here are the ones we're hearing most often.
1. "Are residents required to stay in their residences?"
No, but given older adults' vulnerability to severe illness from COVID-19, Vi encourages all residents to follow CDC guidelines, including limiting interactions with other people as much as possible, not attending large gatherings, maintaining physical distancing and wearing masks if they do leave their residences.
Should a resident leave the property, we do a quick temperature check upon their return and take them through a brief screening questionnaire.
2. "When will the communities return to providing regular services?"
Our plans for easing restrictions in our independent living buildings and reopening our ten communities are based on the guidance we get from public health authorities. Each of our communities will follow a multiphase reopening plan requiring it to meet specific criteria before moving on to the next phase, with the health and safety of our residents and staff ALWAYS as our top priority.
Here's a summary of our reopening phases:
Phase I: Opening outdoor activities where appropriate. Limited internal opening, with physical distancing and guidelines in place for select activities and beauty services
Phase II: Expanded internal opening allowing for expanded activities, limited dining and visitors
Phase III: Expanded dining, visitors and activities, including select group outings
Our licensed care facilities have separate reopening plans. Call the community for details.
3. "Why would I consider moving out of my own home into a community where there are a lot of people?"
Moving to a Life Plan Community (also known as a continuing care retirement community) has benefits apart from the current situation. As it happens, some of those benefits, such as being part of a community of supportive staff and neighbors, are more important now than ever.
Our service to residents hasn't stopped during the pandemic—it just looks different. We've paused the use of common spaces and found new ways to delight our residents, from touchless delivery of delicious, chef-prepared meals to virtual and/or physically distanced lifestyle and fitness programs. And our already rigorous cleaning protocols have been expanded to maximize the safety of the common spaces.
As for connections within the community, the value of knowing there are friends across the hall or staff members eager to help just a phone call—or video call!—away has been an emotional benefit to our many residents who want to isolate without feeling isolated.
We have implemented many virtual activities and exercise classes to engage our residents and make each day interesting and fun. While physical distancing is important, so are socialization and maintaining a strong sense of community, which is still very much alive at Vi.
4. "Can my friends and family visit me after I move in?"
Each Vi community must follow state and local regulations regarding visitors' access to senior living communities such as ours. These rules vary city by city and state by state. Our team can provide you with information about visiting our community.
That said, on the preceding page, residents of Vi's independent living communities are able to leave campus to visit family and friends, although we do request they follow physical distancing guidelines when doing so. And our staff is eager to help facilitate connections with loved ones via technology.
5. "Are you offering tours?"
While we're not currently offering group tours or in-person events, we are offering physically distanced, one-on-one tours. In addition, there is now a variety of ways to learn about moving to a Life Plan Community like Vi in lieu of traditional, in-person tours. Consider taking a virtual tour, whether it's one featured on our website or a personal, one-on-one video tour hosted by our Sales team and tailored to your questions.
The guidance we receive from health authorities can change from week to week, so the best idea is to give us a call, and we'll work with you to find the best way to get a look at our community.
Don't see a question that's on your mind? Call us at 888-497-7841. We'll be happy to give you answers.
LOOKING TO PURSUE A PASSION? Vi'S LIFESTYLE TEAMS CAN HELP.
By Tony Galvan, Assistant Vice President, Living Well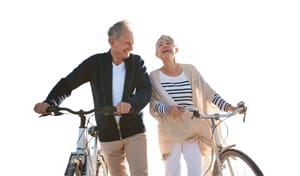 Whether you're devoted to a lifelong hobby or pastime or you want to cultivate some new interests, you'll have a wealth of opportunities to do so at Vi. That's consistent with our approach and philosophy towards resident well-being, which we refer to as Living Well.
Our communities' Lifestyle teams lead the way, developing and running programs that cater to a variety of interests, all geared specifically to impacting your mind, body and spirit. You can explore the arts. Immerse yourself in history. Learn about technology. Get physical with an exercise class streamed over our in-house TV channel. Master a new skill or hone a long-held talent. We have activities that draw on current events and others that tap into topics always relevant to our residents, like senior health.
At the same time, our "freedom to create" culture opens the door for residents—with the support of the Lifestyle teams—to start clubs they'll find captivating and invite neighbors and friends to join in.
At Vi at Silverstone in Scottsdale, Arizona, for instance, our Vi Tones choral group has been going strong for more than five years, with its 40+ members putting on a couple of shows annually. Even in quarantine, the Vi Tones have been busy, leading virtual community sing-alongs a few times each month.
At Vi at Bentley Village in Naples, Florida, residents put another kind of talent to work, plying their creative writing skills in a community-wide essay contest organized around the most timely of themes: Life in the Middle of a Pandemic.
Thinking it would be difficult to keep track of all that happens at Vi? The Touchtown mobile app makes it easy for residents to find a virtual fitness class, virtual bridge or something in between. And if they tap the "Stir Crazy" button we just added to the app, the possibilities multiply to include virtual museum tours, streaming concerts, games, puzzles and more.
It's all part of our support for residents who are choosing to stay safe and stay home. We want all of our residents to continue enjoying the things that attracted them to Vi in the first place. In other words, to continue to live well.
DOWNSIZING MADE EASY— AND EASY TO LEARN ABOUT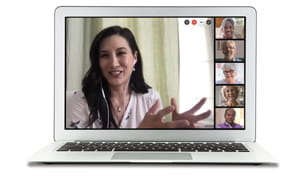 "Downsizing Tips" is just one of the information-rich virtual events Vi communities have hosted.
While our in-person guest events are on hold, Vi communities are livestreaming virtual events as a new way to share interesting, useful information with prospective residents. In one, you might hear an expert's view of your local real estate market; in another, you could learn about the tax advantages of particular Life Plan Communities.
Here's a recent example: Our Vi at The Glen community north of Chicago hosted a downsizing-themed event on the KonMariTM Method (www.konmari.com) featuring Certified KonMariTM Consultant Silvia Flinton. Silvia covered the method's Six Basic Rules of Tidying Up and offered an almost celebratory process for decluttering. Understanding that the hardest part can be simply getting started, Silvia also shared her personal top five tips for beginning your own tidying-up adventure:
1. Always have the ideal vision of your home and lifestyle in mind. Imagine what it would look and feel like if you could live in those ideal conditions. Come back to this vision when you get stuck in your tidying-up process or can't decide to keep or release an item. Ask yourself, "Does this item support my ideal lifestyle?"
2. Once you've tidied each room in your home, maintain order by having a household/family Donation Basket (with a lid) always available in a designated spot. Once the basket is full, collect all the items and drop them off at your preferred donation site.
3. Deal with mail immediately! Have your recycling bin handy to drop in unwanted catalogs, magazines, newspapers, etc. Shred any mail with personal information for added security. Categorize time-sensitive mail into your active To-Do pile.
4. When it comes to dealing with unwanted gifts, KonMari Method creator Marie Kondo reminds us: "The purpose of a gift is to be received." Once you have accepted a present and expressed your gratitude to the giver, you should not feel obligated to keep an item that does not spark joy for you.
5. When dealing with large quantities of beloved collectibles where space is limited, choose a select few of your absolute favorites to keep. Appreciate those pieces by displaying them in a place of honor to remind you of the collection and the memories they evoke. For some, taking a photo of the collection also helps to gently say goodbye.
Thinking of downsizing but not sure how to start? Silvia is available for virtual and in-person downsizing sessions in Chicago. Contact her through her website, www.thoughtfulorder.com
Interested in joining us for a helpful, insightful virtual event like "Downsizing Tips"? Call us for a calendar of upcoming virtual events at Vi.
STAYING APART BUT REMAINING CLOSE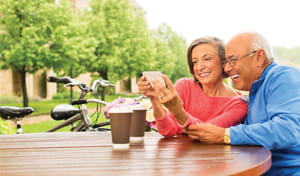 Ask our residents and you'll find it's not just the ease of life at Vi they're so drawn to. It's also the warmth.
Pandemic or not, Vi residents who've built close friendships with their neighbors are enjoying multiple ways to stay connected with each other safely. Hallway bingo and virtual bridge have become crowd favorites in several Vi communities. At Vi at Aventura, north of Miami, one talented resident livestreams his piano performances while his wife challenges residents watching in their residences to "Stump the Maestro." And in La Jolla, California, one tech-savvy Vi resident is leading a mini digital revolution.
Meet "The Lunching Ladies of La Jolla Village"
A group of friends at Vi at La Jolla Village has found its own way to keep in touch without ever breaking physical distancing rules. One member of the group, a former teacher who knows her way around the digital landscape, made sure her girlfriends all knew how to join a group video call. Now the gang keeps a weekly lunch date. And that tech-savvy teacher has begun helping other residents find their way around the Web so they, too, can stay close to friends and neighbors—enabling our residents to maintain a real sense of community.
MAKING TIME FOR FACE TIME WITH FRIENDS AT Vi AT LA JOLLA VILLAGE
Retired teacher and Vi resident Quelda Wilson has long been Vi at La Jolla's go-to resource for all things Apple® technology, hosting classes in the community's auditorium to help her fellow residents sharpen their skills on Apple® computers, as well as iPad® and iPhone® mobile communication devices. But over the past few months, as residents physically distanced from each other and family and friends, Quelda saw an opportunity to evolve her classes to something even more meaningful: an opportunity to learn and connect.

Lunch and Learn
As stay-at-home orders across the country put in-person connections on hold, the longtime teacher became a hostess, inviting her fellow residents to join weekly FaceTime® Voice and Video Calling luncheons. "I invited people to the first lunch who I thought would be interested in finding out more about group calls. It was such a hit that first week that I've just kept going," said Quelda.

For those invited to lunch who were new to FaceTime, Quelda was able to show them the ins and outs of the application quickly and resolve any barriers to future use. And for all attendees, past students and FaceTime® novices, it was a chance to see each other again, to enjoy some real facetime.

"When it's over, I feel like I've had lunch with my friends. It's just as authentic as it would be if we were all sitting around the same table," said Quelda.

Vi is an independent (publication) and has not been authorized, sponsored, or otherwise approved by Apple Inc.