Lu and Georgina Sham: Dancing Through Life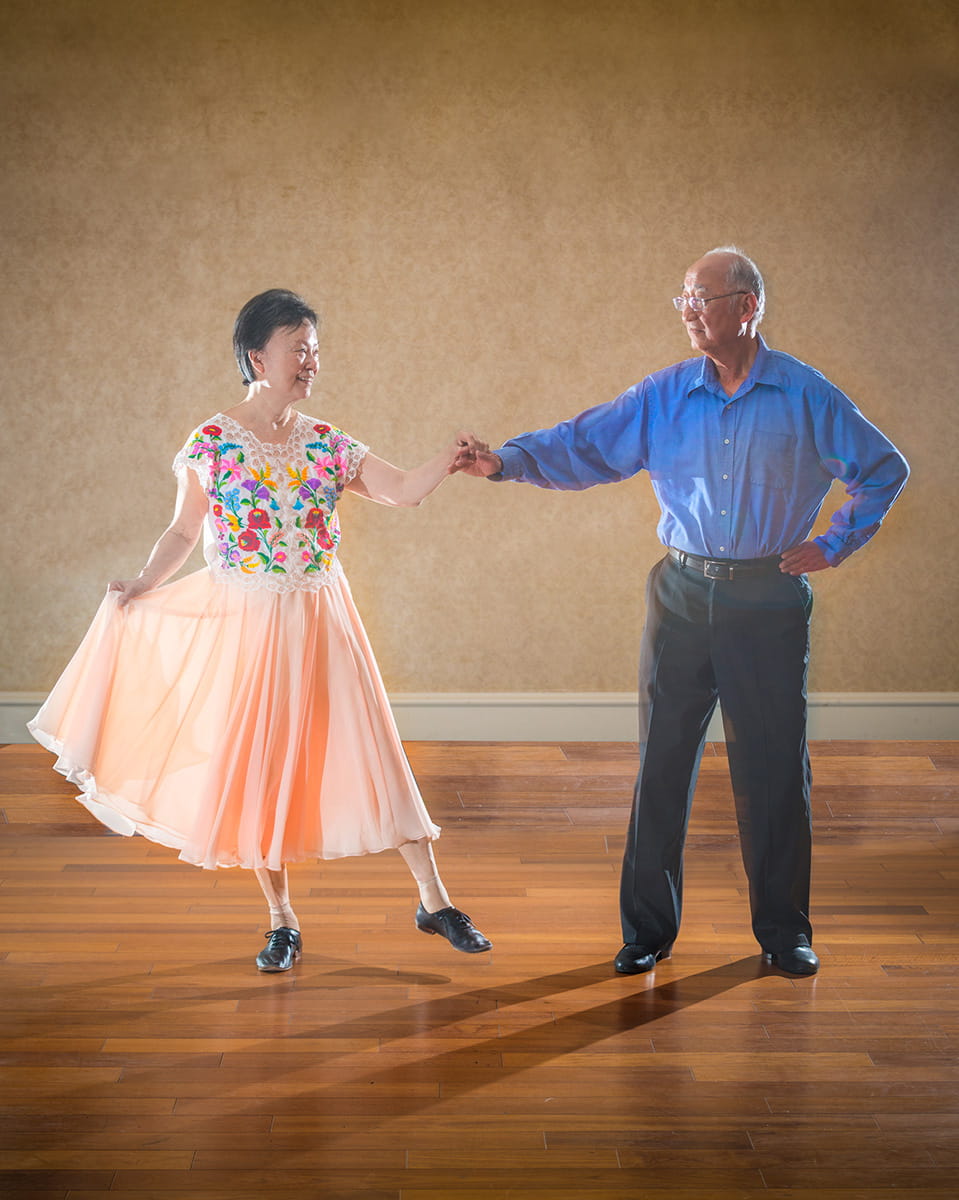 More than 50 years ago, Vi at La Jolla Village residents Georgina and Lu Sham both moved across the globe from their native China before finally meeting and falling in love in the United States.
"We have a joke: We proved the earth is round," Lu said. "We were both born in Hong Kong but didn't know each other until we met in America."
Georgina was born on Hong Kong Island, and Lu was born on the Kowloon Peninsula. She traveled eastward across the Pacific Ocean to settle in California, where she earned her degree in physiology at Berkeley. Lu traveled westward to San Diego via England, where he attended college and earned his Ph.D. in theoretical physics.
The couple met at a Christmas dinner hosted by Georgina's family. Her father was a research chemist at the Scripps Institution of Oceanography, where Lu's UCSD department was temporarily housed.
"My father went around the Scripps offices to all the Chinese and invited them to dinner," Georgina said. There was an instant spark, and the rest, as they say, is history. The couple have two children and four grandchildren, and they've lived in the San Diego area — with only two brief stints away, in New York and London — since they married 50 years ago.
"We love California," Georgina said. "We can visit the snow nearby if we want, but live in balmy weather."
Working & Discovering Dance
Over more than five decades together, the Shams have lived a remarkable life of discovery and dance. Thanks to Lu's pioneering work in physics — he holds the Willis E. Lamb Award for Laser Science and Quantum Optics and the Humboldt Research Award, and is also a member of the National Academy of Sciences — he received many invitations to speak and consult with fellow physicists.
While Lu worked, Georgina explored their destinations in depth, and acted as Lu's weekend tour guide. They took time to learn about native dances in Europe and America, a passion that Lu discovered at a summer school in Scotland.
"Our host thought we should learn something about Scottish lifestyle, so they taught us a Scottish country dance," he said.
He enjoyed discovering the Scottish culture through dance so much that he joined an international folk dance group at Scripps, and invited Georgina to join him early in their relationship. Georgina fell in love with folk dance and vintage ballroom dance, and dancing quickly took over the couple's free time.
"I love dancing with Lu — he's so good at learning and remembering routines, so it's easier for me to try to learn my part so that we can dance in sync," Georgina said. "And people think we look good dancing together!"
Together, the couple traveled the world seeking out opportunities to dance – and learn new traditional dances – everywhere they went.
"Vintage ballroom organizers are always trying to find historical places where we can dance," he said. Once such occasion included dancing in a lavish ballroom inside a castle that had been abandoned for more than 50 years.
One of the Shams' favorite native dances was the hambo, a fast-paced, traditional Swedish folk dance. "Folk dance is strong in Sweden," Lu said. "When we were learning the hambo, kids who were learning to play the violin would all line up, eager to take turns playing for the dancers. We always had the pleasure of dancing to live music."
Still Dancing After All These Years
When they weren't traveling the world, the Shams became involved in the dance community at nearby Balboa Park in San Diego. There, Lu taught the Cabrillo International Folk Dancers class for nearly 20 years. After he semi-retired from UCSD in 2012 — he is still conducting collaborative research and mentoring students and postdocs as Professor Emeritus — he also retired from folk dancing. In search of a new hobby to pick up, Lu turned his attention to ballroom dancing.
"Ballroom is new and interesting to me," he said. "Ballroom dancing has a deep set of techniques, including body mechanics — I just have to struggle to rid myself of my folk dancer's accent."
Georgina splits her time these days between the couple's home at Vi and their children's homes in the Bay Area. She flies up every Wednesday and stays through Saturday, looking after their grandchildren. And she still dances twice a week at Balboa Park, where she also teaches and organizes dance festivals with the Cabrillo International Folk Dancers.
"I'm still involved because I like the people, music and dance patterns," she said. "I truly believe dancing is good exercise for both body and mind."