Glad to be connected!
There's a lot to consider when embarking on the next phase of retirement—and contacting us is a big step. (Well done!)

We'll be in touch soon to share expert insights, and one of our team members will also be reaching out to answer any questions you may have.
Quelda Wilson: Keeping Residents Connected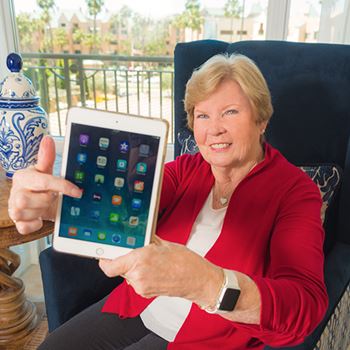 Dr. Quelda Wilson's distinguished career in education began with teaching elementary school and college English and reached its pinnacle with higher education administration. As someone with a lifelong passion for education, it's no wonder that she continues to teach several classes a month to fellow residents at her home at Vi at La Jolla Village.
Her new subject of focus: Apple products.
From novice to early adopter
Ironically, when Dr. Wilson retired from the University of California, San Diego in 1993, she didn't know how to type and had never used a computer. "During my career, I had an executive secretary," said Dr. Wilson. "The Internet didn't come to the UC system until the fall of 1993, when I retired."
Dr. Wilson decided it was time to learn when she embarked on a consulting career. Some UCSD colleagues had recommended she try a Mac, and she never looked back. "I took to it like a fish to water. I read voraciously, and really enjoyed learning everything there was to know about the computer. I became a member of the San Diego Macintosh User Group and went to meetings every month."
A lifelong scholar, it was natural for Dr. Wilson to dive into new material until she mastered it. Throughout her career, she held a number of high-ranking positions: Dean of Students and then President of St. Benedict College; Assistant Chair of Higher Education at St. Louis University, and ultimately Assistant Vice Chancellor of Human Resources for UCSD.
"Everything I've done in my life seems to have been self-taught. I never took a typing, driving or sewing lesson, but I taught myself all of those things. I was a very accomplished seamstress. When I was working, I created every stitch of clothing I wore, from coats to suits."
Now, whenever a new Apple product hits the market, such as the Apple Watch, Dr. Wilson scoops it up. "I'm what they call an early adopter," she said. In keeping with her life's work as educator and mentor, Dr. Wilson now imparts her expertise of Apple products to eager residents of Vi at La Jolla Village.
"You learn when you teach."
"When I first came to Vi at La Jolla Village there was a questionnaire in my packet," Dr. Wilson said. "One of the questions asked if I had computer knowledge, I'd be willing to share with other residents. I of course indicated 'yes' and got a call from the Vi staff almost immediately!"
Dr. Wilson began by offering residents a program about Mac computers and then expanded to teach classes about the iPad and iPhone. Due to popular demand, she moved classes to the 44-seat theater so she could teach more people and utilize the big screen. "The class fills the theater," she said. "Sometimes people have to be turned away because there is not enough room!"
Dr. Wilson also offers her own Genius Bar of sorts: individualized one-on-one help every Friday morning in Café Biscotti.
"I might show one resident how to attach a photo to an email, or teach someone how to use FaceTime," she said. "They love using that so they can talk with their grandchildren. Learning how to take pictures, save and share them is very important to residents so they can stay in better touch with their families."
Digitizing the Vi at La Jolla Village experience
One of Dr. Wilson's other roles at Vi at La Jolla Village was serving as president of the Resident Council. During her tenure, she undertook a project to digitize the resident biographies. Previously, the photos and bios were printed, placed in sleeves, and put into 3-ring binders so that residents could learn about their neighbors. "They were so heavy and out-of-date! I said, 'we just have to go digital.'"
Dr. Wilson's recent project involved working with the Vi Lifestyle department to tailor a resident app – ResidentApps by Touchtown – for residents at Vi at La Jolla Village. The goal of the app is to give residents access via their computers and tablets to many of the day-to-day amenities offered at the community, like making reservations for dinner, checking the activities of the day, and access to resident and staff directories.
"It was a fun and very useful project!" she said.