Casual to fine: dining gets a modern makeover at Vi at The Glen
As a part of Vi at The Glen's $6.1 million remodel, all three of the Life Plan Community's restaurants will be renovated to delight the senses and please the palate. Beautiful backdrops and all-new menus will combine to create a Chicago-caliber dining experience for residents' mere steps from their front door.
Where Midwestern roots and culinary trends meet
Bridges, the community's new casual dining space, is the perfect choice for breaking bread with family and friends. Contemporary design elements reflect Chicago's iconic architecture, and new menu items meet modern demands for lighter, healthier fare.
"Our popular Midwestern comfort foods aren't going anywhere, but we are exploring new ways to make those favorites healthier," said Vi Executive Chef Jose Luna. Chef Luna's team works with the best cuts of meat and seasonal and local produce to enhance the natural flavors of each dish on the menu without adding extra sodium or sugar. "Our residents want the same flavor and flair they've come to expect from our restaurants, but they want a variety of healthier options too."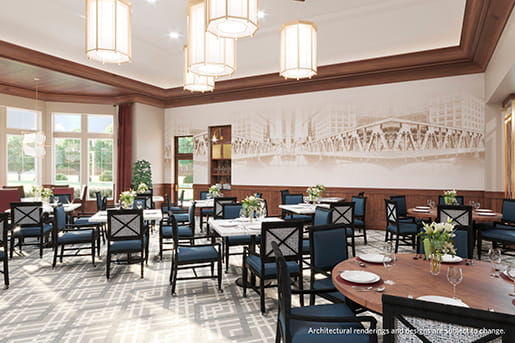 In Great Lakes, the fine dining restaurant, a new centerpiece chandelier, a palette of sunset hues, and wavelike carpet patterns create an elegant setting for Sunday brunch and special occasion dining. And like Bridges, menu updates were inspired by many of the healthier culinary trends residents have seen on menus in trendy North Shore restaurants and downtown Chicago.
Chef and team plan to keep their focus on fresh and local, and will include more gluten-free, vegetarian and vegan options.
"For the brunch crowd there will be omelets with more vegetables and the choice of egg whites," said Chef Luna. And, as always, the menu will rotate to keep residents' palates engaged as well as reflect the seasons. "We'll still offer root vegetables in the fall, Alaskan seafood in the summer, and use herbs and vegetables from our community garden whenever possible."
Made from scratch grab-and-go
In the updated Bistro, residents can enjoy delicious, casual fare in a bright and airy space. Vi at The Glen has always offered fresh, organic food from scratch, but now residents will have the option of taking that quality food to go if they are on the run.
Sandwiches, smoothies, fresh salads with salmon, gourmet flatbreads and even a daily rotating dessert will all be on hand to "grab and go" from its trendy new coffee bar. Of course, beautiful garden views and cheerful floral furniture might encourage residents to stay awhile.
Change inspires constant creativity
With over 35 years of culinary experience, Chef Luna is excited about the upcoming changes to Vi at The Glen's dining program.
"It gives me the opportunity to deliver fun, inventive dishes," he shared. "I'm always delighted to introduce new presentations and preparations, from something as simple as a new, surprising spice to culinary trends straight from downtown Chicago's most popular restaurants."
Are you looking to make the move to a Life Plan Community? Vi at The Glen has it all: award-winning service, outstanding amenities, happy hours, an English garden, artfully crafted cuisine and on-site care — all on 26-acres of lush greenery, located just north of Chicago. Contact us to learn more, schedule a tour or download a brochure!