Vi at The Glen recently completed $6.1 million remodel of the community's restaurants and common rooms, energizing social spaces for current and future residents in the heart of the North Shore. Upgrades include remodels of all three of Vi at The Glen's restaurants, plus the addition of an all-new theatre and bar.
Merging Midwestern spirit with modern design, the furniture, finishes, color palettes and artwork honor our regional heritage while reflecting current interior design trends, creating an atmosphere that is as timely as it is timeless.
See photos of our community remodel below.
Dining becomes a destination
---
All three of Vi at The Glen's restaurants were renovated to provide distinct dining experiences that aim to delight the senses and please the palate. Beautiful backdrops and scratch cooking combine to create memorable meals that residents can share with loved ones again and again.
In the updated Bistro, residents can enjoy delicious, casual fare in a bright and airy space. Light green, blush and floral patterns blend with the beautiful outdoor garden views and provide a cheerful backdrop for morning meals and lunching with friends. Freshly baked pastries are artfully displayed along with other to-go treats at the trendy coffee bar, while the restaurant's casual elegance encourages you to cozy up to conversation over a meal made from scratch.
The casual restaurant, renamed Bridges, features design elements inspired by Chicago's iconic architecture. Rich reds and bold blues anchor the room while angular patterns and X's in the furniture, carpet and artwork reflect the cross beams and structure of Chicago's famed bridges. Offering an upscale menu with a modern twist, Bridges is the perfect spot to go out to dinner with neighbors or break bread with family.
From Sunday brunch to special occasions, Great Lakes is the restaurant for savoring a delicious meal in an elegant setting. The color palette draws from soft pink sunsets and sand at dusk, accented with blue hues from Lake Michigan. The custom carpet and artwork evoke rolling waves, while the centerpiece chandelier cascades like water droplets over the central banquette. Milestones are celebrated and memories made in the Great Lakes Restaurant, where organic meets ornate.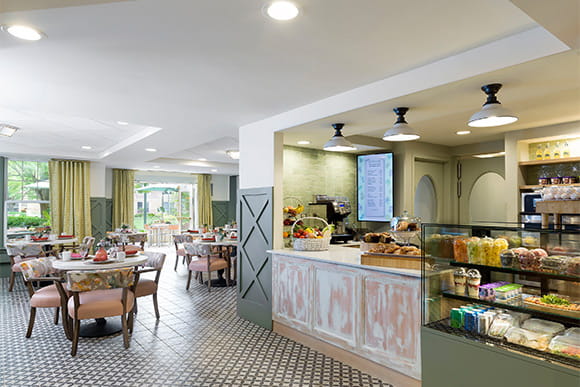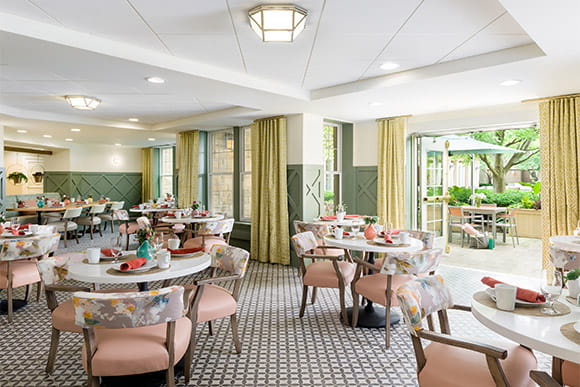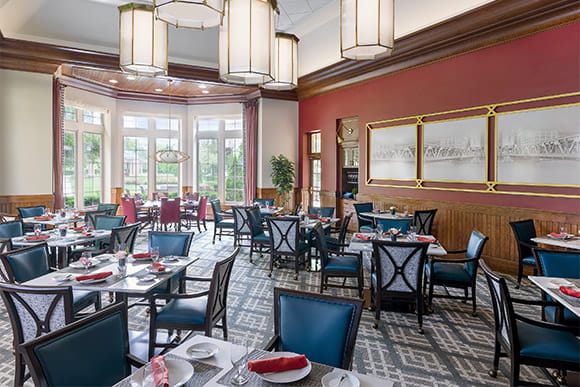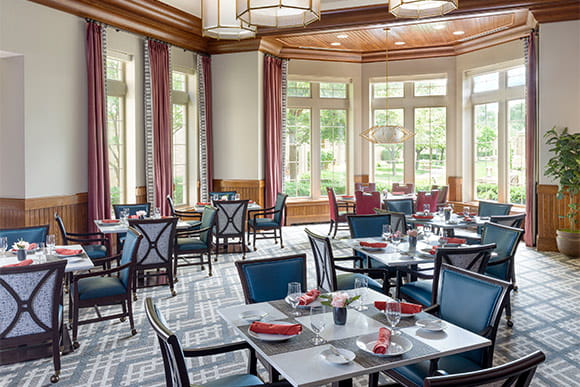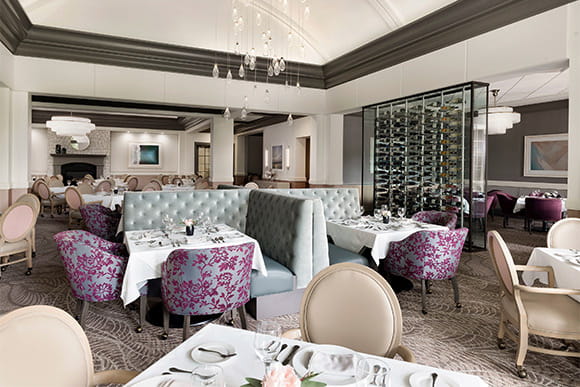 New bar and theatre to add to the social scene
---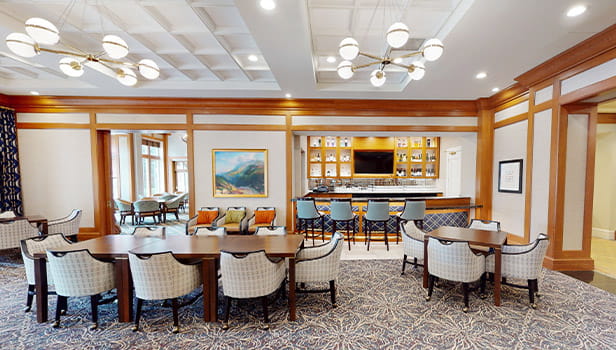 The Drawing Room (pictured) is now even more of a gathering spot for social events and happy hours with the addition of a full-service bar. Residents can relax with a drink before dinner or mix and mingle over signature cocktails while watching big games at the bar.
Another new amenity is a state-of-the-art theatre with seating for 29, where residents can watch movies and participate in lectures in a luxurious venue featuring plush theatre chairs and hi-tech acoustics and lighting.
The theatre walls are decorated with art pieces featuring famous Chicagoans from performance, politics and popular culture, creating a cultural experience that is distinctly Chicago proud.
These new venues offer residents even more opportunities to socialize within the community for years to come.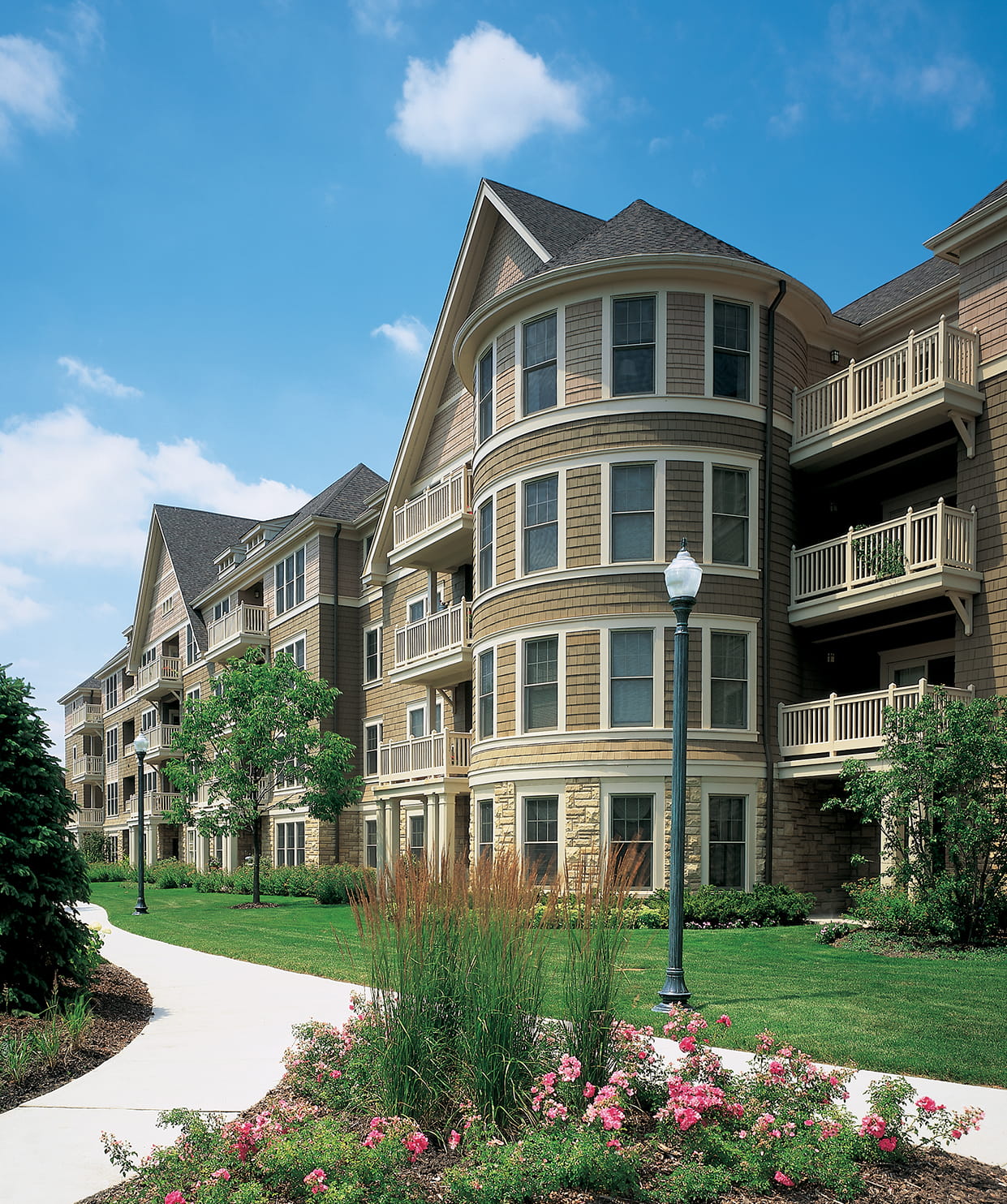 Take a look around
Get an up-close look at Vi at The Glen: Explore our common spaces and outdoor areas in a video tour, browse photos of residents doing what they love, and see how we're redefining senior living.