5 Ways the Lifestyle Department at Vi at The Glen is Keeping the Community Spirit Thriving During the Pandemic
The Lifestyle Department at Vi at The Glen has always sought to help residents connect with each other and to discover new passions and hobbies in retirement. However, just like the rest of the world, we have had to adapt to a new normal as stay-at-home orders continue to shift across the country. As many residents choose to spend more time in their apartments, our Lifestyle Department, with the help of staff members across all departments, jumped into action to find creative ways to bring the sense of community and connection to the residents.
"All teams here are working seamlessly together to ensure our residents are able to enjoy everything that makes our community unique," shared Vi at The Glen Sales Director Sian Moynihan.
Below, discover just a few of the ways that staff members keep residents engaged and connected while keeping them safely apart:
1. Dining in and al fresco.
On the culinary side, our teams have shifted seamlessly from dine-in to delivery, even adding opportunities to surprise and delight with birthdays, holidays and just-because days observed with personalized treats, notes and themed meals delivered directly to front doors.
2. Staying fit and having fun.
Our team works together to bring the same fitness and wellness programs offered in the gym to our residents directly via the community TV channel. Yoga, meditation and functional fitness classes are staggered throughout the day to ensure residents can partake as their schedules allow. And residents are encouraged to get outside and enjoy the outdoor spaces within the community, including the Vi at The Glen resident garden.
3. Going techie
Staff and tech savvy residents work together to get the less technologically inclined comfortable with online communication tools like Zoom and FaceTime® Voice and Video Calling.
4. Encouraging connections.
With residents set up with user-friendly voice and video calling apps, existing groups and clubs were able to resume meetings, from book clubs to choir practices. Residents also host online luncheons, happy hours and dinner parties.
And the Lifestyle Department facilitated the return of a little friendly competition and camaraderie by equipping residents with access and instructions to virtual group Bridge games. Residents can set up games against fellow Vi residents from the comfort of home.
5. Getting creative.
And as for entertainment, staff members from every department pulled out all the stops.
In addition to curating and delivering content like movies and lectures through "Stir Crazy," part of a mobile app provided to all Vi residents, staff conceptualized and recorded their own videos.
Even the residents have been getting in on the fun, offering to share their own talents, hobbies and expertise with their neighbors, from cooking demos to standup comedy routines. Ten-year resident Henry Schwenk has long hosted a popular trivia contest for his fellow residents. And he didn't want the pandemic to change that. So, he employed an online app that would keep the fun going virtually throughout the pandemic.
And the creativity and resourcefulness of staff members at the community show no signs of stopping. Every day, they continue to find new ways to connect with residents and to connect residents with each other. And residents appreciate the hard work.
"Of course, many things have had to be adjusted this year, but our residents have been a positive source of inspiration throughout," said Sian.
Glad to be connected!
There's a lot to consider when embarking on the next phase of retirement—and contacting us is a big step. (Well done!)

We'll be in touch soon to share expert insights and resident perspectives that we hope are helpful, and one of our team members will also be reaching out to answer any questions you may have.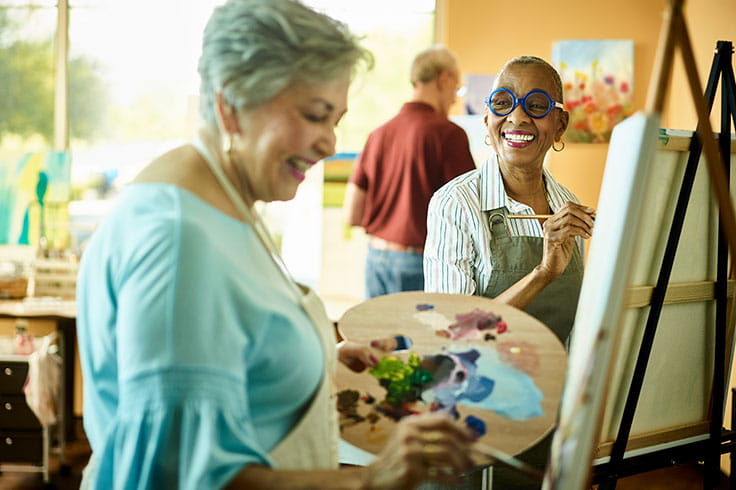 What's happening at Vi
---
Find out what's going on in the community and see how residents fill their days.
Meet the Residents
---
Want to know about life in our luxury senior living community? Get to know our residents.