U.S. Figure Skater and Olympic Medalist Jason Brown Skates His Way into the Hearts of the Community Visiting Grandparents at Vi at The Glen
Glenview, IL (August 17, 2022) – American figure skater and Olympic medalist, Jason Brown, paid a visit to his grandparents, Bill Brown and Hope Bernstein, both residents of Vi at The Glen.
Accompanied by his parents, Steven Brown, son of Jason's grandfather and Vi Resident, Bill and mother Marla, daughter of Jason's grandmother and Vi resident, Hope, Brown joined his grandparents along with Vi Senior Living residents in Glen Hall, the community's primary gathering place, for an interview given by Vi Lifestyle Director, Andrea Agazim.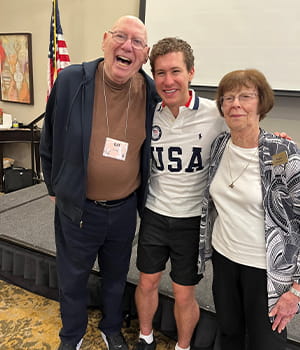 At 27, the skater from Highland Park, shared his experience as a very young skater growing up in the sport all the way to the world stage competing at the Olympics in 2014 and 2022. At the 2014 Winter Olympics in Sochi, Japan, Brown won a bronze medal in the team event becoming one of the youngest male figure skating Olympic medalists. Competing at the 2022 Winter Olympics in Beijing, China, and the oldest singles competitor on the TEAM USA roster in the men's singles free skate event, Brown shared his journey getting back to the Olympics after eight years, and what it took to put on his remarkable performance. Brown credits his parents for their consistent and unwavering support throughout his career, regardless of how or where he performed in small U.S. towns or internationally.
The audience enjoyed Brown's time at the community and shared their support of him at the end of the interview, in a Q & A forum followed by a meet & greet, hugs and photo opportunities with residents. The unassuming Olympic medalist skated right into the hearts of the community with genuine warmth and charm to the delight of all. Vi resident, Betty Gerstner, Vi resident since 2008, summed it up, "Since figure skating is the only winter Olympic sport I watch, I saw all of Jason's performances. I wouldn't have missed his visit for anything. He is a delightful person. But so are his grandparents."
To learn more about Vi at The Glen, https://www.viliving.com/locations/il/chicago-glenview
About Vi
Headquartered in Chicago, Illinois, Vi operates 10 continuing care retirement communities (CCRCs) across the United States. With more than 30 years of experience as the owner and operator of residential communities for older adults, Vi continues to work toward providing quality environments, services and programs to enrich the lives of those they serve. Vi is proud to be the recipient of several best workplace awards, including Glassdoor's 2021 "Best Places to Work", and Great Places to Work and Fortune's "Best Workplaces for Aging Services".