Love (And Family) Really Can Conquer All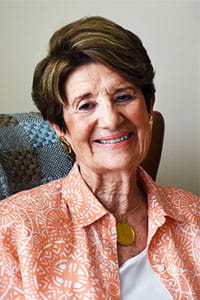 When Tessie Boucouras was a child, the world was at war, and it was raging literally in her own backyard.
In 1941, German forces broke through Greek resistance and took control of Solonica, a port city on the Aegean Sea. Luftwaffe dive bombers screamed down on the city at night, as 8-year-old Tessie, her 5-year-old brother Alexander, and parents George and Anna Doolas, huddled in a small trench they had dug outside their backdoor.
"I remember the terrible sirens, and the bombs — in the morning, we would find little pieces of the bombs everywhere," Boucouras said.
Of course, many mornings she would make discoveries that were much grimmer. The occupation of Salonika and the mistreatment of its residents would become one of the most infamous of Nazi atrocities.
But Tessie, now a resident at Vi at The Glen, says that experiencing the hardships of World War II and the Greek Civil War that followed, brought her family closer. And, it made them truly appreciate life and everything in it.
"My brother and I agree that all these circumstances made us stronger," she said. "We are very positive, and we put things in perspective."
Realizing the American Dream
In 1947, Tessie and her family immigrated to the Chicago-land area. Her father had previously immigrated to the country as a child and knew of the opportunities here for those who worked hard and had a good education.
George didn't let the fact that he hadn't finished high school stand in the way of going to college in America.
"My father walked into Utah Agriculture College and told the admittance officer that if he didn't get straight A's the first semester, they could kick him out," said Tessie. He was admitted, and he did, in fact, get straight A's and go on to earn his bachelor's degree there, followed by a master's from the Univeristy of Illinois, and finally a PhD from the University of Missouri.
Her father's bold example would inform Tessie in her own life and studies. She took her schoolwork very seriously, earning her bachelor's degree in English from Loyola University, where her father was a professor.
Lessons for the Family
When it came time to raise her own children, Tessie continued to follow in her father's example of working hard and focusing on education. It was also an understanding she shared with her husband, Dr. Marios Boucouras. They both set high standards for their children.
"I think I was strict, but my children say that they understand, especially now that they have their own children," she said.
In 1961 Tessie and Marios left Chicago for Toledo, Ohio where she became active in social and art organizations, including becoming a board member at the Toledo Symphony Orchestra Association. She also spent time as a board member and docent at the Toledo Museum of Art, and of the Medical auxiliary. The couple were also members of Sylvania Country Club.
Marios, meanwhile, joined a well-known orthopedic practice. According to Boucouras, his hard work and love of medicine helped to propel his reputation, and he became one of the most prominent orthopedic surgeons in the Great Lakes region. He would go on to become a professor at the Medical College of Ohio before retiring in 1986. He passed away in 2010.
Life Goes On
For Tessie, the decision to move back to the Chicago area and to Vi at The Glen was a no brainer. With family still in the area – including her daughter Ann who lives in Wilmette, and her only brother Dr. Alexander Doolas – the location and amenities at the community greatly appealed to her.
Having experienced so many extraordinary events in so many different places, Tessie is not content now to idly spend her hours. Today, she volunteers at the library, regularly attends fitness classes, and frequents community bridge games. She also participates in many of the activities organized by Vi at The Glen's lifestyle department such as the Short Story Group.
"At Vi there are so many outstanding and congenial people I meet with – whether it's going out for dinner, to movies, the art museum, the Chicago Botanic Garden, concerts at Ravinia and so much more," she said. "Everyone here is quite knowledgeable, interesting and comfortable to be with – I feel blessed!"
These days, when Tessie shares her stories of challenges long ago, she stresses that her family always helped her endure through even the hardest times.
"All these things did not happen just to me. It happened to everybody. There's a big difference," she said. "Life goes on."