Glad to be connected!
Thanks for reaching out!

We'll be in touch soon to share expert insights and resident perspectives that we hope are helpful, and one of our team members will also be reaching out to answer any questions you may have.
In Henry Schwenk's seven years as a resident of Vi at The Glen, he's left an indelible mark on the community as their trivia master for nearly the same length of time.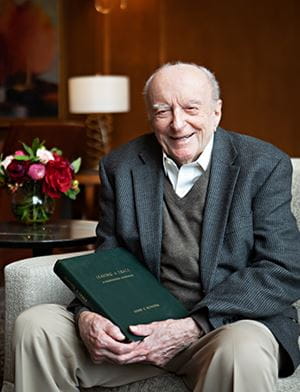 He got into the game by accident while dining with friend and fellow resident Laeh Grant, who was helping the Lifestyle Department plan resident-focused events. Laeh was coming up short on ideas, so she enlisted Henry to help.
The first possibility to pop into his head? Trivia. Before he knew it, Laeh had deputized him as the community's trivia master.

Seven years later, Henry has never looked back.

"I read three newspapers a day and I get ideas. My mind is tuned to trivia," Henry said, "And when I have dinner with people, which is every night or lunch, I'm listening.

"I've got a mind that kind of records things."
For brain bending or bragging rights
Inspired by his own research, the interests of his fellow residents and a level of precision befitting a former engineer, Henry has devised more than 2,000 questions that are fine-tuned to foster a fun environment and a perfect level of challenge. The results have been undeniable: Trivia nights regularly packed Glen Hall before the pandemic.
And while COVID-19 could have spelled the end of Vi at The Glen's favorite game, Henry and the Lifestyle Department kept it alive via the community's in-house television network, giving residents a bit of normalcy and a regular dose of intellectual stimulation when they needed them most.
"You'll find that if you put your mind to work, you can come up with some amazing things," Henry said.
Of course, not all residents play trivia with mental exercise in mind. Some, he said with a laugh, are in it for the glory.
"We'd give five prizes for the five highest scores: bottles of wine or boxes of candy or gift certificates. That all worked. But mainly, they weren't there for the prizes. They were after the bragging rights, getting their name on the trophy."
This coveted trophy is covered with the names of teams that have claimed victory under Henry's watch—all 42 of them.
A "new lease on life"
Moving to Vi at The Glen didn't just lead to Henry's prolific career as a quizmaster. He says it gave him a "new lease on life," a refreshing way to fight boredom—and an opportunity to start a new chapter among friends.
"I like the lifestyle program and the fact that they've given us a variety of activities," Henry said. "I've done a whole lot of things since I've been at the Vi that I probably would not have done. The seven years have gone by in a hurry."
Turning trivia nights into a community institution certainly counts as one of those unexpected endeavors. After well over a year without in-person events, the first "normal" trivia night took place in September 2021, and residents are clamoring for more.
"Every time I go down the hall, somebody will say, 'Henry, when's the next trivia?'"
If you're inspired to try your hand at the competition that's quickly become a tradition, get in touch with us — we would be happy to secure a guest invitation for you.