Whatever your plans for the future include, gradually downsizing as you age has a lot of benefits.
One of the biggest: Once you've taken steps to streamline your belongings to suit the next phase of your life, you may realize just how freeing it can be.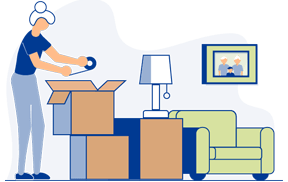 With less "stuff" to maintain, you will spend less time cleaning, organizing, and taking care of your belongings, leaving you with more time to do the activities you love with the people you care about.
Even so, it's natural to feel nervous about the prospect of decluttering: It can be a daunting task, both physically and emotionally.
Read on for a few ideas on getting started with this important process.
---
Downsizing is a physical task.
Starting even years before a big life change may also help minimize the physical and logistical challenges that could arise later. You're the youngest you're ever going to be!
If you're making a move to a senior living community, don't wait until the movers are en route. Make things easier on yourself by starting to pare down your belongings early.
This is often a big job, so allowing yourself plenty of time can alleviate some of the potential stress involved and give you some room to be mindful about what to do with the items you aren't keeping.
Will you give them to your family? Donate them to meaningful charities? Sell them online?
---
Once you've committed, here are four more small ideas that can make the process of downsizing easier:
Make space for your emotions
---
Downsizing isn't just a physical task. It can also be emotional.
For many people, downsizing just isn't as simple as discarding items no longer in use, even when the number of possessions you own starts to feel less manageable.
That's because the accumulation of what some see as "just stuff" actually represents a lifetime of memories: starting and raising a family, going on vacations, celebrating career promotions, and more.
Getting rid of those items may make you feel like you're lugging your whole life to the curb.
Beginning this process early on also ensures you'll have ample time to process the emotions that come up while you're sorting through a lifetime of wonderful memories.
---
Downsizing isn't something you should try to do all on your own; there are plenty of resources out there designed to lighten the load for you.
We'd love to be a resource too! Our team is always happy to answer your practical questions about downsizing if you're considering a move to senior living.
Glad to be connected!
There's a lot to consider when embarking on the next phase of retirement—and contacting us is a big step. (Well done!)

We'll be in touch soon to share expert insights and resident perspectives that we hope are helpful, and one of our team members will also be reaching out to answer any questions you may have.