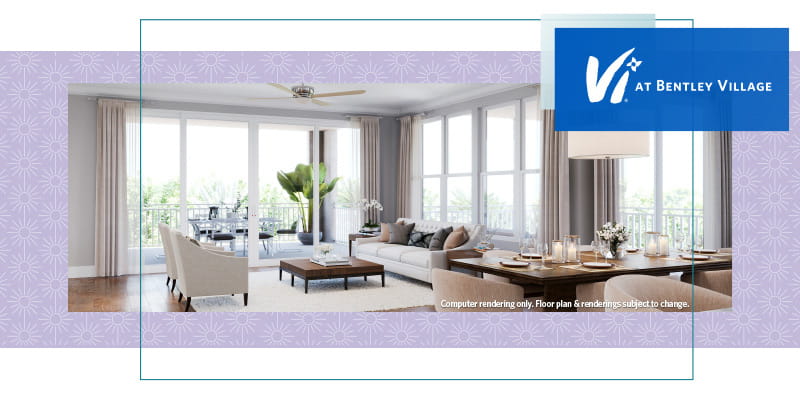 A Taste for Discovery: Even Better
Monday, October 3
3:00 PM - 4:30 PM
Tuesday, October 11
10:00 AM - 11:30 AM
Thursday, October 20
3:00 PM - 4:30 PM
Tuesday, October 25
10:00 AM - 11:30 AM
Vi at Bentley Village set the standard for senior living luxury. Now, with 64 spectacular, spacious new residences on the way, our community is getting even better.
Join us for a small-group tour of our amenity-filled clubhouses and a model apartment. You'll learn about our unmatched lifestyle and how we put residents first, such as requiring staff to be vaccinated for COVID-19. Plus, leave with a three-course picnic meal, a bottle of wine and maybe even a new perspective on retirement. There's never been a better time to make the Bentley Village lifestyle yours, so RSVP today.
Our team works hard to make it as easy as possible for you to connect with us. Whether you prefer email or phone, want to visit the property, read over a glossy brochure or just stay in the loop - we are here to provide you with the necessary information.
THANK YOU FROM Vi
Thank you for submitting your note to us. A member of our team will contact you within two business days to follow-up on your inquiry. If you would like to speak to someone on our team immediately, please contact our office at the number below.