Vi at Bentley Village Head Golf Pro Scores Tournament Win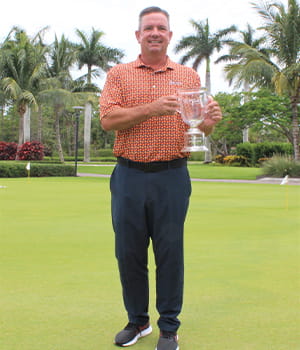 Naples, Fla. (June 26, 2023) Vi at Bentley Village is pleased to announce that Head Golf Professional, Stan Geer, placed first in the E-Z-GO South Florida Open, Senior Division. During the two-day competition, Geer shot ten birdies and one eagle, giving him an overall score of 136 and a tie for first place. In a playoff, he secured the win.
A 22-year Class A member of the Professional Golfer's Association (PGA), Geer has been with Vi at Bentley Village for nearly ten years, managing the community's private 18-hole par-3 golf course, providing instructional clinics and lessons, and coordinating more than 200 events annually. Geer has appeared in numerous magazine and newspaper articles and television interviews to promote the community's golf program. In 2021, he qualified for the South Florida Senior PGA Challenge Cup team. Geer was nominated for Merchandiser of the Year for the Southwest Florida Chapter of the PGA in 2022 and 2023.
Located in Naples, Florida, Vi at Bentley Village has been providing luxury retirement living for more than 30 years. The community provides a continuum of care including independent living, assisted living, memory care and skilled nursing to its residents. Vi at Bentley Village is situated on 156 lush acres, provides more than 12 miles of walking trails, an 18-hole par-3 golf course, a pro shop, and much more.
To find out more about Vi at Bentley Village, visit www.viliving.com
Golf at Bentley Village
The residents of Vi at Bentley Village love having an 18-hole, par-3 golf course of their very own, right here in the community. The grass has never been greener!
Resident sinks two-holes-in-one on the Bentley Village golf course
A Vi at Bentley Village resident recently made two holes-in-one during a single outing on the community's beautiful par-3 golf 18-hole course.
Glad to be connected!
There's a lot to consider when embarking on the next phase of retirement—and contacting us is a big step. (Well done!)

We'll be in touch soon to share expert insights and resident perspectives that we hope are helpful, and one of our team members will also be reaching out to answer any questions you may have.