Mark your milestones
In addition to our community restaurants, Vi at Bentley Village also boasts spaces designed for your private events, important meetings and celebrations with loved ones. Whether you're looking for a larger meeting space or intimate private dining room, we've got a space to suit your needs.
Meals your way, every day
Some nights, you just don't want to dress for dinner. Order your restaurant meal off the regular menu for complimentary pickup — or delivery straight to your home (for an additional fee).
Azure: formal fine dining
Azure
---
Open for: Dinner (Wednesday–Saturday), midday meal (Sunday)
Located in the East Clubhouse, Azure offers formal fine dining in a luxurious setting that makes every meal feel like a celebration.
Each five-course tasting menu features handcrafted soups and salads, imaginative composed entrées and decadent desserts created by our in-house pastry chef, Michael Beltran.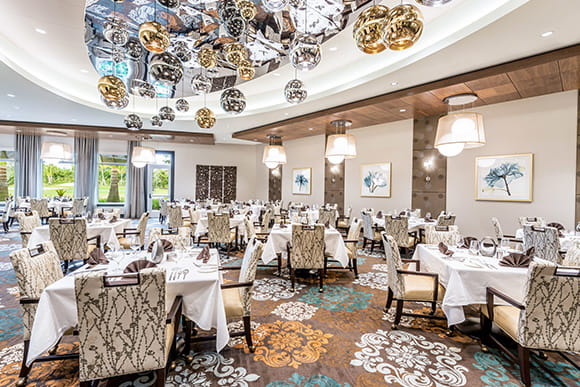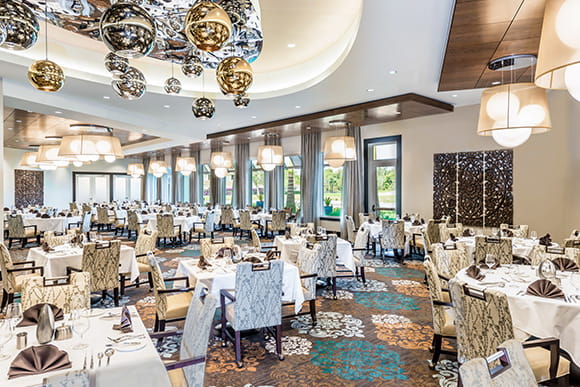 Azure Lounge: elevated cocktails and small plates
Azure Lounge
---
Open for: Drinks and light bites (Tuesday–Saturday)
Adjacent to our fine-dining restaurant is the equally upscale Azure Lounge, offering handcrafted cocktails, top-shelf spirits and a 900-bottle wine room.
Sip on a handcrafted cocktail before dinner, or enjoy a quick bite with friends before an evening out on the town.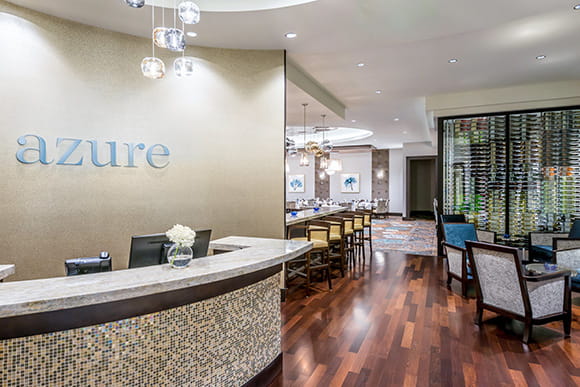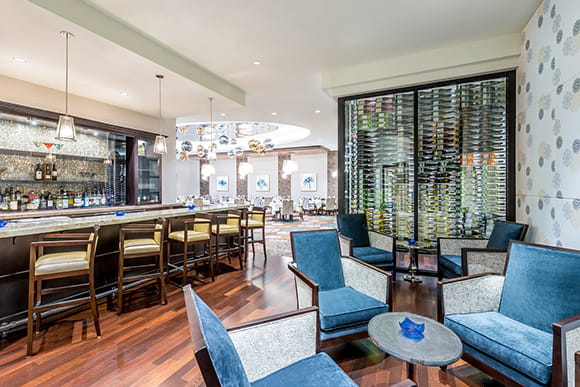 Seaside: upscale lunch and dinner
Seaside
---
Open for: Dinner (Monday–Saturday), midday meal (Sunday)
Located in the East Clubhouse, Seaside is an upscale dining experience influenced by the cultures and cuisine of the Mediterranean.
Anchored by an open kitchen with a blazing wood-burning hearth oven, Seaside offers familiar ingredients with a global twist.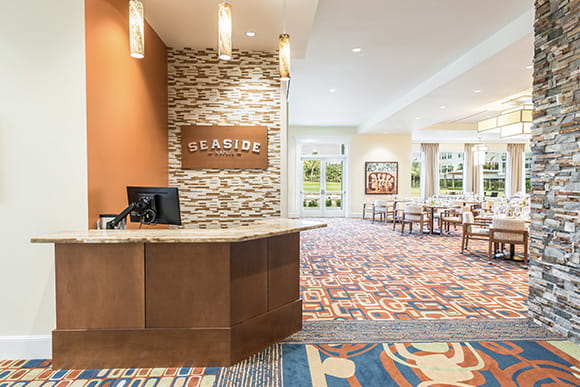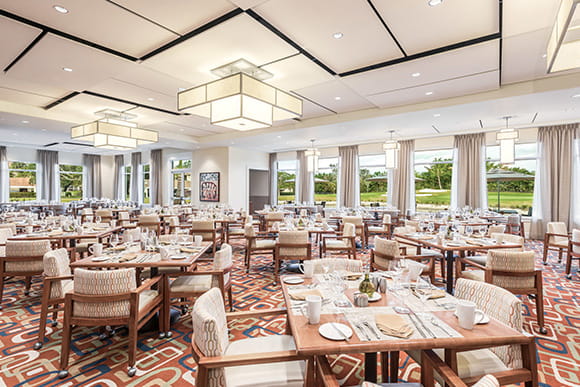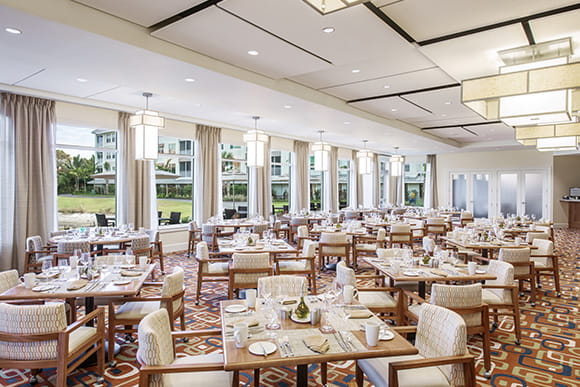 Seaside Lounge: upscale cocktails
Seaside Lounge
---
Open for: Drinks and light bites (Monday–Saturday)
The Seaside Lounge is open for pre-dinner happy hour, offering handcrafted cocktails, top-shelf spirits and wine — and residents can enjoy the full restaurant menu at the bar, too.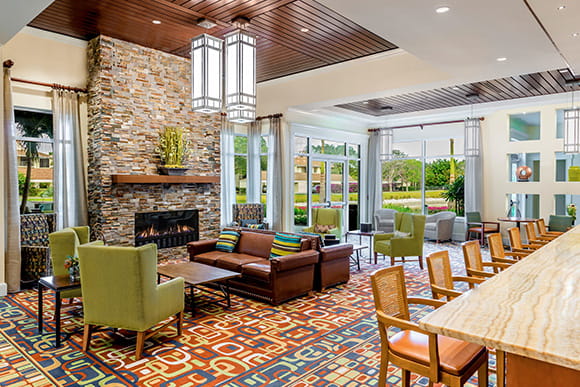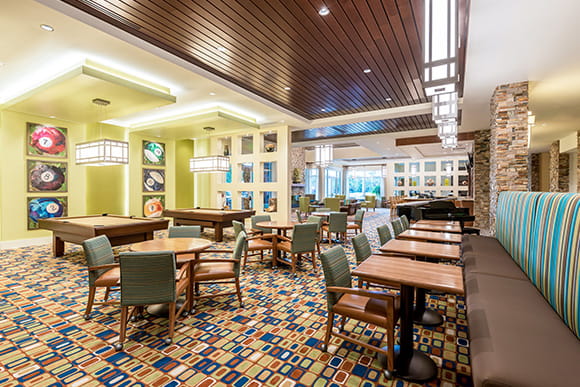 Lakeside Grille: all-day fare with patio and poolside options
Lakeside Grille
---
Open for: Lunch and dinner (Monday–Saturday)
Located in the West Clubhouse, Lakeside Grille offers a casual dining experience with a relaxed resort flair.
Lakeside Grille serves up a menu of delicious foods with a side of beautiful views, including poolside dining. It has an indoor/outdoor bar and lounge area with cocktails and the full restaurant menu offered.
This casual area features TVs to enjoy live sports and more. Residents and their guests can take a seat at the bar after a dip in the outdoor pool, or enjoy a drink at one of the two outdoor patio options adjacent to the restaurant – including one with a cozy outdoor fire pit.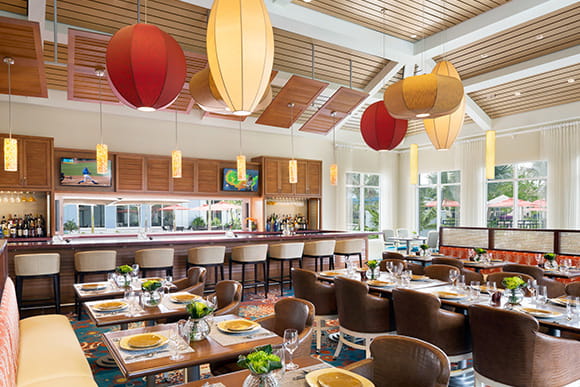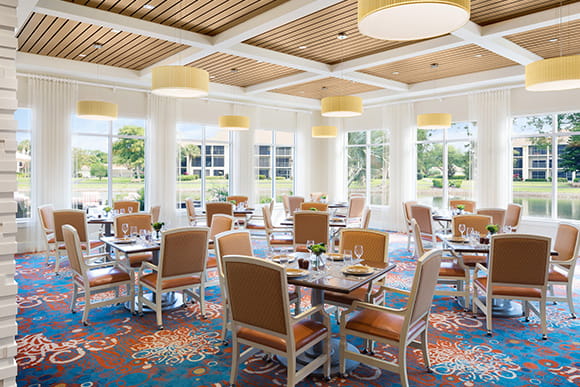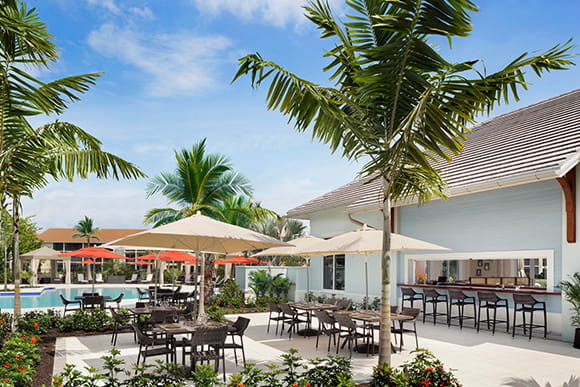 Café Biscotti: à la carte grab-and-go fare
Café Biscotti
---
Open for: Breakfast and lunch daily
Located in the lifestyle and wellness area of our West Clubhouse, the quick-service Café Biscotti is the perfect companion to your active lifestyle.
Offering everything from coffee and pastries to packaged made-fresh-daily salads and sandwiches, you can grab breakfast before a round of golf, a quick post-workout energy boost, or a bite before hitting the town with friends.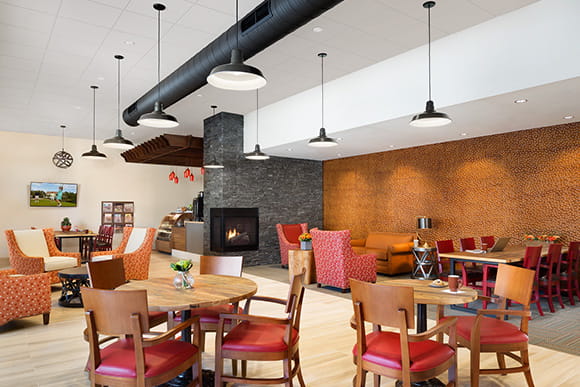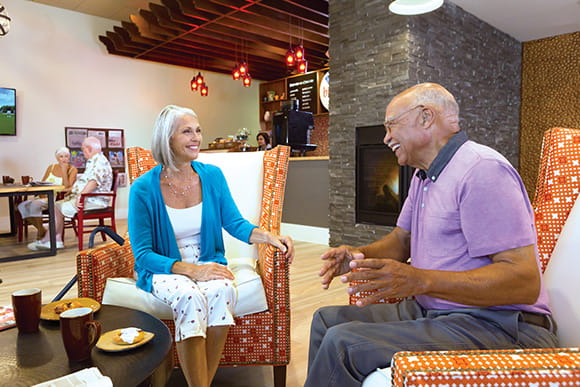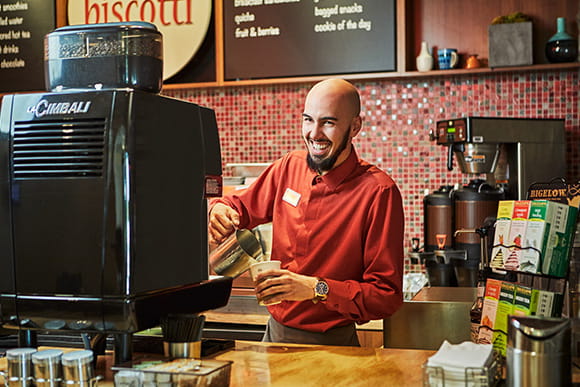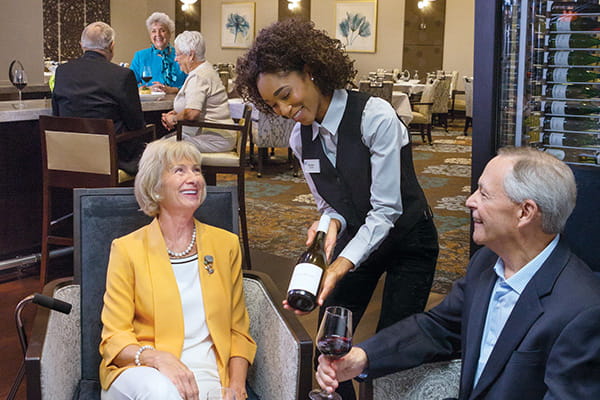 White-glove service
---
Learn more about the hospitality and services that come standard when you become a Vi at Bentley Village resident.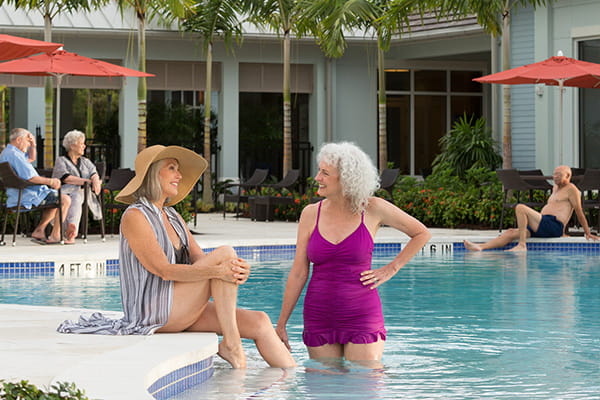 Luxury amenities
---
Get more details on the resort-style amenities that make Bentley Village an exciting place to spend the next phase of your retirement.
Ready to learn more? We're here to answer your questions and get you the information you need.