The Vogels' Motto: Run While You Can
Dr. Wolfgang Vogel sums up the combined life story of he and his wife Ursula with a knowing smile: "Our journey is a long one, filled with unpleasant, sad, and hard memories in the beginning, but fortunately, the memories later on have become very pleasant and joyful."
In the cadence of native German speakers, Wolfgang and Ursula banter back and forth in the comfort couples acquire over the course of a lifetime: they finish each other's sentences, and recall stories. But before the couple started their life together, they were growing up in separate corners of Nazi Germany.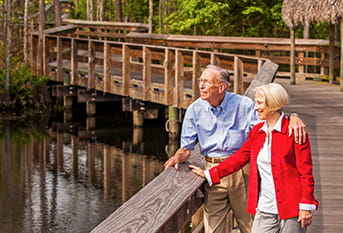 Survival stories
"My journey started in 1930 in Germany in a city called Dresden, where I was born," Wolfgang says. "I grew up during the Third Reich and during the second World War. I survived the fire bombing of Dresden; some of my friends did not. It was quite traumatic that one day you would see a friend in school and the next day he was gone.
"After the fire bombing, I was 15 years old and I was drafted into the paramilitary. Fortunately, we had a very understanding captain and before we saw action, he said 'Boys, go home.' And by sending us home, he probably saved our lives."
Ursula also has memories of wartime. "I was born in 1936, in a small town near the Dutch border. It was a happy time until the war got underway," she says. "My father had the cellar fortified and it became our retreat when the alarm sounded and bombing started. Schooling was constantly interrupted by alarms and bombing."
She remembers one episode vividly: "It was 1944 and harvest time for our huge apple tree. Father, mother, and my little brother with the neighbors were standing under the tree. My mother heard a turbulence in the air, took my brother and ran to the house. A bomb fell on the tree, leaving an enormous crater. It tore my mother's apron off her body and left my father full of shrapnel. A table in the kitchen saved my life. A plate-sized glowing piece of metal came sailing through the already-shattered window and landed on the table above me."
The Nudge of Fate
After the war, life became more normal, with Wolfgang attending college to study chemistry while also working odd jobs as a night watchman and testing the air in mines for a coal company. He recalls a lunch with his mother who was visiting after he moved to Frankfort to join a pharmaceutical company.
"My mother was close to a nervous breakdown because her son was already 28 and not married," he says. "We were at a café, I was studying the menu and wondering what cake I would eat, when my mother all of a sudden nudged me and said 'That blond girl over there – I would like to have her as my daughter in law.'"
A brief conversation between the soon-to-be couple ensued, and Wolfgang gave Urusula his business card and asked her to please consider going to dinner with him. After thinking about it for three weeks, she called him and agreed to a date.
Making Their Mark in America
After two years of dating, Wolfgang and Ursula were married. The next day, they were on a boat and on their way to the United States, where Wolfgang was set to begin researching and teaching at the University of Illinois at Chicago's College of Medicine.
They landed in New York and took a 17-hour bus trip to Chicago. "I was ready to go home," Ursula says. However, she immediately found a job as a translator for a German professor. "I later became department secretary, soon making more money than my husband as a professor!"
The couple would eventually move to Washington D.C., then back to Chicago before making their way to Philadelphia, where Wolfgang accepted a professorship in pharmacology at Jefferson Medical College. They would spend the next five decades near Philadelphia.
In 2000, the couple decided to move to abandon the often treacherous east coast winters and move to Florida. In their newfound state, the couple continued to work part-time: Wolfgang teaching and writing scientific papers, and Ursula in advertising for the company she previously worked for in Philadelphia.
Life at Vi at Bentley Village
After 15 years of living the Florida lifestyle, the Vogels decided it was time to retire full-time. Having spent time at Vi at Bentley Village for skilled rehabilitation, Ursula felt it made sense to start their search at the community. The search was brief: the couple loved the community, and moved to Vi in early 2016.
"We both feel this was one of our best decisions," Wolfgang said. "We were looking for wide open spaces, and here you have palm trees, lakes, golf, tennis, and swimming pools. Even though we moved here, in the summer we still go up north to visit our children, and I still teach a few classes at my old university."
Ursula adds, "I'm always busy. We still travel to far-away places. Our motto is 'Run while you can.'"