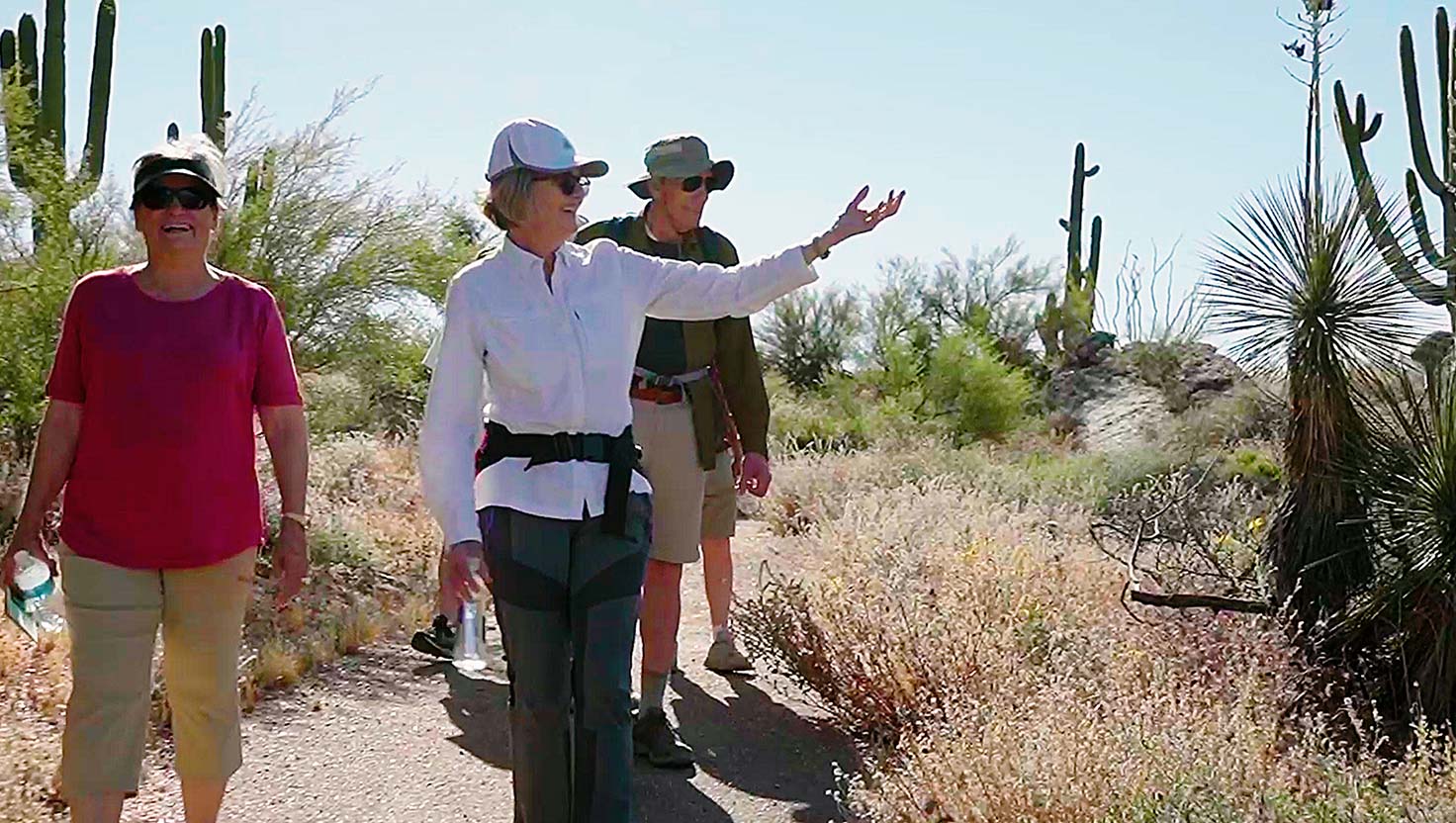 Hike the Trails with the Vi at Grayhawk Hiking Club
Surrounded by the walking trails of the Grayhawk planned community and the hiking trails of the McDowell Sonoran Mountain preserve, it's only natural that a new hiking club would take off amongst the residents of Vi at Grayhawk.
"I was actually surprised they didn't have a club organized already," said Ivy Holmes, Vi at Grayhawk Fitness Coordinator. "They had an informal group who would walk together Monday mornings, but when I came to the community and asked what I could do to add to the activities already offered to residents, they said they wanted to hike."
Spreading the word
In a tight-knit Life Plan Community like Vi at Grayhawk, word of the new hiking club spread quickly, and in the most neighborly way—over cups of coffee before breakfast and drinks enjoyed in casitas before dinner in the lodge.
"Everybody just invites everyone to everything. Sitting down over a cup of coffee or something and your neighbor will say, 'Oh there's a hiking group—do you want to come?' It's just that easy here," shared resident and hiking club member Judy Vickers.
As a result, the group has grown, both the original neighborhood walking group and the new one that gathers to hike the nearby mountain trails.
Flora and fauna, fitness and friends
Finding time to "stop and smell the cacti," is important to the residents. Surrounded by stunning desert landscape, the Vi at Grayhawk hikers are often inspired to hit the trails before sunrise.
For new members of the group, the early start time can be a little daunting, but, as Judy put it, "You only have to show them your photos of a beautiful orange sunrise and they are immediately converted."
For the members their monthly hikes are also the perfect combination of fitness and friends.
"We walk steadily and as briskly as we can, but we don't walk so fast that we can't talk because that's the best part," said Eileen Hackenyos.
Conversations along the trail have helped the residents build friendships within the community, but the immediate benefit is that they also help the miles fly by.
"Sometimes you don't realize how far we've gone and want to go farther, but time limits us," Eileen said. "But not because we come back and rest! We come back to do another community activity together."
A wonderful day in the neighborhood
For some residents, a sunrise walk with friends in hiking club is just the first of many activities in a full day at Vi at Grayhawk.
"I've had to go from a small calendar to a big calendar since moving here," Judy said.
From additional fitness classes and morning rounds on the community putting green, to cooking classes and neighborhood barbeques, the residents enjoy a wealth of ways to connect with their neighbors throughout every day.
"We loved it from the first minute we got here. We just felt this is home; this is where we want to be," Eileen said.