Rehabilitation in the comfort of your own community
---
Whether you're recovering from surgery, in need of rehabilitation services or require long-term nursing care, our dedicated skilled nursing staff is ready to help. Our team of licensed professionals manage care plans focused on each resident's individual needs, including physical, speech and occupational therapy.
And because our care center is on site, you'll never be far from the community of friends and family you love.
Skilled nursing lifestyle
---
We've created an environment designed to help residents embrace everything life has to offer: a variety of menu options from our classically trained culinary team — served in a stylish dining room or in residents' rooms — weekly lifestyle programming, and scheduled transportation within 15 miles for appointments, shopping trips and special events.
As a Skilled Nursing Facility, we create person-centered interdisciplinary plans after a thorough initial assessment of our residents.
Collaboration between community staff and the resident's physicians
Individualized activities and group experiences, such as outings that encourage staying social
Licensed nursing staff available 24 hours a day
Medical orders and treatment plans implemented by our interdisciplinary team
Physical, occupational and speech therapy teams that are licensed to work with a multitude of medical and cognitive needs as well as many different treatment modalities
Services provided in skilled nursing
Our care center has therapy teams licensed to work in many treatment modalities for residents with a multitude of clinical, occupational and cognitive needs. We encourage collaboration between residents' physicians and community staff and ensure that medical orders and treatment plans are successfully carried out by our interdisciplinary team.
We create an individualized care plan for each resident after a comprehensive baseline assessment, which may include:
Assistance with daily living activities, including bathing, oral care, grooming, dressing and eating
Physical, occupational and speech therapy
Medication administration and monitoring
Wound management and skin care
Hydration and nutrition monitoring
Coordination for hospice care
Additional services
Vi at Grayhawk can also arrange for a variety of available services*:
Pharmaceutical services
Private duty assistant services
Transportation and dry cleaning
Ancillary medical supplies and services
Salon and barbershop services
Guest meals (advance reservations requested)
*Available for an additional fee and may be provided by a third party
Our private suites can be personalized with residents' own touches to make them feel even more like home.
Every suite includes:
Private bathroom featuring easy-access shower with assist bars
Daily light housekeeping, including bed making
Individual climate control
Laundering of towels and bed linens as needed
A nurse call system
Basic cable television
Telephone with local service
Beyond your suite, we offer comfortable visiting areas for guests and residents; a family and resident gathering room with a door for privacy; a conference room available for resident use; an enclosed outdoor garden area with paved walking path; and physical and occupational therapy gyms.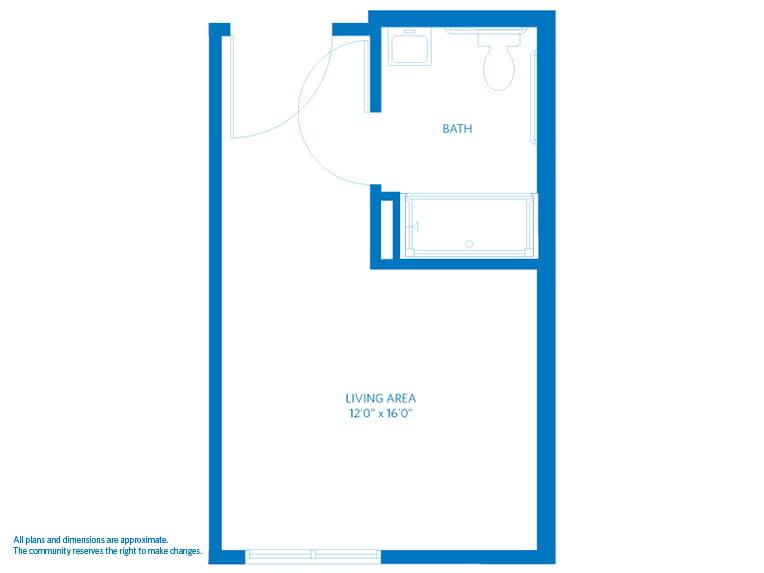 Fees for continuing care residents
Residents who are contracted with Vi for continuing care will continue to pay their independent living monthly fee after moving to our care center. Monthly fees do not change when residents move to a higher level of care, but ongoing, community-wide fee increases will continue to apply. There are charges for ancillary items and additional meals received while in our care center.
Fees for spouses who remain in independent living
If a resident and their spouse are both contracted for continuing care and only one requires a higher level of care, one spouse will remain in independent living while the other moves to our care center. Both residents will continue to pay the monthly fee paid while residing in independent living. Their monthly fees will not change because of a move to a higher level of care, but ongoing, community-wide monthly fee increases will continue to apply. In addition, there are charges for ancillary items and additional meals received while in our care center.
Fees for non-CCRC residents
For non-CCRC residents, costs for direct entry to our care center are charged at the current market rates.
We accept Traditional Medicare (Parts A & B) and Private Pay, and where the circumstances allow, we can process payment from other participating third-party or private insurance coverages.
Thanks for reaching out.
A team member will be in touch with you soon.