Vi at Silverstone resident completes 3,400 mile cross-country bike journey
"I all-but-grew-up on the back of a bike," said Vi at Silverstone resident Bob Mountz said. "In grade school, biking was a part of life. It was how I got around, and it gave me a sense of freedom."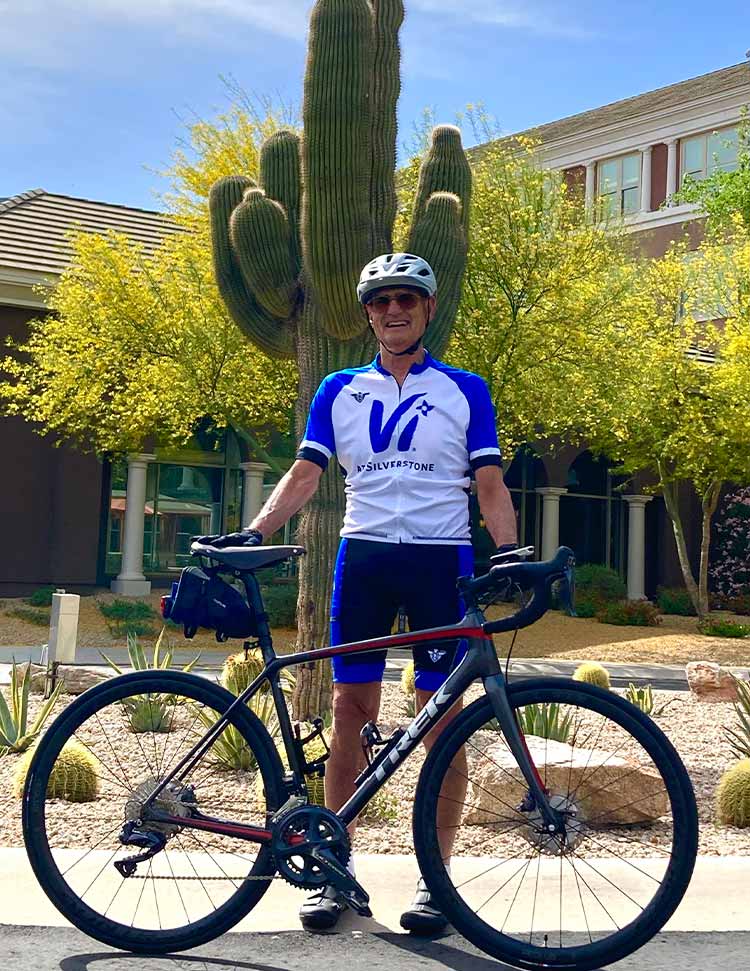 The start of his journey
Mountz started taking long bike trips in the 1970s. An Indiana native, Mountz met his wife, Sylvia, when they both attended the University of Illinois. After college, Mountz joined the military and the couple headed to Germany where they would have two children before heading back to the states. All the while, the couple remained avid bikers.
"My career and my bike gave me the opportunity to see the world," Mountz said.
Upon returning to the States, Mountz rode his bike every chance he got. He'd often unwind while cycling along the Midwest's rural back roads.
"I started taking long bike trips in the 1970s," he says. "We were living in Champaign at the time and I had in-laws who lived 85 miles away. I'd leave early on my bike and ride across the prairies of Illinois. Later in the day, my wife would grab the kids and they'd drive to meet me there."
Traversing the country
In 1976, to celebrate the bicentennial, Mountz took part in his first long-distance bike trip, trekking from St. Louis to eastern Kentucky. While many other trips would follow, he embarked on a more challenging route in 2001: a 2,200 mile bike ride from Los Angeles, Calif. to Champaign, Ill.
"There is a saying in the biking community that those who finish the journey complete 'efi,' which means 'every fabulous inch,"' he chuckles. "But there was a portion I didn't complete. In 2008, I changed that by riding from Champaign to Boston. I picked up where I left off and completed my 'efi' trip."
Still, Mountz wanted to tackle the complete cross-country journey in a single stretch. And he did just that in May 2015.
"We had a kick-off ceremony in Manhattan Beach, Calif., where we dipped our back wheels into the Pacific Ocean," he said. "Then, the journey began up a big hill. Forty-nine days later, I was in Boston dipping my front wheel on the shores of Revere Beach."
Of the 17 riders who completed the entire trip, Mountz was the oldest to journey from coast to coast.
"The schedule wasn't too different than when I was in the Army: get up at 5 a.m., and hit the road 'running' by 6:30 or 7 a.m.," he says.
To say the least, the adventure -which totaled 3,382 miles -was extremely demanding. When asked if he'll do it again, Mountz has a standard response: "Probably, but not next year, and maybe not coast to coast."