There's no place like home…right? Many seniors wholeheartedly agree with this sentiment: 77 percent of those who took AARP's 2021 Home and Community Preferences Survey want to remain at home for the long term.
It's understandable that so many people want to age in place at home: Home is comfortable and familiar. Your neighbors and friends are nearby. You can keep doing the activities you already enjoy.
Plus, there's the widely held belief that a move to a senior living community is the beginning of a loss of independence. And as common as that perception is, it couldn't be further from reality.
---
Many people use "senior living" as an umbrella term that can reference several different types of facilities:
Independent living: residential communities where seniors are self-sufficient and enjoy services and amenities to support a low-maintenance lifestyle (can include 55+ communities, Continuing Care Retirement Communities and other types of communities)
Assisted living: care and health services for people who need assistance with activities of daily living (ADLs)
Skilled nursing: more intensive caregiving services for short-term surgical recovery, rehabilitation services or long-term nursing care
Memory care: specialized care for residents with Alzheimer's Disease and other forms of dementia
In this article, when we use the term "senior living," we're speaking specifically to independent living.
These communities can offer high-end amenities, white-glove services, meals prepared by highly trained chefs, and residences reminiscent of a 5 Diamond Hotel. Sure, the level of luxury you experience depends on the community — and how much you're willing to invest. But here's what does come standard in every senior community today:
Low-maintenance living: Light housekeeping service, building and residence maintenance, landscaping and sometimes even valet parking are included.
A highly social environment: You'll have plenty of neighbors nearby and even more opportunities to find like-minded people who enjoy similar things.
Plenty of activities to enjoy

: Nearly every community offers a busy calendar of events, from book clubs and group fitness to symphony and museum outings.

A lifestyle you choose: You'll have the ability to come and go as you please, whether out on the town for the night or off to your next dream destination.
---
Independence means something different to everyone, and that definition can shift as you age.
Aging in place at home — continuing to enjoy your life exactly as it has been — is a way to embrace and maintain feelings of independence. However, if more serious health issues arise or it just becomes a bit harder to get around at home and do things the way you used to do them, you may find you have to rely more heavily on loved ones or hired caregivers. You may need to make significant changes to your home and lifestyle to remain at home.
---
We know that happiness means something different to everyone. But experts can agree on a few things related to "aging well," whether you choose to age in place at home or relocate to a senior living community.
Two key determinants of health and happiness to strive for as you age: social connectivity and remaining active.
Social connectivity
Social isolation and loneliness are a common risk for seniors as they age. You can socialize while living at home or while in a retirement community — the important thing is that you're doing it.
Many senior living communities offer lifestyle calendars with myriad options for residents. For those who are aging in place, you could create recurring opportunities to see friends and loved ones, perhaps with a weekly bridge club, morning walks or afternoon tea with neighbors, or even volunteering at a local pet shelter.
Staying active
Research from the Centers for Disease Control has found that being active — not just in your body but in your mind as well — becomes more important the older you get.
For you, "active" could look like playing with your grandkids, attending regular gentle yoga classes, or taking an art class.
Many retirement communities offer a variety of wellness amenities on site to keep residents of every ability level active in mind, body and spirit—think book clubs or scripture studies; group fitness instruction; and activities like tennis, bocce or pickleball.
---
At face value, aging in place at home can seem far more affordable than moving to a senior living community. But it's not always an apples-to-apples comparison.
Expenses in senior living
Expenses in senior living
In all types of senior living, you can expect to pay some type of up-front fee as well as a monthly fee that covers:
Your residence
Utilities, including internet
Dining
Staff support
Landscaping and property maintenance
Housekeeping
Social and wellness activities
If you choose to move into a CCRC, you will pay an entrance fee up front, as well as a monthly fee. The entrance fee secures your place at the CCRC or Life Plan Community and locks in your access to future care. The monthly fee covers the cost of your residence, services and amenities, and access to the community's continuum of care on-site when and if the need for care arises.
Many seniors fund the move to a senior living community (in part or in full) with the sale of the home they finished paying off years ago, but that isn't the case universally.
Expenses while aging in place
Expenses while aging in place
If your home is paid off and you plan to age in place, there may not appear to be many costs to account for.
To arrive at a true cost comparison, tally up services you already use or may need to consider as you get older. Consider, too, how you'll handle getting more advanced care if you need it. You or your loved ones will need to research and vet caregivers independently, and you'll pay a fluctuating "market rate" for those services.
And don't forget potential updates to make your home more accessible. Some tweaks, like adding a simple grab bar to the shower or installing a Nest camera, are a minimal financial undertaking, others can be a huge investment.
According to Consumer Affairs:
A custom-built ramp from your driveway to your front door can cost up to $3,000
A wheelchair lift can cost up to $5,000
A total accessible bathroom remodel can range from $8,000–$25,000
At some point, it may make more sense to consider moving somewhere that's already equipped for safety and comfort as you age.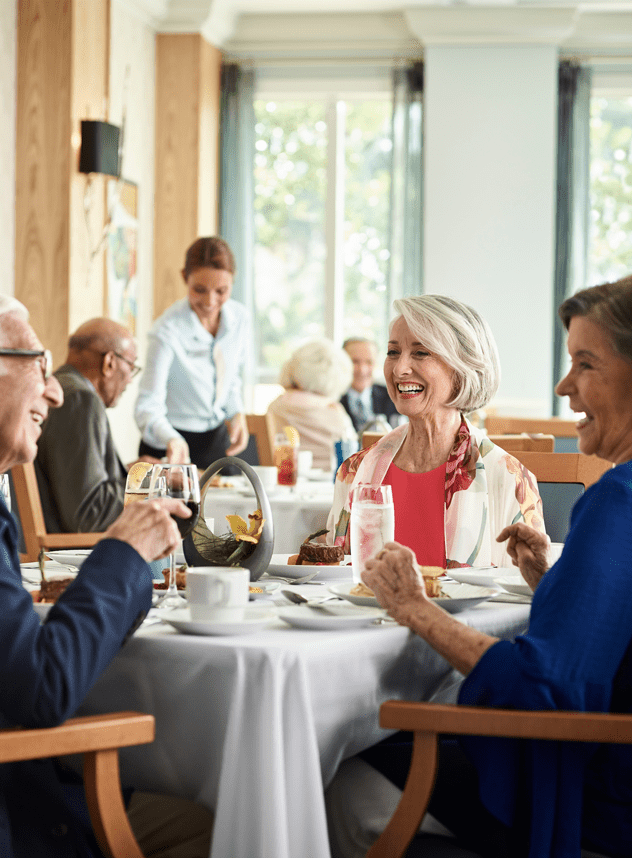 There are a lot of factors to consider when comparing aging in place at home with moving to a senior living community. And we know your ultimate goal is finding happiness in retirement no matter where you live. If happiness for you looks like enjoying your current lifestyle and having a plan in place for future care (should you need it), consider exploring a Continuing Care Retirement Community.
Vi's 10 luxury communities across the United States are CCRCs, also known as Life Plan Communities. Each community offers those all-important opportunities for feeling socially connected and active, and our goal is to make every resident feel at home — and empower them to feel as independent as possible for as long as possible.
Glad to be connected!
There's a lot to consider when embarking on the next phase of retirement—and contacting us is a big step. (Well done!)

We'll be in touch soon to share expert insights and resident perspectives that we hope are helpful, and one of our team members will also be reaching out to answer any questions you may have.