Meet our Lifestyle Director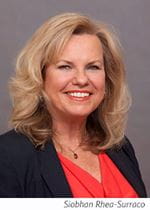 Lifestyle Director Siobhan Rhea-Surraco has been with Vi at Palo Alto for almost four years. We sat down with Siobhan to learn more about how she helps enrich the lifestyles of Vi at Palo Alto's residents.
Tell us a bit about your personal background and family.
I grew up in Berkeley and graduated from St. Rose Academy in San Francisco. I went to The University of San Diego and graduated with a dual major in European and Religious Studies and received my Master's in Gerontology from San Francisco State University. I'm fluent in Spanish and love to travel. I've been married for 25 years and I'm a proud mother of 3 kids. My husband is originally from Uruguay and earned his mechanical engineering degree from Santa Clara University and an MBA from St Mary's College. My oldest daughter just graduated from Colgate University in Upstate New York. My son graduated from Sacred Heart Prep in Atherton and will be going to USC in the fall. And my baby is going to be a senior in high school, also at Sacred Heart Prep.
Tell us about your career and how you came to work for Vi at Palo Alto.
I entered into the social services profession as a case manager working with people with developmental disabilities. I then worked with seniors in independent living skills instruction for 18 years. Specifically I was a patient advocate, and helped oversee caregivers and support staff, and helped with everything from housing and banking to Social Security and Medicare. I transferred this concept into my geriatric care management business, where I worked with seniors on their activities of daily living and assist them to age in place. One of my college professors knew of an opening at Vi at Palo Alto and I applied for the job opening of Lifestyle Manager. I've been Lifestyle Director here since December 2014.
What do you enjoy most about working with older adults?
A lot of it for me is the living history. From the Greatest Generation to Baby Boomers, we have 500 residents in independent living and there is such diversity in the span of ages. I love getting to know each resident and their history — what they are passionate about and where they feel they belong now as a senior. Making a choice to move into a community is a big decision. I enjoy helping with the transition into the community, being able to provide great services and the activities that they are interested in. No matter what position you have at Vi, what resonates with staff is the connection on a personal level with residents. Not just the "Hi, how are you?" but "Tell me about your family. Tell me about your day." That's what makes us a community and a family.There are so many interesting, fascinating, intelligent people that live here, that I learn from every day.
What is a typical day like for you?
It really varies. There are the set things like newsletter deadlines or weekly planning meetings. Then there are all the special occasions. For Memorial Day we had a whole program with a jazz band playing patriotic music, flags uniformly placed on the lawn and residents donated needed items to the local Veteran's Administration. We have a calendar full of excursions, classes, events and lectures. It's really a team effort to put these quality programs and events together. I love to collaborate, whether with the transportation department to ensure the trips are well planned out, or with the food and beverage team making sure everything is set out beautifully. A lot of people work behind the scenes to bring these special moments to our residents.
Do you collaborate with residents as well?
Our residents are very involved and have a stake in what happens here. I don't ever feel like I'm doing things on my own — it's really a partnership with residents who tell us what they want. There is a Programs Committee that assists our Lifestyle Department in planning anything from in house movie selections to upcoming excursions. We also have a suggestion box outside of our office and I'm amazed at some of the ideas they come up with. One of our residents sits on the board of the San Jose Opera and we partnered to bring in two of their principal singers for a mini-performance, and the Executive Director gave a Charlie Rose-type interview for the residents. We also partnered with a resident who is a board member of the San Jose Ballet. They brought in ballerinas and gave a performance, as well as set up a ballet bar and demonstrated to our residents how ballerinas train at the bar. We have a vibrant ceramics group, run by a resident, and an artist group that has a popular art reception every year. Many residents from the group have exhibited paintings around the area. With over 11 fitness classes a week, numerous cultural and recreational excursions, ongoing bridge classes, movies and more, a resident put it best when he said our Lifestyle Department puts the "tire" in retirement!