Vi at Palo Alto Resident Living Large After Downsizing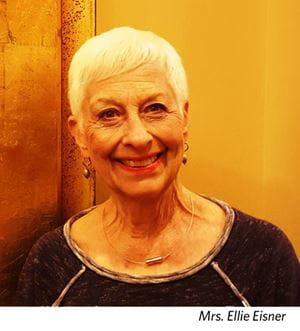 Ellie Eisner has been a resident of Palo Alto for more than 50 years, the majority of which she spent living in a home she and her late husband Elliot designed near the Stanford University campus.
Several years ago, the couple began exploring retirement communities in the area and after Mr. Eisner passed away in January 2014, Mrs. Eisner made the decision to move to Vi at Palo Alto. From there, the downsizing process began.
"There is quite a bit of planning involved and it's easy to get distracted," said Mrs. Eisner. "It is not serendipitous. Stay focused on the end goal, and although you feel attachment to stuff – know that it is stuff and you can let it go."
Mrs. Eisner started de-cluttering by going through her large art collection, acquired over the years by Mr. Eisner, who was a Professor of Education and Art at Stanford University for more than 40 years. She asked her son and daughter to make a wish list of items they'd like to keep and had the items appraised for them. Next, she organized a sidewalk sale near her daughter's home in San Francisco, to sell more than 1,000 books as well as pieces of art, clothing and furniture.
Mrs. Eisner recalls a visit from a man at the sale. "He had already purchased a few things, but stared longingly at one of my husband's ceramic bowls. His partner told him he didn't need it. But when my daughter and I saw how much he loved it, my daughter ran after him and gave it to him as a gift," she said. "That stuff that once made you so happy can live on and make others happy as well."
However, Mrs. Eisner advises to not make any rash decisions about getting rid of things. "Know what you're going to need before you let anything go," she said. Fortunately, she was able to see a floor plan she liked at Vi at Palo Alto and leveraged the list of contractors Vi provides to help her visualize and design her new home.
She's been settled into her two-bedroom, two-bathroom apartment for four and half months now, and feels confident she made the right choice. Although her footprint is smaller, her opportunities for socializing have grown.
"After living in a house for 47 years and becoming a widow, I left something very meaningful to start a new life," Mrs. Eisner said. "The community here is full of vitality. If I'm lonely, I can be as socially active as I want to be but when I need it, I can have seclusion as well." Mrs. Eisner still enjoys visiting the theater; now, she is able to take advantage of Vi at Palo Alto's programming and join the other residents on Thursday evenings rather than going by herself on Sundays.
What other advice does Mrs. Eisner have for people considering downsizing? "Take respites for yourself to re-energize so you'll be revitalized for the task at hand," she said. "And be open to change. Always bring a positive attitude with you."
For tips about how you can start downsizing for a new home, CLICK HERE.