Stanford Coaching Legend Dick Gould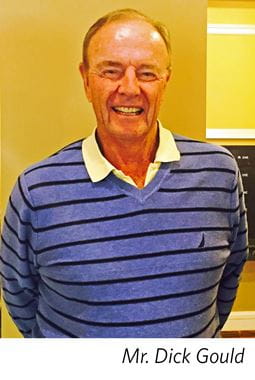 In the hallowed fraternity of Stanford University head coaches, Vi at Palo Alto resident Dick Gould stands alone. His 17 National Championships are not only the most tennis championships won by an NCAA coach, but also the most titles won by a Stanford coach in any sport. He was named ITA-Wilson "Coach of the Decade" for the 80's and 90's, and coached elite players such as John McEnroe, Gene Mayer, Roscoe Tanner and Tim Mayotte. With a resume like that, one would think Gould was born to play tennis. In fact, he had no desire to play as a child.
Inspired by his first coach
"My family were farmers in Ventura, and we had a neighbor who had a tennis court and he had offered me a lesson," said Gould. "I thought, 'I don't want to play that game or wear those shorts!' but my mother said, 'if you want to ride horses this summer, you'd better go take that lesson.' So I started reluctantly, but that lesson was so dynamic, I left inspired and wanting to win."
That first encounter with an inspiring coach sparked a lifelong passion for tennis. After coaching the Stanford Men's Tennis team to 17 NCAA Championships and leading 50 players to receive All-American honors, one could say Gould also knew a thing or two about how to inspire his players.
"Coaching is teaching," said Gould. "The great challenge is in finding the right button to motivate each individual. Then, you have to take an individual sport and make it a team sport."
Removing the pressure to win
"When I first started coaching, I told the team 'we have to win a championship.' That was the goal. Once we won that first championship, the monkey was off my back. I thought, ok, we've done it, I've proved myself. After that, I realized that to have the goal of winning a national championship was too much pressure on the kids. The team was still capable of winning, but I didn't pressure them with that and focused more on improving their game. I became a better coach because I was more at peace with myself."
Ironically, shifting the goal away from winning ended up delivering winning results year after year. "We didn't spend endless hours practicing. I wanted the players to bond off the court and enjoy themselves. You have to remember, tennis is a game, it's not life or death. The kids, they need to balance tennis with being a good student and having a good social life. Our kids had that balance. In turn they were fresh later in the year both mentally and physically, and it gave them an edge."
Celebrating 50 years with Stanford
This year Gould is celebrating his 50th year with Stanford University. He currently serves as Director of Tennis where he focuses his energy on stewardship, fundraising, marketing, external relations, facility improvement and development. Stanford tennis isn't just a passion for Dick, however. His wife Anne was also an accomplished tennis coach at Stanford, leading the women's team to a National Championship in 1978 – the first for any women's team at Stanford.
Life at Vi at Palo Alto
The Goulds have been happily married for 38 years now, with five children and 15 grandchildren. When their children moved out and they didn't have need for a big house all to themselves, the Goulds decided to move in to Vi at Palo Alto where they could be just down the road from the Stanford campus. "We both still work at Stanford, so for us the choice of Vi at Palo Alto was a no-brainer," Mr. Gould said. "Our commute to Stanford is an easy mile of walking, biking or bus shuttle. I love waking up, hitting the beautiful gym here each morning and heading off to work each day! And when I return I'm treated to an unsurpassed dining experience."
Upon moving in to Vi at Palo Alto, Gould was impressed by the vitality and achievements of the residents. "It's an amazingly accomplished group of people," Mr. Gould said. "Every meal we choose to eat with others is always fascinating and a great learning experience – all with amazing stories to share. We feel like we can be ourselves here and our circle of friends has increased immensely."