Pastry professional Chef Calvin Fritz dedicates himself to dessert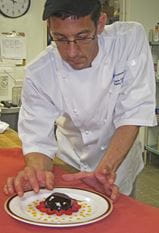 It's 3 a.m. and Vi at Lakeside Village Pastry Chef Calvin Fritz is alone with his sugar, flour, eggs and butter. With no distractions, Fritz is able to focus on his pastry creations – and that's the way he likes it.
Fritz began working as a cook at age 15, and making food has filled his life. He graduated from the Culinary Institute of America, cooked in the Navy, as well as several other upscale kitchens in Florida before joining the Vi at Lakeside Village team ten years ago.
"I enjoy that working at Vi gives me the opportunity to try something different every day," he said. "The menu is always free and open; that's what I like most about it."
Vi at Lakeside Village Executive Chef Anthony Santomauro welcomes Chef Calvin's pastry experimentation and dedication to his craft.
"Calvin is self-motivated, and does a tremendous amount of recipe development and testing new items for our residents," Chef Anthony said. "Calvin's been known to add something he's testing to a dinner service to sample new items. We like to grow and develop our portfolio of recipes, and that includes what he's doing when it comes to desserts."
Baking with Consideration
Part of Chef Calvin's job entails understanding the dietary considerations of working at a senior living community. Each day he and his team prepare a regular and a sugar-free desert option, as well as a regular and sugar-free cookie du jour. More recently, he's also added menu items for those with an intolerance to gluten.
"I'd say about 50 percent of our dessert menu is gluten-free now," Chef Calvin said. "For gluten-free cakes, I do a flourless chocolate and a pudding mousse cake. So far they've been popular with the residents whether they have a gluten intolerance or not."
While Chef Calvin willingly prepares desserts to appease a number of dietary concerns, community favorites still lean more towards the traditional. The most popular classic dessert on the menu: cheesecakes.
"I'll add fruit puree or chocolate ganache to the cheesecake base, or create a festive, holiday-themed cheesecake that feels extra special," Chef Calvin said. "It's a very versatile dessert. I've been making cheesecake since I was 15, so I've done literally thousands of variations."
What's next on Chef Calvin's menu? "Peanut Butter Pie seems to be popular lately, and I think the residents will really like that," he said. "But I like to think all of the desserts are their favorite!"