The comforts of home — with the assistance you need
---
There may come a time when you need extra help with daily living.
Our care center offers that help, with an emphasis on maintaining dignity and privacy while promoting an ongoing sense of independence and well-being. Our assisted living residence is staffed 24 hours a day, seven days a week, by a team of dedicated caregivers under the supervision of a licensed nurse.
And because our care center is on site, you'll never be far from the community of friends and family you love.
Assisted living lifestyle
---
We've created an environment designed to help residents embrace everything life has to offer: a variety of menu options from our classically trained culinary team, a stylish dining room, weekly lifestyle programming, and scheduled transportation within 15 miles for shopping trips and special events.
Services provided in assisted living
Depending on how much help you need, our care providers can assist with tasks from medication management and administration to bathing, grooming and dressing.
Vi at Lakeside Village also provides weekly light housekeeping service and laundering of bed and bath linens.
Additionally, we can arrange for a variety of services*:
Pharmaceutical services
Private duty assistant services
Transportation and dry cleaning
Physical, occupational and speech therapy
Ancillary medical supplies and services
Salon and barbershop services
Guest meals (advance reservations requested)
*Available for an additional fee and may be provided by a third party
In addition to caring for our full-time residents, we also offer short-term relief for primary caregivers through respite care services as occupancy and admission criteria allow.
Features of assisted living apartments
Our assisted living apartments are designed to feel inviting, spacious and comfortable, and residents are welcome to add personal touches to make them feel even more like home.
Apartment features:
Private bathroom, featuring easy-access shower with assist bars
Choice of wall-to-wall carpeting or tile flooring
Window treatments
Individual climate controls
Emergency call system
Kitchen appliances like microwave and fridge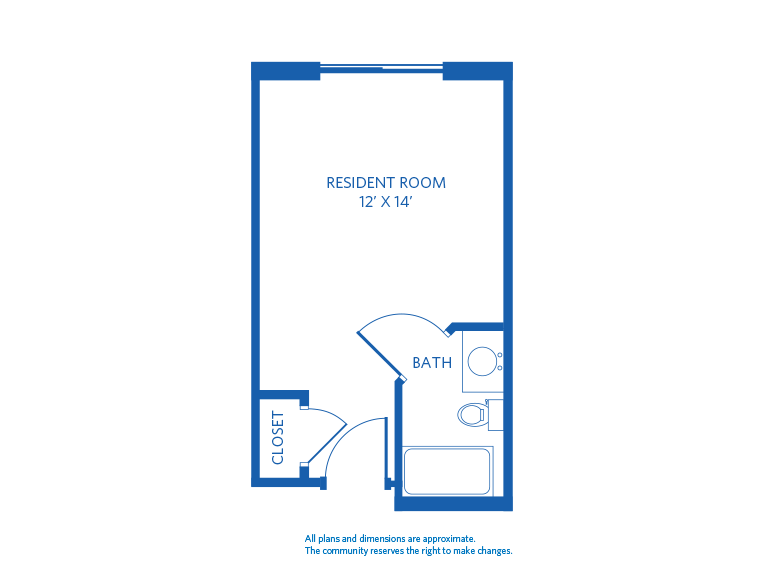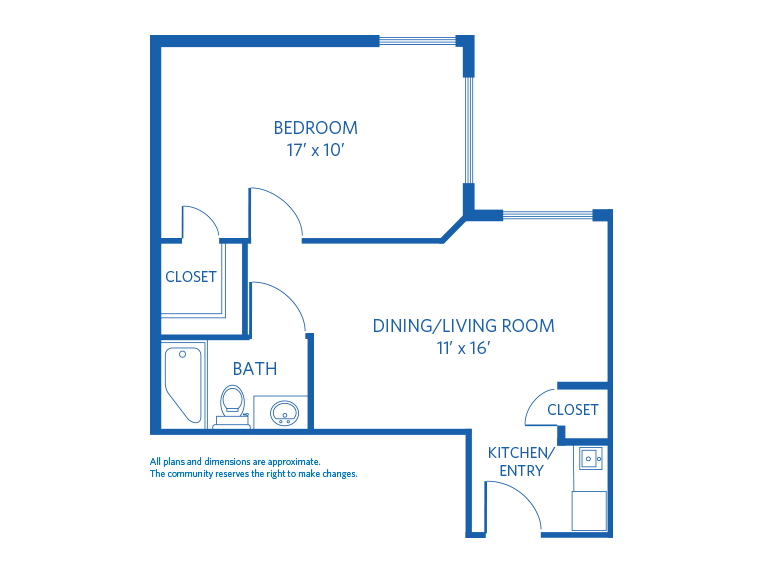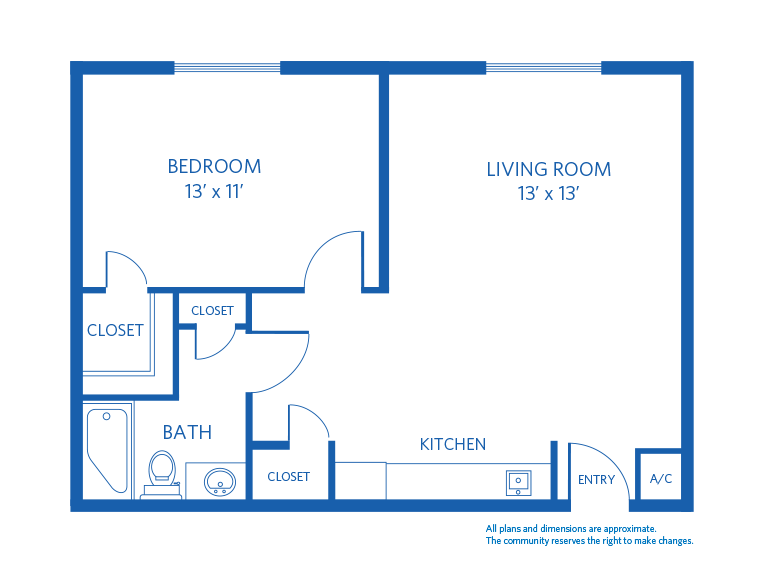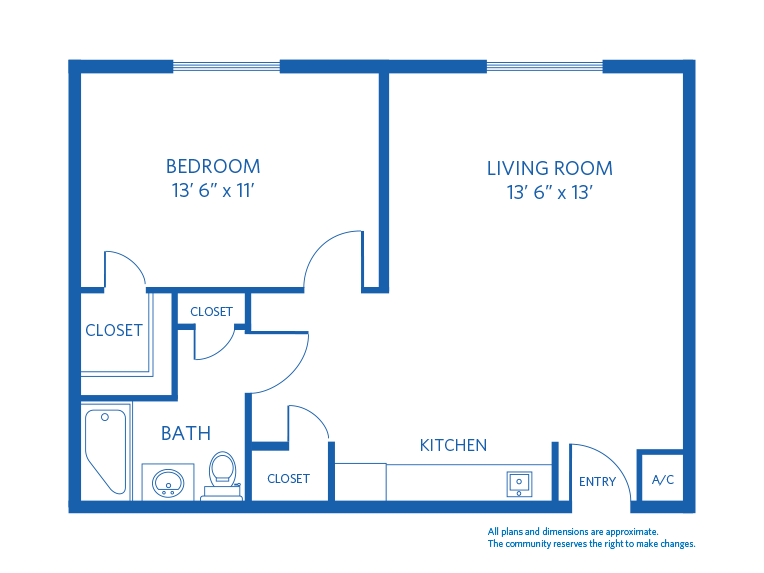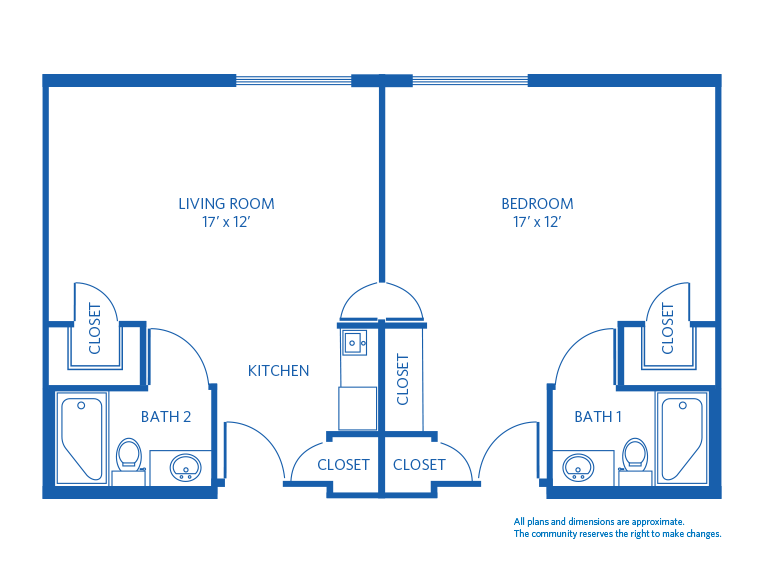 Fees for Type A/Inclusive care residents
Residents who are contracted with Vi for Inclusive Care will continue to pay their independent living monthly fee after moving to our care center. Monthly fees do not change when residents move to a higher level of care, but ongoing, community-wide fee increases will continue to apply. There are charges for ancillary items and additional meals received while in our care center.
If a resident and their spouse are both contracted for continuing care and only one requires a higher level of care, one spouse will remain in independent living while the other moves to our care center. Both residents will continue to pay the monthly fee paid while residing in independent living. Their monthly fees will not change because of a move to a higher level of care, but ongoing, community-wide monthly fee increases will continue to apply. In addition, there are charges for ancillary items and additional meals received while in our care center.
Fees for Type C/Fee-for-Service care residents
Residents who are contracted for Fee-for-Service Care have access to our care center for assisted living, memory support or skilled nursing, but the monthly fee will increase to reflect standard market rates for the applicable care venue.
Fees for direct admission
Costs for direct entry to our care center are charged at standard market rates. We accept Traditional Medicare (Parts A & B) and Private Pay, and where the circumstances allow, we can process payment from other participating third-party or private insurance coverages.
Form successfully submitted
Thank you for reaching out. One of our team members will get in touch soon.