Vi at Lakeside Village Administrator Attains Healthcare Hero Honor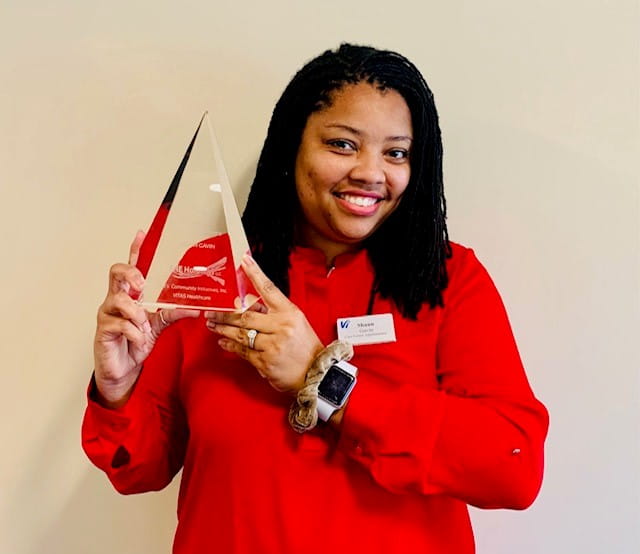 Lantana, Fla., September 22, 2021
– Vi at Lakeside Village is pleased to announce Shaun Gavin, MHA, NHA, Care Center Administrator, has received the 2021 Palm Beach County's Top 25 Frontliners and Healthcare Heroes award from Sha's Community Initiative.
"Shaun was selected for her leadership at Vi at Lakeside Village and for the care and protection she provided for the residents of the community's skilled nursing facility during the pandemic. She is one of only two administrators in the area who are recipients," wrote Shenetria Moore, President, CEO and Publisher, She Holdings LLC and the non-profit Sha's Community Initiative. "Shaun is well respected in the community for her high level of integrity."
Gavin was presented with the award on August 29, 2021, during an outdoor ceremony at Lake Worth's John Prince Park Campground. At the recognition, all honorees were acknowledged individually and congratulated by local commissioners and community leaders. To conclude the special event titled, "Saluting Those Who Served Us", a vehicle parade traversed the park.
"We are thrilled that Shaun has received this well-deserved honor, as it highlights her dedication to our residents," said Carrie Schroeder, Executive Director of Vi at Lakeside Village. "The safety and well-being of our employees and those under our care is at the forefront of everything we do."
About Vi at Lakeside Village
Located in Lantana, Fla., Vi at Lakeside Village has been providing luxury retirement living for 25 years. The community provides a continuum of care, including independent living, assisted living, memory care and skilled nursing to its residents. Vi at Lakeside Village is situated on 46 lush acres and provides sprawling lakeside grounds, a pool, a fitness center, and much more.
For more information, contact:
Donna Addy, Community Relations Manager
561-434-5334 or 561-281-9429
DAddy@viliving.com