Spreading good deeds through beads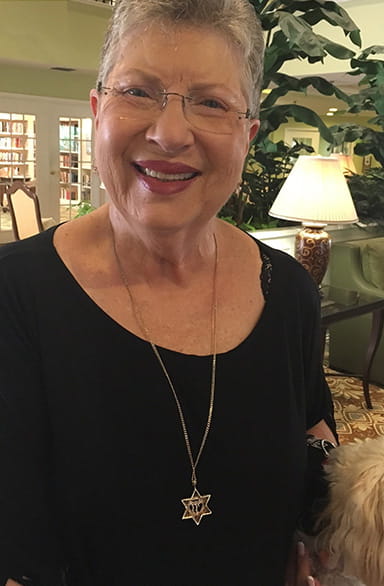 Every week at Vi at Lakeside Village, a group of residents gather in the arts and crafts room to make beautiful jewelry in Harriet Silverman's beadmaking class.
"My students tell me I have the patience of a saint," said Mrs. Silverman. "I tell them, 'if you have the perseverance, I have the patience.'"
From Nurse to Teacher
Growing up on Long Island, Harriet was always a helper. "My mother used to say I was a nurturer by nature. Even when I was a kid I would give my toys away to someone who really liked them. I always liked helping people."

Harriet's nurturing spirit naturally led to a career in nursing. In fact, her nursing career supported husband Dr. Everett Silverman while he went through dental school. "When he graduated, I got my Ph.T degree – 'Pushing Hubby Through!'"

Harriet's dream was to teach nursing, but when she and Everett started a family, she stepped away from nursing to raise her three children. She eventually returned to work in maternity care, private duty nursing and blood banking. While working in maternity care, Harriet had the opportunity to teach new mothers how to breastfeed, and she discovered she loved teaching. "I was probably meant to be a teacher, not a nurse," she said.
Husband's Handiwork Leads to Beads
Harriet has always been a skilled craftswoman who enjoys small handwork like knitting and embroidery. "I can't tell you how many baby blankets and baby sweaters I've made in my life!" But the real artist in the family was Everett, whose hobby was designing beautiful glass beads through a technique called lampwork. The problem for Harriet was that Everett would hang his beads on pieces of leather, which wasn't doing his work justice. "They were too beautiful to just stick on a leather cord. I thought, 'there has to be something more we can do with these.'"

Harriet found her answer while on a trip to Virginia Beach. Everett was there for a lampwork class, and Harriet was invited into his instructor's studio where she saw a window into the magnificent possibilities of creating jewelry through beading. The rest, she says, was history. "When I got back to New York, I joined the Long Island Bead Society, I took a class at The Fashion Institute of Technology, and went to bead conventions. I learned to bead and absolutely fell in love with it!"
A Move to Independent Living
After Everett passed away in 2005, Harriet realized her life would change and she would have to become more independent. She moved to Venetian Isles in Boynton Beach, and adopted a puppy from a shelter; her beloved Maltipoo, Herbie. In 2016, Harriet decided her house was too big for just herself and her little dog, so she moved into Vi at Lakeside Village. "It's like living in a luxury hotel, but with friends," she says. "The people are friendly and I've acclimated very easily here."

And, she's finally found her opportunity to teach.
Teaching Bead Weaving at Vi
"When I came to Vi and I saw they offered a whole list of clubs and programs, I asked if they would like me to teach bead weaving, and they said 'Yes!'" The class is held once a week for two hours. "You have to bead for at least a couple hours in order to have the continuity to learn the stitch."

Currently there are eight students in Harriet's bead weaving class. Vi provides them with a basic kit and the students supply their own additional materials. Together, they create beautiful necklaces, bracelets and earrings.

"I love sharing what I know, and I love seeing that 'aha' moment when a light goes on in a student." She also takes pride when her students wear their jewelry around the community. "When someone compliments them on the piece, they'll say 'I made it! Harriet taught me.' It makes me feel like I'm accomplishing a good deed."