Resident Travel Expert: Skip Bloomgarden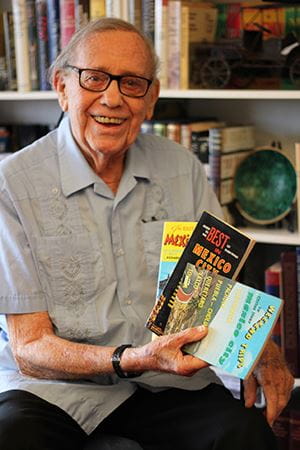 Skip Bloomgarden has been a resident at Vi at Lakeside Village for more than 20 years. In his apartment, an entire wall is adorned with bookshelves. Each shelf lined with mementoes from a lifetime of globetrotting; packed to the brim with colorful paperbacks, each bearing the name of a city in Mexico.
They're travel guides, written by Bloomgarden himself.
Creating a life in his adopted home
A native-New Yorker, Bloomgarden, moved to Mexico in the mid-1950s after a divorce. Seeking a change of scenery from his then home in San Francisco, he chose to move across the border after recalling fond memories of visiting Mexico with his family. He moved to the town of Cuernavaca, about 60 miles south of Mexico City.
"It was somewhere I knew, and I thought I could make a life there," he said. "It's a special place, near the center of the action in Mexico City — I had access to all the operas and music."
Life was good in Mexico, but Bloomgarden spoke very little Spanish when he arrived. He signed up for classes at a nearby university, where he met a fellow student who would change the trajectory of his life. After offering her a ride home one day after class, Bloomgarden discovered his classmate's husband owned a print shop. While visiting the shop, Bloomgarden saw complicated travel guidebooks rolling off the presses — and inspiration struck.
"People have always been able to understand what I'm writing, since I'm an amateur — so I decided to start writing my own guidebook," Bloomgarden said. "We had to sell 3,000 a year to break even, and we sold 3,000 the first week!"
Finding his niche
For the next three decades, Bloomgarden wrote, edited, and published more than 150 travel books about the cities and sights throughout Mexico — many of them translated into Spanish, French and German — and sold millions of copies. The books ranged in topics from "easy tourist guides" to specific books designed for shopping or culinary enthusiasts.
"I did all the research and writing myself," Bloomgarden said. "I drove all over the country up and down and sideways."
His most popular title: The Easy Guide to Chichén Itzá, a popular destination on the Yucatan peninsula, a short drive from Cancún. Bloomgarden's love for travel and the many archaeological and historical wonders of Mexico made the writing process an adventure he truly loved.
Moving back to the States
While Bloomgarden loved Mexico, and had a close knit group of friends, he moved back to the United States after nearly four decades in his adopted home.
"I had a heart attack in the early '90s…I was afraid to be alone," he said. "My family first came to Florida in 1935, and we'd spent a few winters here. So I looked up and down the coast for a place."
In 1996, Bloomgarden moved from his estate in Mexico to an apartment at Vi at Lakeside Village. Within a month he'd already created a new community of friends and met a woman named Lorraine — "a young lady of my vintage," he calls her — and discovered they shared a love for travel.
Together, the couple visited South America, took a "circle cruise" around the Pacific Ocean, and even spent a month together in Hawaii at one of Bloomgarden's favorite hotels. Throughout his life, he's visited 115 countries, many of them with Lorraine.
"I'd been here a month when she moved in, and we hit it off — we both loved to travel," he said. "We stayed together and traveled together until she died last year."
Life at Vi
Today, Bloomgarden's apartment at Vi at Lakeside Village is decorated with mementoes of his world travels — he loves to play show-and-tell. On the wall is a map of the world marked with the routes of his many travels by car, train and plane.
When Lorraine died, Bloomgarden stopped traveling but started giving lectures to fellow residents about the history, culture and food of all the places he'd traveled — more than 60 talks in all. He also taught some of the residents Spanish.
Though Bloomgarden is no longer traveling, he has plenty to keep him occupied around the community: He writes two monthly columns for Vi Living magazine, "History Vignettes" and "Travel Vignettes." He also works in the library, visits friends in the Care Center weekly, and has a rigorous fitness routine to keep him in shape: 15 minutes on the treadmill three times a day, and walking 200 stairs every day.
After a lifetime as a globetrotter, it's no surprise that Bloomgarden is always out and about. "You have to keep busy, and you have to stay friendly with people even if you don't know them very well," he said. "These things keep me alive!"