Glad to be connected!
We're so glad you reached out!

We'll be in touch soon to share expert insights and resident perspectives that we hope are helpful, and one of our team members will also be reaching out to answer any questions you may have.
Around Vi at Lakeside Village, resident Peter Ryland is known as "The Kayak Guy"
"I've always been a water guy," said Peter Ryland. "Not in it—on it," he's quick to add.
A longtime boating enthusiast, Peter comes by it naturally. His grandfather was a sailor on the Thames in London. As a child, he started sailing in a makeshift boat he created from a rowboat and an umbrella. From there, he graduated to real sailboats and was on the water whenever he got the chance. He grew up racing and teaching sailing, and even won a few trophies along the way.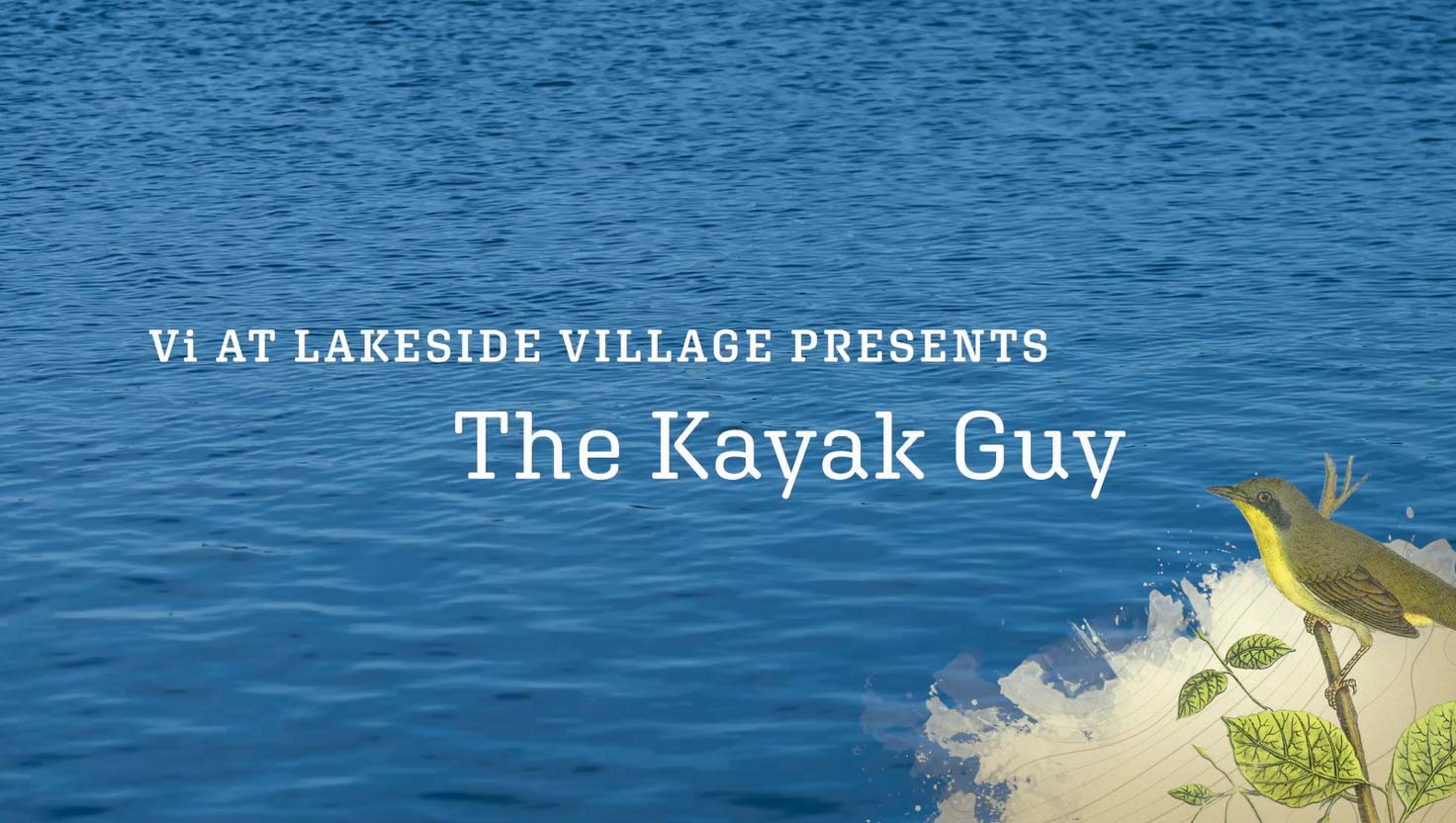 With more time to get on the water in retirement, he took several longer sailing trips, including 19 days on the world's largest fully rigged clipper ship sailing from Barbados to Spain. He even sailed his own boat from Long Island, New York, to eventual retirement in Florida.
So when it was time to take the next step of his retirement journey, moving to a Life Plan Community, location was everything.
Location, location, location
And, of course, for Peter, location meant proximity to the water. Vi at Lakeside Village is located on the banks of Lake Osborne.
"That was a big attraction for me," he said. "I chose Vi at Lakeside Village because of its great location on the lake."
Peter didn't bring his sailboat to the community, but he did bring a boat or two.
"I moved in with a little blue travel kayak, so everyone here calls me 'The Kayak Guy,' but now I'm more of a canoe guy," he said with a laugh.
He recently added the canoe to his collection, which he uses to get out on the lake when it's bustling with the wakes from larger boats.
"It's great exercise. I have a two-hour circuit I paddle once a week," he said. "I go out in morning when the birds are fishing on the water. For me, it really is just about being out in nature."
Vi at Lakeside Village also has its own private dock and a pontoon boat aptly named "Living Well." The boat takes residents for cruises on the lake, weather permitting. Of course, Peter regularly joins his neighbors for these frequent cruises.
Exploring the outdoors
During the pandemic, Peter has been able to continue that hobby without leaving the community.
"The important thing is being in nature," he said. "We have 39 acres at Vi at Lakeside Village, and 10 acres of it is nature preserve, so we can walk in the preserve. We're also right next to a regional park. It's called John Prince Park and it's huge—726 acres, including northern Lake Osborne."
Beyond the water, Peter also enjoys exploring nature on two feet and two wheels. After retirement, he started traveling to Florida's state parks.
"I'd take my bike and my hiking boots and the kayak. I had them packed in the car and I could hike, bike and kayak for hours," he said.
During his travels, Peter has become something of an amateur bird watcher, which he has enjoyed pursing from his home at the community.
"I've identified four protected species here on our preserve," he said. "If you've never seen a roseate spoonbill, it's unusual. Nothing like it. It's a pretty pink. When it's flying, it's a beautiful sight. I've seen several here, just out by the villas."
Beyond the community
As Vi at Lakeside Village returns to its pre-pandemic pace, "The Kayak Guy" has gotten back to his other role at Lakeside Village: community travel scout. Not long after moving to the community, Peter volunteered his scouting services to Lifestyle Director Michael Thomas, who is always on the lookout for creative excursions for residents.
He offered to explore the nearby cultural attractions and report back on new exhibitions, the accessibility of the spaces, and food and beverage options.
"We're close to West Palm Beach and the Palm Beach area. There's excellent ballet, theater and art, and I enjoy that," said Peter. Learn more about how residents stay busy in and around Vi at Lakeside Village.
Peter is always looking for ways to enjoy his time at Vi at Lakeside Village, and to share that enjoyment with his neighbors whenever possible.
"It is so important to have a purpose: to keep learning, keep reading and keep sharing," he said.