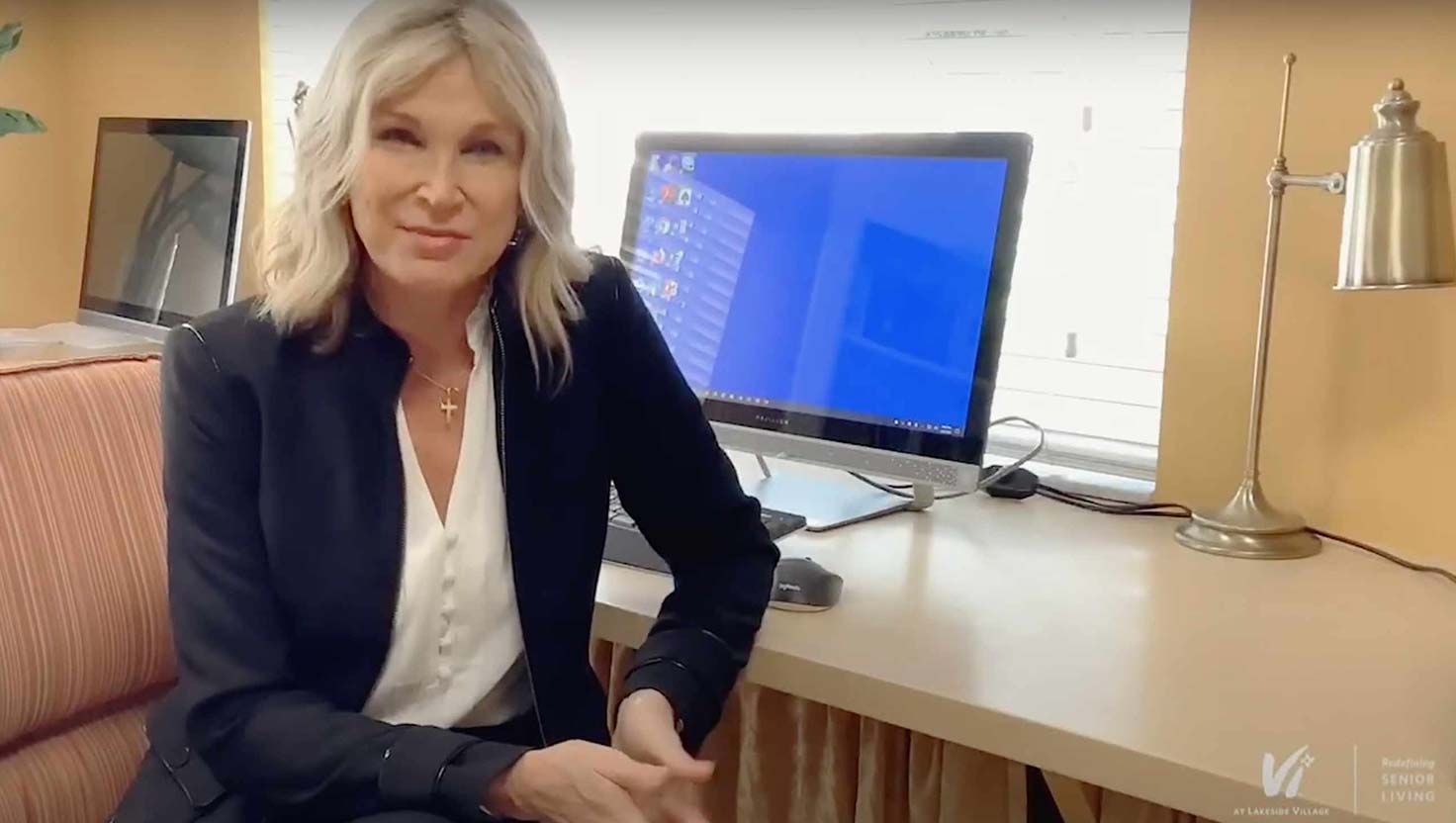 Meet Vi at Lakeside Village Lifestyle Director Tamara Sawicz
When asked to describe her job as lifestyle director at Vi at Lakeside Village in Lantana, Florida, Tamara Sawicz said, "It's constant action!" But, of course, that's why she loves it.
And what does that job entail? Helping residents create a fun and fulfilling retirement experience that integrates wellness into every day.
"We want to have a program, activity, something for everyone," shared Tamara.
And that means planning events like concerts and lectures; working with residents to organize art shows, book clubs and theater troupes; exploring and sharing the latest software, games and apps to keep residents connected to family and friends. Tamara's mission is to keep residents engaged and connected, even more so now.
"The residents here are so social, so our goal is to keep it that way while they stay at home. It's quite a job, but very satisfying," she said.
Spirit of Collaboration
And it is quite a job to keep all those activities, plus a steady stream of new ones, on the Lifestyle Department calendar each week. But Tamara and her team have always worked closely and collaboratively with residents and staff to explore new ideas and fill each calendar with a variety of choices aimed at stimulating the mind, body and spirit.
"I learn a lot from the residents about what they like and might want to share with their neighbors because I ask and they tell me," Tamara said. "They truly are a wealth of knowledge. We have storytellers, artists, and world travelers. They are always so happy to share that knowledge with others."
That has not changed since the stay-at-home orders took effect this year. In fact, those collaborative efforts have only increased, both between the Lifestyle Department and other departments within the community and with the residents. Staff members have contributed creative programming ideas as well as time, delivering meals, holiday-themed menus and surprises to residents' front doors. And residents have done the same, offering to help organize community-wide activities like the resident wave, a daily pep rally where residents come out on their balconies to join in songs, exercise and enjoy the sight of their neighbors' friendly faces.
"There is appreciation from the residents to the staff for their efforts and the staff to the residents for their gratitude and patience," Tamara shared.
For more on Vi at Lakeside Village during the stay-at-home order, watch the Community Closeup with Tamara Sawicz video above.
Always Learning
The business of the Lifestyle Department requires Tamara to work with every part of the organization, from culinary to operations. That means she is always learning something new. And over the last few months those learning moments have been increasingly focused on new technologies aimed at bringing residents closer to each other and their friends and family.
With the help of her staff at Vi at Lakeside Village as well as Lifestyle Directors at other Vi Communities across the country, Tamara has been able to deliver multiple daily workout videos, online bridge tournaments, virtual language classes that she pairs with 3D museum tours from around the world and so much more.
"I've become an expert in online gaming and Zoom," she laughed. "We're pretty proud of how far our team and the residents have come in terms of digital readiness."
And for Tamara, those opportunities to learn a new technology or discover hidden talents the residents are willing to share with others helps her deliver a more meaningful experience to the community as a whole.
"My favorite part of my job is that I'm always learning something, from staff members, from residents, from my own research," she said. "I feel blessed that I get to come to a job I love every day."