Vi at Aventura Wins Two Awards in 2023 National Mature Media Awards Program
Vi at Aventura, the senior living community, was recently recognized with two awards in the 32nd annual National Mature Media Awards Program. The program, presented by the Mature Market Resource Center, a national clearinghouse for the senior market, recognizes the nation's finest marketing, communications, educational materials, and programs designed and produced for older adults.
"Stump the Maestro," the daily one-hour Facebook Live musical segment created by Vi at Aventura residents pianist Peter Fuchs, 93, and wife Veronica, 86, received a Gold Award in the web-based and mobile resources category.
Plus, Vi at Aventura's original cooking show, "Cooking with Bubbe," hosted by resident Susan Shovers, 82, and produced by Vi's Director of Lifestyles Maia Mediavilla, received a Bronze Award in the publications and editorial category for its Jewish Holiday Cooking Demo Series, featured on South Florida Live, formerly known as '6 in the Mix,' a popular lifestyle program broadcasted by WTVJ, NBC's Miami affiliate.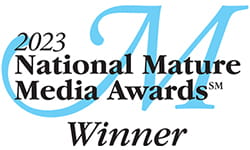 Peter Fuchs, a Holocaust survivor, relied on his music during the war as a way to survive and thrive in the face of adversity. Today, he uses his talent as a Broadway musician and composer to bring joy to his community through music every day. Veronica Fuchs is an acclaimed singer and host of the segment.
The "Cooking with Bubbe" series was created to entertain residents during the pandemic and is now a highly anticipated 'Unique Cuisine' segment on South Florida Live during the Jewish holidays of Rosh Hashana, Chanukah and Passover.
"We're thrilled our residents have received recognition for the third consecutive year," said Renee Garvin, Executive Director, Vi at Aventura. "It genuinely reflects the dynamic way our residents approach retirement and we are honored to help them pursue their passions."
The entries were judged by a distinguished panel of mature market experts for overall excellence of design, content, creativity and relevance to the senior market.
About Vi at Aventura
Vi at Aventura – Where Senior Living Meets Aventura Living: A place where residents enjoy an uncompromising lifestyle in an extraordinary setting they love calling home. A Life Plan Community, also known as a Continuing Care Retirement Community (CCRC), Vi at Aventura combines vibrant independent living with a full continuum of care, including assisted living, memory support and skilled nursing should the need arise.
For more than 35 years, Vi has been dedicated to providing quality environments, services and care to enrich the lives of older adults. Vi at Aventura is located at 19333 West Country Club Drive. To learn more about the Vi at Aventura lifestyle, visit https://miami.viliving.com, call 305-912-0613, or email aventura@viliving.com.
Vi at Aventura residents prove it's never too late to fulfill your dreams
Vi at Aventura residents Sherry Schaeffer and Susan Shovers had dreams of being in show business. While life may have taken them in different directions, retirement at The Vi led them to fulfilling their lifelong desires to be in front of the camera.
Vi at Aventura residents host a daily song-filled happy hour for fans and neighbors on Facebook Live
Vi at Aventura residents Peter and Veronica Fuchs created "Stump the Maestro," a daily Facebook Live show, last March when the coronavirus sent residents into lockdown.