OUR CONTINUUM OF CARE
We're a Life Plan Community
---
As a Life Plan Community, also known as a Continuing Care Retirement Community, we are here to help you live for today — with a plan in place for tomorrow. We're here to help you remain active and feel independent for as long as possible, and to provide top-quality care if you need it down the road.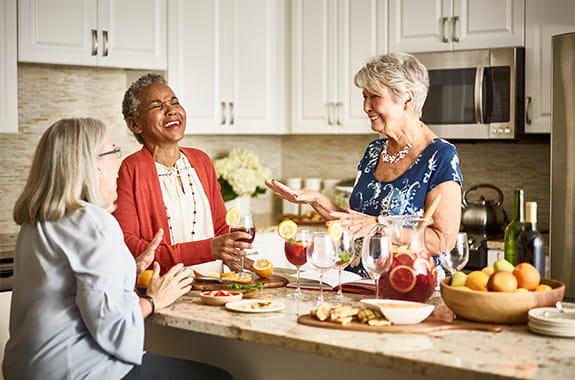 Independent Living
---
A fulfilling life after retirement means different things to different people: the freedom to continue traveling the world, more time to spend with family and friends, learning a new language, or enjoying a new hobby. We provide our residents with the amenities and options they need to keep enjoying life on their terms.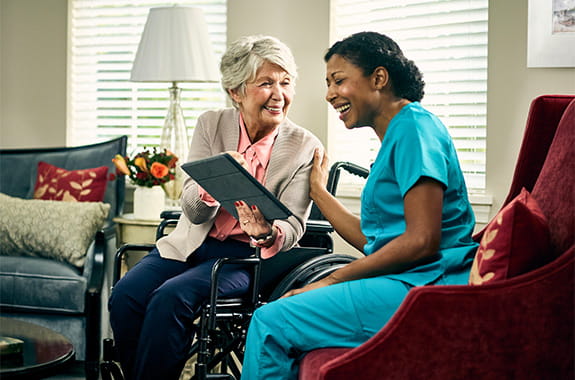 Our Care Center
---
At Vi at Aventura, independent living residents have access to a continuum of care in our supportive residential setting, so they can receive assisted living, skilled nursing, or memory care services as the need arises. Vi at Aventura's Care Center also offers care services to non-residents as space allows.
Embrace wellness for life.
Vi's Living Well programming encourages all-around wellness in mind, body and spirit. We're always offering something new to keep our residents feeling engaged and healthy, from fitness classes and day trips to lectures and resident-led clubs.
FREQUENTLY ASKED QUESTIONS
We're here to answer your questions about wellness and care at Vi.
---
Q: How does the continuum of care work for residents?
A: In our Life Plan Community, care is part of your contract. This means independent living residents have access to assisted living, memory support care and skilled nursing care on-site.
Q: Will my costs go up if my spouse or I need care services provided?
A: If you and your spouse move to Vi as part of a continuing care contract, your monthly fees* will not go up because one or both of you move to our care center (except for ancillary expenses for items used in the care center and costs for extra meals received in the care center).
*Ancillary fees for items such as extra meals and supplies apply. Annual community-wide monthly fee increases also apply. Ask our Sales Team for a history of monthly fee increases.
Q: Are you able to move directly into the Care Center?
A: While our vacancies vary, we sometimes have immediate occupancy available in our assisted living, memory support, or skilled nursing care programs. Costs for direct entry to our care center are charged at then current market rates.
Form successfully submitted
Thank you for reaching out. One of our team members will get in touch soon.