Glad to be connected!
There's a lot to consider when embarking on the next phase of retirement—and contacting us is a big step. (Well done!)

We'll be in touch soon to share expert insights and resident perspectives that we hope are helpful, and one of our team members will also be reaching out to answer any questions you may have.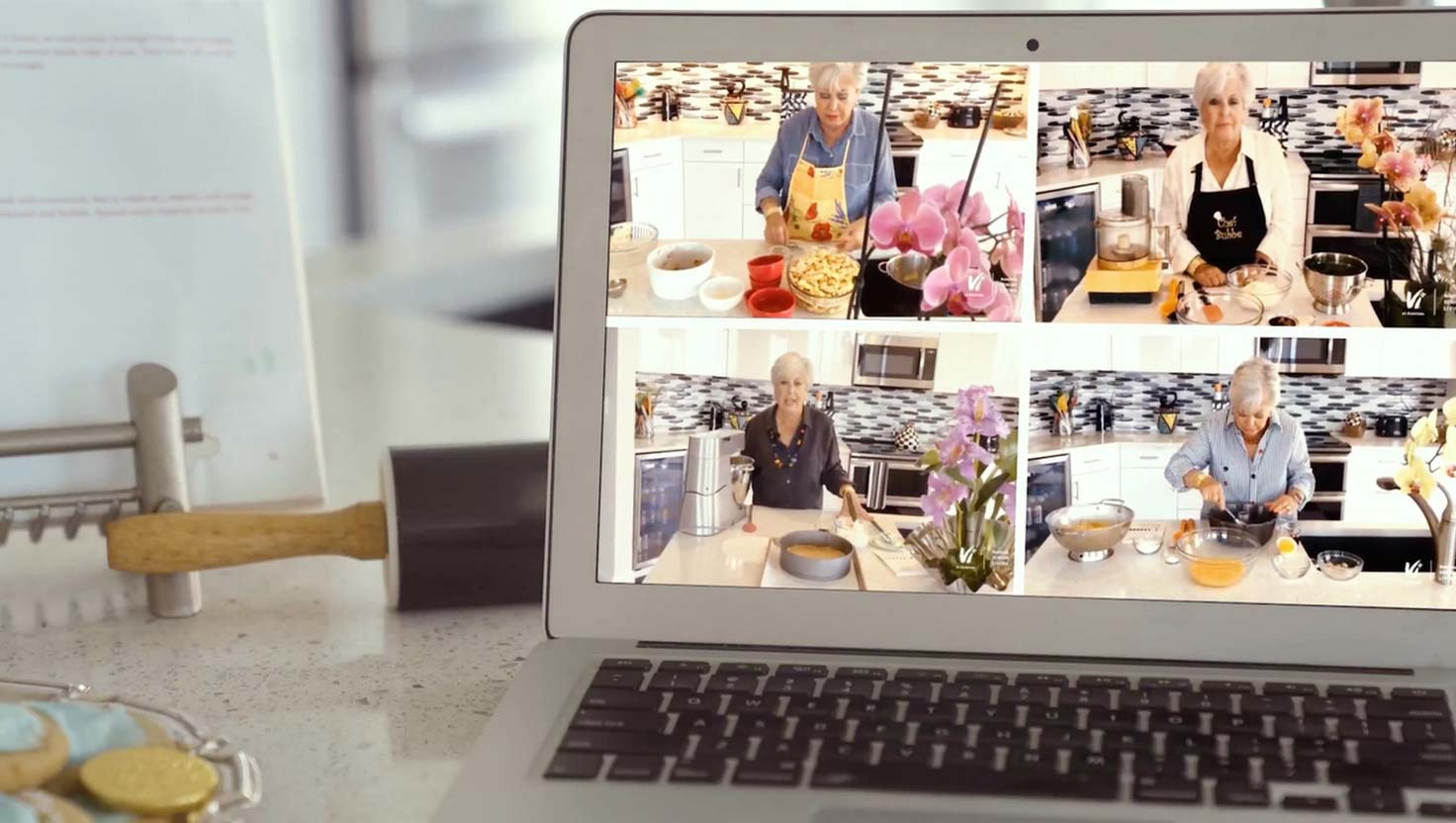 For Vi at Aventura resident Susan Shovers, baking has been a lifelong passion.
"I love baking. I love the finished product. I love all of it," Susan said. "If it's homemade and made with love, you can't top it."
It's a hobby that she has shared with close friends and family for years, serving delicious baked goods at parties and holiday gatherings. But it wasn't until Susan moved to Vi at Aventura that she discovered a way to share this passion and many of her well-loved recipes with a wider audience.
With the help of the Lifestyle Department at Vi at Aventura and a little extra time indoors in 2020, she was able to realize a lifelong dream: hosting her own TV show, "Cooking with Bubbe."
"Cooking with Bubbe" is shared with residents of Vi at Aventura via the community's in-house TV channel and with a wider audience on YouTube. And from the moment her crew said, "That's a wrap!" on the first episode, Susan was hooked.
"I went crazy for it. I couldn't wait to do more," she said.
Cooking up "Cooking with Bubbe"
Originally, "Cooking with Bubbe" was envisioned as a way to showcase the culinary talents of residents at Vi at Aventura during Passover. When a friend from the community heard about the project, she reached out to Susan and suggested she volunteer to be involved. It was also only supposed to be a temporary series — but once Susan got involved, Lifestyle Director Michael Thomas realized it needed to be permanent.
From day one, Susan has worked with her crew in the Lifestyle Department to develop and evolve the show.
"I really wanted to create a real cooking show," she said. "I love to watch Lydia Bastianich. I wanted to set my kitchen up like hers, so that's what I did."
With her husband's encouragement, Susan acquired all the additional equipment she would need to film a baking show from her kitchen. She also developed a look and style for Bubbe.
"Bubbe can get messy, so she wears little washable cotton blouses and her Bubbe apron," she said.
And the staff surprised her with her own show logo and swag, including aprons and coffee mugs. It was official: "Cooking with Bubbe" was ready to serve.

Susan's specialties
"I'm not beautiful; I'm delicious," says Susan with a laugh. Of course, what she means is that she bakes for the taste buds, not the eyes.
"I don't make anything fancy or do fancy frosting — mostly because I'd eat it before it got on the cake!" said Susan.
What Susan loves the most are simple, delicious desserts that bring back memories or just make you happier with every bite.
"I adore a lemon poundcake. There is nothing better," she said.
Her cheesecake makes her a hit at parties: "I find that with cheesecake in particular, there are so many different variations that you don't get tired of making them."
And whenever possible, Susan tries to share her own memories and stories as she prepares the desserts on the show.
"We were shooting the "We were shooting the apple strudel episode, and I told my story about a guest I'd had in my home in Indiana," she said. "I made my strudel, and this gentleman—in the middle of eating it—began to cry. I thought I must have poisoned him or something, but he said, 'My mother used to make it just like that.' And…it was quite a moment. I've never forgotten it."
One opportunity leads to many more
Susan credits her move to Vi at Aventura with opening up a wealth of new possibilities for her and her husband, despite the challenges of the pandemic.
"I never thought I would have a show at this point in my life," she said. "It's how I've made it through the pandemic. To be able to do this, to give people something to enjoy. It's been such a great joy."
And her fellow residents are enjoying it.
"When I walk down the halls, people recognize me," said Susan. "It is so great as a relatively new resident to have people watching and saying they like what we are creating."
Later this year, Susan hopes she can invite others to her kitchen to bake with her on "Cooking with Bubbe," including the community's executive chef.
"Our chef is very good. He's said he would come and bake with me. But so many people have said they'd love to join. I'm looking forward to having people in my kitchen very soon," said Susan.
In addition to concepting more episodes of "Cooking with Bubbe," Susan is working on a talk show called "À la vie at the Vi."
"It's a talk show with a close friend of mine from The Vi. We do interviews with staff and other residents. There's a lot of humor. It's been fun!"
As Susan says when contemplating the many projects on her calendar this year, "That's the great thing about The Vi. If you have an idea or you want to try something, you can do it."
Curious how other residents stay engaged in their daily lives? Learn about the community's clubs and activities, and see what's happening at Vi at Aventura.