East Clubhouse dining: choices offer culinary exploration for residents and guests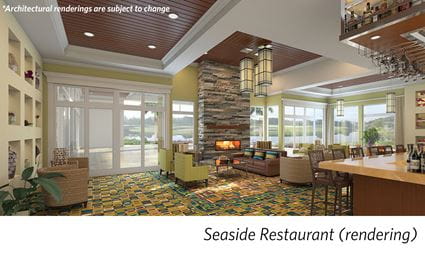 While two new dining venues have opened at Vi at Bentley Village's West Clubhouse, an additional two restaurants will also open their doors as part of the new East Clubhouse. The casual Seaside restaurant, and the more formal Azure restaurant, will round out the repertoire of culinary options available to residents and their guests.
John Vogelmeier, Assistant Vice President of Food and Beverage for Vi, recognizes that dining is one of the most important social aspects of residents' daily lives, and that the community's on-site dining options aren't the only game in town.
"Nowadays, we compete with nice restaurants in downtown Naples — that's who we're compared to," Vogelmeier said. "Local cuisine has gotten better and better, and we're rising to that level with these new dining options."
Here's a taste of what's cooking in the new East Clubhouse dining venues.
SEASIDE
:
Globally Inspired, Locally Sourced
Seaside, a Mediterranean-themed restaurant in the new East Clubhouse, is influenced by the cultures — and ingredients — of Italy, Spain, Greece and Egypt.
Bentley Village Executive Chef Shep Drinkwater is confident the cuisine he and Executive Sous Chef Joel Hetrick are creating will appeal even to Vi at Bentley Village's worldliest residents.
"Quite a few of our residents are world travelers, and they've eaten in many fine dining restaurants," Drinkwater said. "We're looking forward to offering amazing Mediterranean-style cuisine that will show everyone who dines with us all the different areas of the world where you can eat — and age well through better food."
Unique for its global offerings, Seaside will also be the first Bentley Village restaurant to feature an open kitchen concept. Anchoring that open kitchen will be a Beech pizza oven, which will turn out a wide variety of dishes, including flatbreads made with handmade dough, paella, plank-roasted fish, baked seafood, and pasta dishes.
AZURE
:
Fine Dining, Right At Home
Though it's the most formal dining option available to residents, Azure certainly won't feel stodgy. "We've designed our table settings to be more modern and in line with what's happening in the restaurant world," said Vogelmeier.
Scheduled to open in late October, Azure will only serve dinner. The restaurant's dining room is anchored by a 900-bottle, glassed-in wine room. Vogelmeier also said that Vi at Bentley Village plans to create a focus around wine and how it pairs with the food the chefs are creating.
At Azure, each meal will begin with an amuse bouche, followed by a featured salad, a signature soup that's presented and poured tableside, and an entree such as filet mignon, seared duck breast and confit, lobster-stuffed gulf flounder, and bacon-wrapped pork medallions. For dessert, guests enjoy sweets like almond-hazelnut "celebration" and glazed apple tarts.
"Our first steak on the menu will feature scrambled eggs and Osetra caviar," Drinkwater said. "We're really aiming for decadence here."
Azure's fine-dining approach reflects a dedication to service, the cornerstone of Bentley Village — a community that was born in the spirit of hospitality.
"We hope that these restaurants will offer an incredible experience, such that our residents won't even think about eating anywhere else," he said.
Want to learn more about dining at Vi at Bentley Village?
CLICK HERE
to read part one of this story, featuring details on our two West Clubhouse dining venues.