Vi at Bentley Village residents create scholarship foundation for Vi employees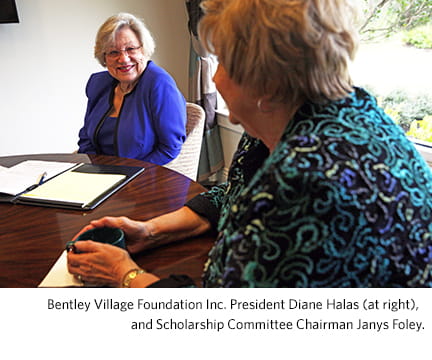 When Diane Halas and her husband Frank moved into Vi at Bentley Village four years ago, they immediately felt a connection to the employees they interacted with every day.

"From the very beginning, it's been very easy to form a bond with the staff," Halas said. "There's a very high level here of consideration and respect."

But in getting to know Bentley Village's employees, she discovered that many staff members were working multiple jobs to finance their higher education — and wanted to find a way to help ease the burden.
Seeking Creative Ways To Help
The residents' initial motivation to create the foundation: to establish an endowment for competitive scholarships for Vi at Bentley Village employees and their dependents. Residents at other Vi locations including those in Scottsdale, Ariz., and Hilton Head Island, S.C., have also formed similar entities to do just that.

When Halas and the residents at Bentley Village found out about the other foundations, they quickly researched how to follow suit, partnering with the Community Foundation of Collier County. The foundation will be funded primarily through donations by Vi at Bentley Village residents.
Helping Fund Education For Employees
Currently, the foundation's scholarship committee members are preparing to interview the first set of applicants to be awarded this December. Though the community is not involved in the operation of the foundation, Colleen Billings, Vi at Bentley Village's Human Resources Director, is helping spread the word about the program to employees.

"Our employees so proud to know that our residents wanted to create something that benefits them," Billings said.

While Halas is thrilled at the employees' enthusiasm, she's also dreading the decision the committee will face when it comes to choosing scholarship recipients this winter.

"I wish we could raise millions of dollars – I think the need is there to offer scholarships to everyone," Halas said. "But strict IRS guidelines limit the number of scholarships that can be approved under our status."

The more donations the foundation receives, the more scholarships they hope to provide – within the given parameters of their non-profit status. To date, the biggest contribution was an anonymous grant from a Bentley Village resident that will match every individual donation up to $500 – up to a grand total of $30,000. The challenge grant was retroactive to the time of the foundation's formation, and Halas says the $30,000 goal was reached in August.

"Our residents are just amazing," said Pam Fultz, Community Relations Manager at Vi at Bentley Village. "I have no doubt they will surpass their goals."
Making Ripples, Not Waves
The foundation's scholarship program may not change the world immediately, but Halas hopes it will make a big impact on those directly affected. And she says that's a fine start for a foundation in its infancy.

"As you get older, you don't necessarily have the energy to move mountains," Halas said. "But together, we don't have a problem pushing some hills around."