Revamped West Clubhouse dining offers residents all-day options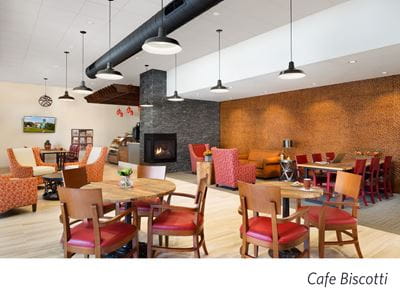 As part of Vi at Bentley Village's $80 million redevelopment project, residents will have four brand-new dining options to choose from. Two of them are already open and available to residents as of May 2016: Cafe Biscotti and Lakeside Grille, both located in the West Clubhouse.

In addition to offering residents the best dining experience possible, Mark Southern, Vi's Assistant Vice President of Food and Beverage, is hoping that Bentley Village's four new restaurants will be a source of pride for the community. "We hope residents are going to want to bring their friends in to show off where they live," he said. "And at the same time, we want those friends to leave our restaurants thinking, 'I have to figure out how to live here!'"

Here, we introduce Bentley Village's West Clubhouse dining options and what each venue offers residents and guests.

CAFÉ BISCOTTI: Relax and Refresh

Café Biscotti opened in May and is designed to feel like a neighborhood café: perfect for a quick pit stop, or a leisurely morning with the newspaper.

The cafe features an espresso machine, as well as a grab-and-go case with freshly prepared sandwiches and salads, fresh pastries and baked goods that are available all day. Smoothies and other specials are also available on a rotating basis.

Southern says Cafe Biscotti's West Clubhouse location makes it a nice choice for residents thanks to its proximity to the community's fitness center, spa, and two outdoor pools.

"We're only about four months in, and residents are really starting to gravitate toward these new dining options," said Bentley Village Executive Chef Shep Drinkwater.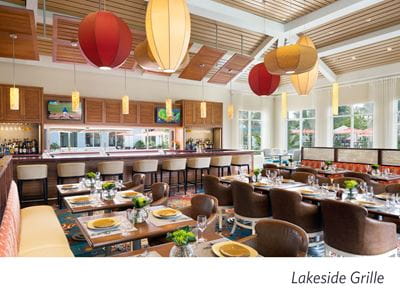 LAKESIDE GRILLE: Daily Dining
Also located in the West Clubhouse, the Lakeside Grille is open each day for all three meal options. But just because the restaurant is open for multiple meals doesn't mean it should feel ordinary. Using kitchen tools like a combi oven — which roasts, steams and smokes in a single unit — and a high-end rotisserie, Chef Drinkwater and Executive Sous Chef Joel Hetrick have elevated everyday items to a gourmet level.

"Our culinary team is working with local farms — we're big on the whole farm-to-table movement," Southern said. "Our residents are getting some really high-quality, high-flavor experiences."

Here's a taste of what's on the daily menu:
● French toast, served with fruit jam made in house
● Local crab-cake benedict
● Roast beef, studded with garlic cloves, which is chilled and sliced thin for deli-style sandwiches, served with freshly made cider-vinegar potato chips
● Cold-smoked salmon salad
● Gulf grouper sandwich, caught locally in the Gulf (currently Lakeside Grille's most popular item)

Another unique feature of the Grille: an indoor/outdoor bar. Residents and their guests can take a seat at the bar after a dip in the outdoor pool, or enjoy a drink at one of the two outdoor patio options adjacent to the restaurant – including one that features an outdoor fire pit.

Want to learn more about dining at Vi at Bentley Village? CLICK HERE to read part two of this story, featuring details on our forthcoming East Clubhouse dining venues.