Glad to be connected!
Thanks for reaching out!

We'll be in touch soon to share expert insights and resident perspectives that we hope are helpful, and one of our team members will also be reaching out to answer any questions you may have.
About three years ago, Tom and Judy Lynch had a dinner at Vi at Bentley Village that changed their lives. The Lynches sat down at a table with another couple new to the community, Frank and Jean Kowalski. The foursome hit it off.
One Sunday, shortly after their impromptu dinner date, Tom and Judy decided to take advantage of the 18-hole, par-3 course at Bentley Village. The couple behind them looked familiar—it was Frank and Jean.
"We said, 'Why don't we play together?'" Tom remembers. And just like that, a tradition was born.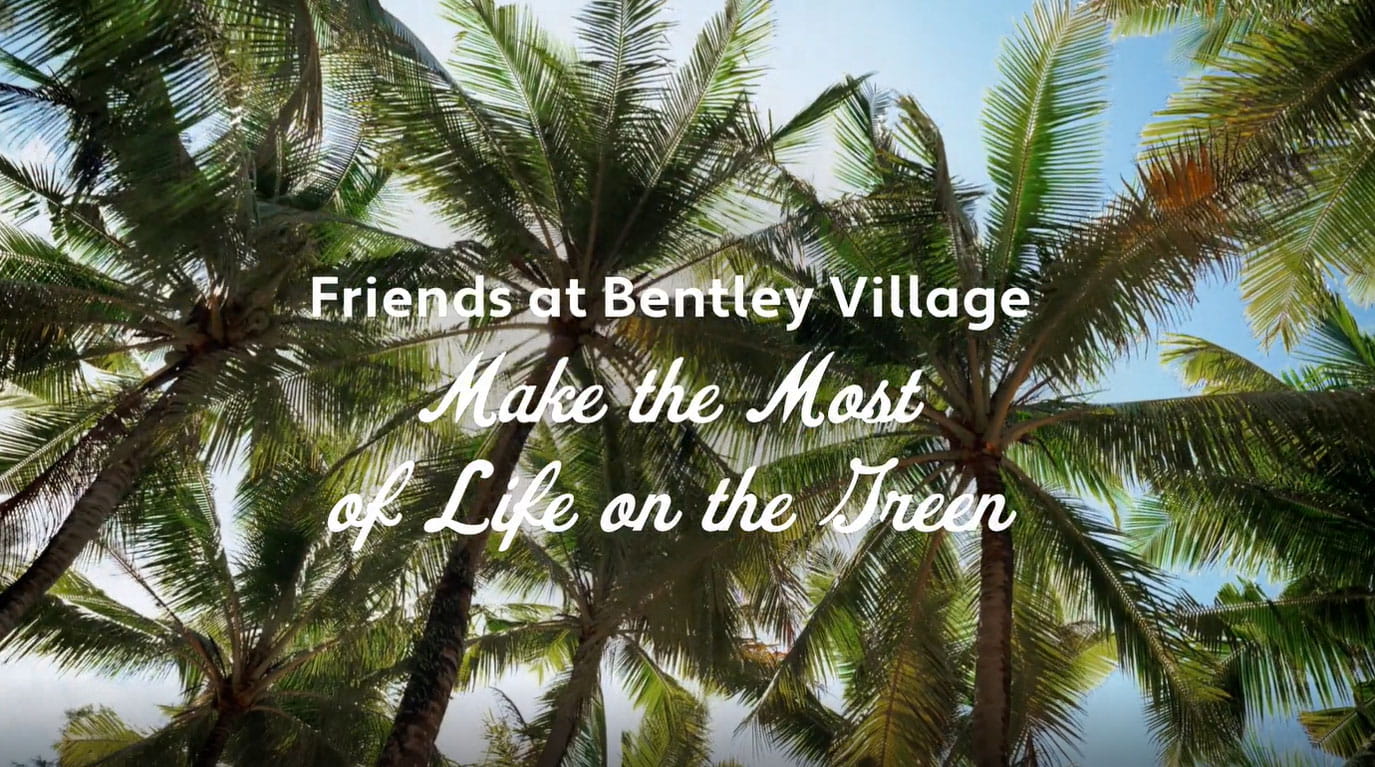 Sunday duo adventures
Soon, the Kowalskis and the Lynches decided that it would be fun to invite other residents into their Sunday rounds. From there, the group continued to grow.
Residents make new friends by swapping golf partners week to week, with new pairings adding unexpected twists to the game.
"When we started, it was girls against guys," Jean adds. "And I'm sure the girls won more than the guys!"
All skill levels welcome
The golfers at Bentley Village range in skill levels. Duffers play alongside experts and even can practice with Bentley Village's head golf professional and 15-year PGA member Stan Geer, who works one on one with residents during the week to help polish their games.
Of course, for some residents, the highlight of the day is playing with Frank, who recently made two holes-in-one during a single golf outing at Bentley Village. His amazing round was even covered in the Naples Daily News. Frank is humble, but his friends won't let him forget just how skillful a golfer he is.
"I don't know if you heard," Tom says cheekily, "but Two-For-One Frank got another hole-in-one last Sunday!"
Bocce on the green
During the week, it's common for the Kowalskis, Lynches and other members of the group to take to the community's bocce courts.
"I'm going to guess that there's up to 100 people that play on a social basis," Frank says. "We have a sign-up sheet. It's busiest towards late afternoon when couples form games and then go to dinner at one of our restaurants, which is adjacent to the bocce court."
In season, bocce players often join the Southwest Florida Bocce league, which includes players from 24 communities that visit each other's facilities and socialize afterwards.
Life today at Bentley Village
Between life on the green and the friends they've made at Vi, the Kowalskis and Lynches have only positive things to say about their decision to move to Bentley Village.
As Judy says, "I think the sooner you make the move, the sooner you have the opportunity to make friends, to use the facilities, and to be a part of everything wonderful here."