A doctor retired, but not resting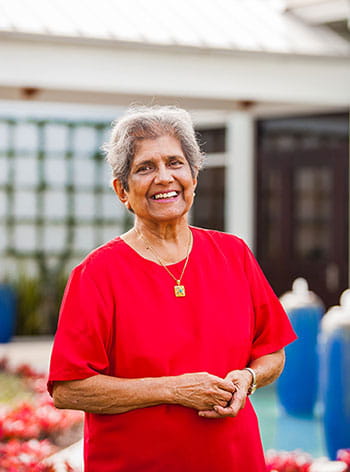 Retirement has done little to slow down Dr. Ira Dash. A resident at Vi at Bentley Village since 2003, the retired anesthesiologist is still constantly on the go – volunteering with charitable organizations, or running a committee at the Naples-based senior living community. "I think people want to help people," Dash said.
Born in India, Dash has lived in the United States since her early 20s after a professor advised her the country was opening its market for doctors. She passed her qualifying exams, which she says were the second ever held in India for the U.S., and arrived in the United States in June 1959. Her first home was in St. Louis, Missouri where she would live for 29 years. It was here that Dash also met and married her husband, Dr. Udaya Dash, an orthopedic surgeon.
A life-changing journey
As a couple, the Dash's took many opportunities to help people and give back to their communities, both in the United States and in India.
"My husband came from a very small village, whereas I was more of a city girl," Dash said. "He felt very strongly that he needed to help his poor villagers that he left in India, so we started a foundation after our first visit back there in 1963. And with the monies we collected we sponsored three schools and a medical clinic."
Back in St. Louis, the couple also looked for ways to improve their adopted home. "We took on the challenge of building a community center, and spearheading the fundraising drive for the Mahatma Gandhi Cultural Center in St. Louis," Dash said.

Choosing their next home
When it came time to retire, the couple contemplated moving back to India. But after raising three children in the United States, they didn't want to leave the country and miss seeing them. After a bit of research, they chose the Sunshine State as their next home.
"We had read that Florida was a great place to retire," Dash said. "We couldn't ask for better, being from India, because of the climate, the tropical vegetation, which was like home to us. And he loved fishing." They moved to Naples in 1991.
A second retirement
After a decade of living in southwest Florida, the Dashes starting looking into a retirement home. A few friends lived at Vi at Bentley Village so the couple toured, fell in love, and in 2003 they moved-in.
Though her husband passed away in 2009, Ira has continued to volunteer her time and energy managing resident programs at the community. Currently, she volunteers at the library and is the program coordinator for the Vi at Bentley Village Literacy Program, she's also working on a special music therapy project at the community, and is a trustee of the Bentley Village Foundation, which helps provide scholarships to Vi employees.
"It does take time to make the transition to living at a community like this, but I think just throwing yourself into the activities can really draw you in to make friends," Dash said. "I make it a practice to get to know people, and learn their names – I feel it's so important to feeling part of the community."