Glad to be connected!
Thanks for reaching out!

We'll be in touch soon to share expert insights and resident perspectives that we hope are helpful, and one of our team members will also be reaching out to answer any questions you may have.
For Shirley Hartmann, life at Vi at Bentley Village is anything but par for the course
For Vi at Bentley Village resident Shirley Hartmann, it's hard to believe there was a time when she hesitated to make the move to a Life Plan Community.
"When I think back on what my life might have been if I hadn't come here, I can't even fathom it. I'd be missing so much!" she explains.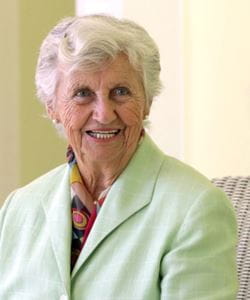 Since the move to Bentley Village, Shirley has opened the door to so many new experiences, discovering hobbies and passions along the way. From golf and bocce ball to dinner with the girls and volunteering, Shirley's life at Bentley Village is busy in the best way.
Opening new doors
Shirley opened one new door quickly after arriving at Bentley Village.
"One day, I was walking my dog, and I saw ladies riding by in their golf carts and having so much fun. I thought, 'Gee, I wish I could do that,'" she said.
Her daughter, Denise, who was the one to encourage her to consider Bentley Village, encouraged her to try something new again: "My daughter gave me her set of golf clubs. She said she was too old to play!" Shirley said with a laugh.
Now Shirley feels most at home on the community's beautifully manicured 18-hole, par-3 golf course. In addition to regular practice and lessons with on-site golf pro Stan Geer, she plays in a weekly 9-hole tournament and was at one time the president of the Ladies 9-Hole Association, which is impressive for any golfer—but especially for a relative newcomer to the sport.
"A lot of golf enthusiasts move to Vi at Bentley Village for the luxury of having a private golf course in their own backyard," said Stan Geer, "but Shirley is unique in that she actually started to play golf after moving here, at 85 years young!"
Shirley has become such a fixture on the golf course that she was even featured in the Naples Daily News for her golfing prowess. "Everyone here in Bentley Village congratulated me for that. I had so many newspapers placed in my mailbox by residents so I could send copies to my family!" she said.
Beyond being a Naples celebrity, what matters most to Shirley is that she has a newfound passion. "I don't know what I would do without golf or the ladies I play with! I feel like I truly belong."
Making discovery a hobby
Discovering one passion doesn't mean Shirley's search was over. In fact, she has her sights set on finding the next, and Bentley Village offers an unending variety from which to choose, including classes, community outings, weekly speakers and lectures, movie nights and, Shirley's favorite, competitive sports.
"When I play bocce, I see the croquet players all dressed in white, and they look like they're having fun," she mused, "but then you pass a pool table on your way to dinner and you say, 'Oh, maybe I should play pool.' And we also have a ping-pong table with a whole group of great ping-pong players!"
In the company of friends
Of course, all activities are better enjoyed in the company of friends. Off the course and after games, classes, and events, Bentley Village social groups always look for ways to deepen their connections, whether by going to dinner together at the community's Seaside Restaurant or Lakeside Grill or enjoying cocktails in one of the clubhouses. Learn more about dining at Bentley Village.
Shirley keeps a standing weekly dinner date with the "Flying Solo" crowd, a social circle she helped form for people who, like her, came to the community by themselves.
"When I first moved in, I didn't know anyone. I know what it's like to be the new person, so I thought I'd do something welcoming to show people that this is the place to be."