Vi at Highlands Ranch named a "Best Company to Work For"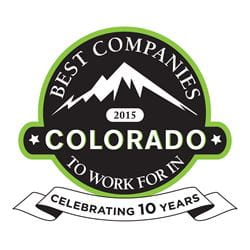 Vi at Highlands Ranch has been designated as one of Colorado's 25 "Best Companies to Work For," according to
ColoradoBIZ
magazine. Vi at Highlands Ranch was the only senior living company named to this list. The magazine ranks companies based on its own research and reporting, as well as employee satisfaction surveys.
"Everyone at Vi was really excited about the news," said Naomi Loebl, Director of Human Resources at Vi Highlands Ranch. "Getting that recognition and acknowledgement on the surveys just reinforces what we already know: that the employees who care for our residents are cared for as well."
"Creating an environment that supports attracting, retaining and engaging employees serves our mission of providing quality environments, services and programs to enrich the lives of older adults," says Judy Whitcomb, Senior Vice President of Human Resources and Learning. "Being selected as a 'Best Places to Work' helps us validate that our efforts are successful," she adds. "We're very proud and honored to be among Colorado's best places to work."
Loebl agreed and adds that employees truly care about making each and every day special for the older adults at Vi at Highlands Ranch.
"We attract compassionate, customer-focused employees because they truly care about making these years the best that they can be for our residents," Loebl said. "It's a job that gives them a lot of personal satisfaction."
Recognized by
Training
magazine and
Chief Learning Officer Magazine
for best learning practices, Vi invests heavily in employee development with the goal of providing employees the opportunities to enhance their knowledge and skills. Vi's Breakthrough Leadership Program and Management Development Program are two of Vi's signature learning programs designed to develop strong leaders throughout the organization.
"Vi employees care for residents and we care for our employees," Whitcomb stated. "We continually strive to create an exceptional place for our colleagues to work, learn and grow," she adds.