Demystifying the move from independent living to assisted living
There are a multitude of reasons residents choose to move to a community like Vi at Highlands Ranch. The decision is a big one — both for the new resident and for their family.
While Vi at Highlands Ranch provides luxury independent living accommodations and amenities, moving into Vi also grants residents access to its on-site assisted living, skilled nursing and memory support services, should they need it.
The transition from being an independent living resident to an assisted living resident is one that prospective residents are often concerned about — but rarely want to address.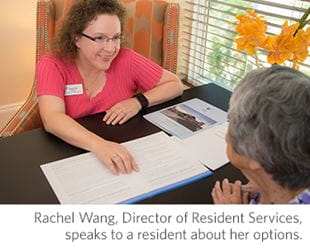 At Vi at Highlands Ranch, there's a staff member whose job involves helping families and residents navigate the potentially nerve-wracking waters of transitioning care levels. Rachel Wang, Director of Resident Services at Vi at Highlands Ranch, is that staff member.
"Residents move to assisted living because they need some assistance with some activities of daily living," she said. "But that means different things to different people. Typically, the move to assisted living isn't an emergency; we have time to prepare and plan."
While it's every resident's goal to stay in independent living as long as possible, it's important for residents and their families to understand and be honest about when they might need to make that move, Wang says.
For residents considering a move to assisted living, Wang always suggests a reasonable transition period with time to prepare, physically and emotionally.
Assisted living doesn't mean losing independence
Wang also stresses that in assisted living, there are still plenty of opportunities for residents to continue being independent.
"No matter where you are in the care continuum, we want you to be as independent as you can be," Wang said. "Our care center residents often stay involved in their activities at the main community building. They come to lectures, use the fitness center, and attend exercise classes."
Keep your friends close
Vi at Highlands Ranch residents Diane Winkler and Mitzi McCallin are proof that friendships at Vi at Highlands Ranch can withstand the transition to care: They've been friends for years, bonding over cocktails with a small group of women every night before dinner in the dining room.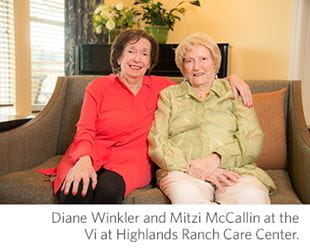 Shortly after Winkler moved into her apartment in assisted living, the apartment across the hall became available — and she gradually convinced McCallin to follow her from the main community lodge to the care center. Though McCallin was nervous to make the move, knowing one of her best friends was just across the hall made the transition less scary.
"Having a friend here definitely makes it easier," Winkler said.
Today, Winkler and McCallin still enjoy each other's company in the dining room in the care center, gossiping together over every meal.
Get help with the transition
When the time comes to transition from independent to assisted living, a second "
right sizing
" is often necessary.
Wang says that in addition to working with a transitioning resident's family, she often asks Laurie MacLeod, Vi at Highlands Ranch's Move-In Coordinator, to help residents plan out their new spaces. Some residents have treated their moves into assisted living just as they did their initial move into Highlands Ranch, hiring a senior move manager to take care of all the details.
"Having somebody who can pack and unpack everything — and put it right where you want it — is phenomenal during a transition like this," Wang said. "This isn't a move anyone really wants to make, so anything that can ease that is huge."