Imagination and Collaboration: One Chef's Recipe for Extraordinary Dining
In the 13 years Gregory Strickland has been executive chef at Vi at Highlands Ranch, he has seen big changes in the culinary world and in diners' expectations. And Chef Strickland has loved evolving right along with them.

"If you're a chef, you put out good food—that's what was expected of chefs," Strickland said. "Now, people are much more savvy. Chefs need to get out there, mix with the public. They need to learn more. Beyond the kitchen, beyond breakfast, lunch and dinner, what are you doing that's above and beyond, that no one else is doing?"

To the delight of his residents and to the credit of a creative chef and his talented team, the list of inspired culinary experiences available at Vi at Highlands Ranch is long—and growing.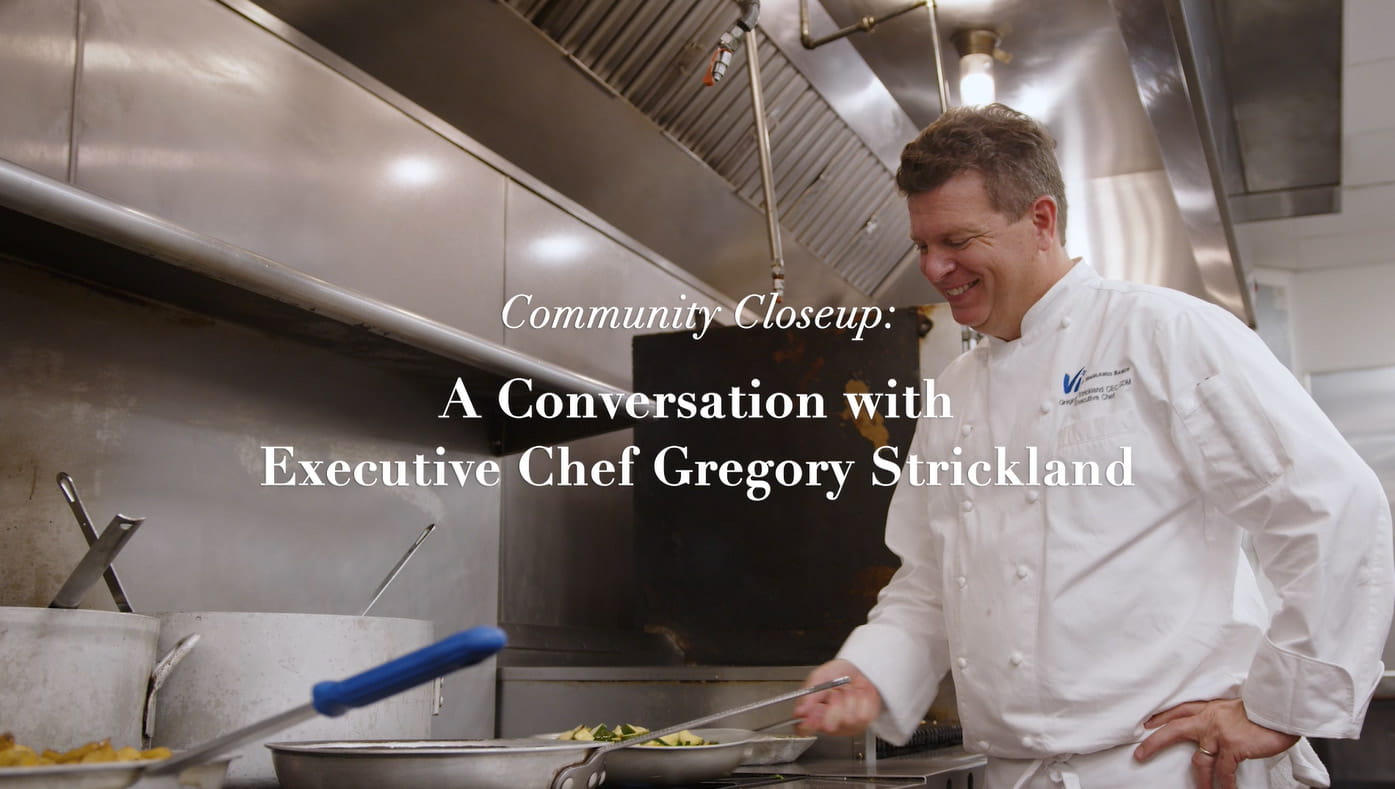 First learning, then sharing
"One day, I asked, 'What if we did a wine tasting for the residents?'" Strickland recalled. "I like wine, and I wanted to learn more. So we set up some wine tastings. The first one was the Burgundy region of France, which I knew nothing about. It forced me to learn. And that was exciting."
Obviously, it was exciting for the residents as well.
"We would pair up the wines with different foods, and then, of course, I'm learning more about how the wine interacts with the foods," Strickland said. "And I'm explaining this to the residents, and they like the idea of it. It snowballed from there. We started to see the success, heard compliments from the residents, and started having waiting lines for these seminars."
The wine tastings became regular monthly events, which then led to cooking demos, filmed and broadcast on the community's in-house channel, and eventually to Chef Strickland donning a beekeeper's suit.
Sweetening the dining experience even more
The chef's commitment to discovering imaginative ways to charm the palates of Vi residents led him to a local botanical garden, where he took a class in beekeeping.
Now, residents can see the community's thriving herb garden on their way into dinner and know that it's the very source of the basil, chives, dill or sage that would flavor their meals that evening.
Strickland says getting out of the kitchen to connect with Vi residents has made him a better chef. Considering the residents' interesting, varied backgrounds, he's not surprised.
"There's a lot of experience out there, a lot of life our residents have lived that they can bring to the table," Strickland said. "They have great suggestions. There are things that I never would have thought of that the residents bring to me."
What's on tap
Among Chef Strickland's upcoming projects is installing a nanobrewery and producing the community's own beers.
"We can grow our own hops because we have a garden, and we can flavor the beer with some of our own herbs. Several of our residents have a background in brewing or the beer industry, and they're excited about it."
In other words, however that first batch of beer comes together—as with many of the community's dynamic culinary offerings—the residents of Vi at Highlands Ranch are sure to be a key ingredient.
Glad to be connected!
We'll be in touch soon to share expert insights and resident perspectives that we hope are helpful, and one of our team members will also be reaching out to answer any questions you may have.
Dining at Vi at Highlands Ranch
Here, food is a means of coming together to celebrate every day. Discover our food philosophy, find sample menus and more.
Explore Vi at Highlands Ranch
See how our residents embrace their vibrant lifestyle, take a video tour, and envision yourself at Vi at Highlands Ranch.