Vi at Lakeside Village offers variety of transition services for new residents
While moving is a stressful experience for most, it can be an even bigger hurdle for seniors looking to leave a home they've lived in for decades.
The symbolism of that move into a new phase of life can stir up many emotions, says Barbara Kelley, Sales Director at Vi at Lakeside Village. But according to Kelley, smoothly navigating that move is all about perspective — and the help you have along the way.
"At Vi, we offer a number of resources that are available to new residents even before they move in to help ease the transition," Kelley said. "Life at Vi at Lakeside Village is designed to let residents focus on what they love to do, even during the moving process."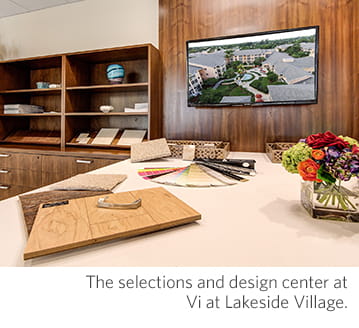 The Move
One of the first steps many new residents take is meeting with Vi at Lakeside Village's Move-In Coordinator, Melanie Hochman.
"I work with new residents throughout their transition from moving to move-in," Hochman said. "We'll work together to pick out paint colors, select fixtures for the apartment, and discuss any potential renovations."
Hochman also provides prospective residents with the names of highly qualified senior move managers. New residents can choose to work with a senior move manager as they prepare to downsize and sell their former home.
According to Kelley, working with a senior move manager can help ease some of the concern many have with moving to a senior living community.
"We tell prospective residents that they have the option to work with someone who specializes in the type of move they are looking at doing," Kelley said. "For many new residents, knowing they have a person to walk them through the process helps calm some of their fears."
Day One
On move-in day, Hochman also provides new residents an orientation to their new community, including a complete tour and help getting acquainted with the community's activity calendar. It's also an opportunity for residents to ask more questions about Vi at Lakeside Village's continuum of care.
"New Vi at Lakeside Village residents come to me with any concerns or questions they may have," Hochman said. "We want them to feel at home right away, and the orientation helps with that."

Week One
When a new resident has officially moved in, a new group steps in to help: the Vi at Lakeside Village Goodwill Ambassadors. Made up of more than 40 resident volunteers, the group works to answer questions and provide assistance to their new neighbors.
"This is a 100 percent voluntary program," Hochman said. "Our Goodwill Ambassadors remember how helpful it was to have fellow residents help them get acclimated when they moved in — and they want to return the favor."
Charlotte Cove is an enthusiastic member of the Ambassadors. She moved to Vi in 2013 and has volunteered for everything from showing her home to prospective residents, to dining with newcomers shortly after they move-in. She's also involved in countless activities at the community, and loves to offer her honest perspective on life at the community to anyone who asks.
"No one wants to be alone, and at Vi you're not – we're all in the same boat!" Cove said. "Our group does everything we can to make sure new neighbors have someone with you when you move-in. They can always count on me to help!"