New Café Biscotti a hit at Vi at Aventura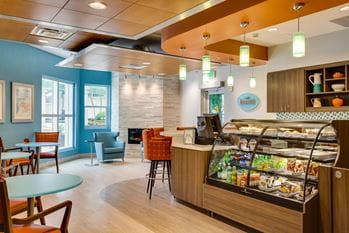 Vi at Aventura's new café recently opened to great accolades. Café Biscotti is an upscale breakfast, beverage and lunch venue that has been open for several months now at the community. According to Executive Chef Christian Martin it's already been a huge success with residents.
"I can say that Café Biscotti has been a great addition to the point that we have expanded our hours of operation to include Sundays," Vasquez said. "The café definitely offers an alternative for those residents and their family members who would like to grab a salad or a sandwich and sit to chat in a welcoming environment."
Chef Martin worked alongside Mark Southern, VP of Food at Beverage at Vi, and Vi at Aventura's Director of Dining Services Monika Slodownik to build the menu for the new space.
"Our menu focuses mainly on fresh and natural ingredients," Martin stated. "In the future we hope to do a menu revamp to offer more composed salads and other items that have been in demand since the café opened."
Café Biscotti features counter service with an espresso bar that also serves cappuccinos and a variety of herbal teas, breakfast and lunch offerings, and according to Southern, came to fruition due to a community need to have more to-go food options.
"We were seeing a need for prepared and to-go foods at the community and thought this concept would be the ideal fit for Vi at Aventura residents as they come and go during the day," Southern said. "Our vision was of a New York style deli with an espresso bar and I believe that concept was fulfilled in this unique and modern space."
Slodownik agrees, "Residents truly love the new café and from the beginning they have been providing us with a great feedback in regards to the ambiance and the café in general," she said. "Whether they're just stopping in for a cup of freshly brewed coffee on their way to run errands, or stopping by for a quick lunch with friends, the café has so far been a very popular place for our residents."
In addition to coffees and teas, menu items include breakfast sandwiches, frittatas, hot cereal and yogurt in the morning, and NY deli style sandwiches, salads, homemade soups, and flatbread pizzas for lunch. The café also features an outdoor area with year-round seating.
Café Biscotti is the latest dining venue addition at the community, joining Royal Palm, and Calypso that are currently available for lunch and dinner services.