After Almost 50 Years Together, Life Is Never Dull for Lee and Frances Chouinard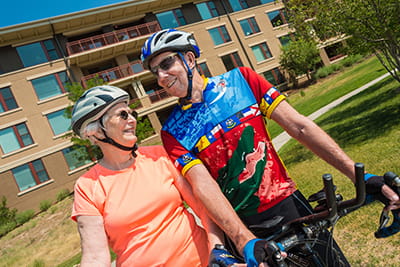 Lee and Frances Chouinard will celebrate their golden wedding anniversary in 2018 at Vi at Highlands Ranch.
They met in Texas and were married in 1968, and their adventure together began right away.
"The day that we got back from our honeymoon, my draft notice was sitting there in the mail," Lee said. "I went into the Army immediately."
He trained in San Antonio but was never deployed — he and another recruit were the only two who weren't sent to Vietnam. Two years later, he and Frances returned to Houston, where Frances got a job teaching high school English.
Lee's time away in the Army was the beginning of a transient life for the couple, which took them all over the United States and to Europe.
Traveling The World Together
In the early 1980s, after spending several years in Texas, Chicago, and New Jersey, the company Lee worked for relocated them to Switzerland with their son and daughter.
"It was the best of all the places we lived," Frances said.
Moving to Europe introduced the family to an especially active lifestyle. The Chouinards learned to ski and spent a lot of time skiing in the winter and hiking in the summer.
Discovering Life On Two Wheels
After four years in Switzerland, the Chouinards returned stateside; they moved to St. Louis, Mo, and lived there for eight years. And that's where Lee's love of cycling was born.
"In Switzerland, we were so active — but I started to gain a lot of weight when we came back," Lee said. So he started riding his bike. He lost weight and has kept it off — and in turn, discovered a hobby that he loves.
After making one more move to Richmond, Va., it was finally time to settle down: The couple retired in 1999 to Florida, moving into a gated community of about 3,000 in Bonita Springs. In the first year of retirement, Lee decided to spend a month biking up the East Coast, from southern Florida to Maine — with Frances as his one-woman "SAG," short for "support and gear team." While he rode — sometimes up to 100 miles per day — she drove ahead of him to scout for restaurants and motels along his route.
"I have no sense of direction — I was basically lost for an entire month," Frances said. "So I said, 'That's it! No more SAG after this."
But Lee was thrilled to finally focus on exploring more of the world on his bicycle. He was riding 8,000 miles per year at his peak — and thanks to a group of dedicated cyclists at the Bonita Springs community, he had company.
"When Frances also became interested in biking, I started a bike club," Lee said. "We ended up with 180 people in it; we organized rides six days of the week, for cyclists of all levels."
Enjoying Life at Vi
After 16 years of retirement in Florida, the Chouinards made one last big move in late 2015 to Vi at Highlands Ranch.
One of the biggest reasons they chose Vi at Highlands Ranch: location. The community is near their daughter, son-in-law and two grandchildren in nearby Centennial.
The Chouinards spend a lot of time with their grandchildren. At 8 and 11 years old, they love sleepovers with their grandparents at Vi, splashing in the pool and playing board games and cards.
"We love that little injection of energy every time they visit," Frances said.
Not slowing down
Today, the Chouinards take a 20-mile bike ride together at least once a week; they love the convenience of the bike paths near the community – and, of course, the scenery. Lee also rides about 60 miles solo two days a week.
When they're not cycling, life at Vi keeps them busy. The couple are part of the Vi at Highlands Ranch hiking club, and they're members at a nearby tennis club, where they play several times a week. Life shows no sign of slowing down for this couple who have been on the go ever since they first met.
"I have a hard time imagining life without being physically active," Lee said.