For Vi at Lakeside Village couple, home is where the art is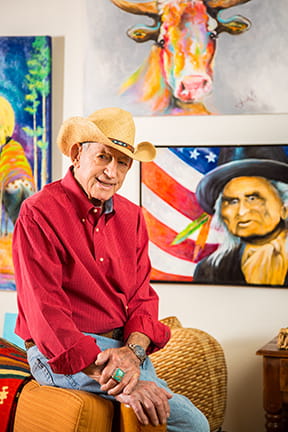 Art has always been a part of life for Jules and Rosalie Greenbaum, but after moving to a senior living community, Vi at Lakeside Village, it took on an increased focus. Jules, who studied at Pratt College and the Art Students League, didn't discover his passion for painting until after his retirement. "People find it hard to believe he didn't start painting until he retired," Rosalie said. "But when he paints, he completely retreats into himself — and retirement has given him that opportunity."
Creating an Art-Full Home
Jules and Rosalie Greenbaum's apartment in their Life Plan Community has not only become a warm and welcoming home but a kind of art gallery to display the treasured keepsakes of a lifetime of travel and the canvases Jules fills with color and life. Shelves are adorned with bright kachina masks and handwoven baskets, and the walls display Jules's Southwest-style paintings.
Stephanie Fleishman, a sales counselor at Vi at Lakeside Village, got to know the Greenbaums as they were considering a move to a retirement community. "He paints on his balcony every day," Fleishman said. "He's a brilliant man — and even more, he's a nice man."
Fleishman says Rosalie's pride in her husband's work is infectious: Jules is humble and quiet, but Rosalie sings his praises and regularly invites their neighbors and friends at Lakeside Village inside to visit and explore the latest works in their home gallery.
Finding Inspiration Together
As a born-and-raised New Yorker living in Florida, Jules's Southwest style may seem like a departure, but his interest was sparked during a trip to Santa Fe, New Mexico, with Rosalie. This trip led Jules to pick up a paintbrush and create landscapes and portraits inspired by the Native American art and beautiful Southwestern landscapes they explored together.
For the past several years, his colorful artwork has been displayed throughout South Florida. He and Rosalie even worked together to find an agent and placements in galleries, where many of his paintings have sold for thousands of dollars.
Creating a Lasting Legacy
Jules and Rosalie have also explored how to bring their passion for the arts to more philanthropic causes. The couple donated several of his watercolors to Faith Farm, a faith-based, residential drug and alcohol recovery program for men and women, based in Boynton Beach. Faith Farm sold the paintings as part of a fundraising event — it was there that Jules received the most valuable type of recognition: "He got a standing ovation at their big dinner," Rosalie said. She believes her husband's art will be his legacy, one of which they can both be proud. "Someday, maybe Jules and I will be looking up — or down," she laughed, "and we'll see all of the good his artwork has done."
Find out more about the services and amenities and continuum of care available at Vi at Lakeside Village. Request a brochure today.